The Third Decade – 1957-1966: Jubilee Days and New Horizons
In 1958, MMM celebrated its 21st birthday. The 'coming of age' of MMM signalled that it was time to begin making plans for the first General Chapter. In religious communities this is the major congregational meeting, held at regular intervals. Delegates elect the Congregational Leadership Team and formulate general policy.
In 1959 a new mission was opened at Ikot Ene in southeastern Nigeria. This was a remote spot, cut off from the other missions by the Cross River, one of Nigeria's most important waterways.
As the 1960s dawned, Mother Mary decided to make her Silver Jubilee project the completion of the International Missionary Training Hospital. The first wing, fully operational since 1957, was but half of her dream. Meanwhile, generous support from Cardinal Cushing of Boston enabled her to extend the Motherhouse, incorporating a library, with two further floors for accommodation in a wing that was named after St. Patrick.
The year 1961 was a very significant one. Ireland was marking the 1500th anniversary of the death of Saint Patrick, with many international visitors arriving to take part in the events of this special Patrician Year.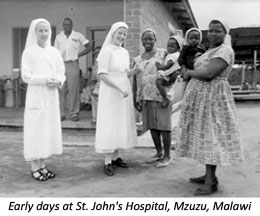 On June 27, two very enthusiastic pioneers, Sister Edel Weir and Sister Marie Goretti O'Conor, left Drogheda on the first stage of a journey that would take them to Nyasaland, known today as Malawi.
In March 1961, Sister Maria Glancy, already a seasoned missionary after years in Nigeria, and Sister M. Kieran Saunders, who had been a founder of the mission at Tlawi in Tanganyika back in 1947, were surprised by a new assignment. By November they had everything in order and set out to make MMM's first foundation in Asia,
on the island then known as Formosa, soon to become known as Taiwan. Before anything else could be done, they had to begin their study of Mandarin.
In June that year, Prince Rainier and Princess Grace of Monaco were on a State visit to Ireland. They came to see the new hospital in Drogheda on June 13, where the Prince presented a cheque to help the ongoing building fund.
Five days later, Cardinal Agagianian, who was in Ireland as a Papal Legate for the Patrician Year celebrations in Dublin, also visited Drogheda. The gift he bore was of enormous significance to MMM. It was a Papal document known as the Decretum Laudis, stating that henceforth the Medical Missionaries of Mary was 'a Congregation of Pontifical right'. It was unusual for a Congregation only twenty-four years in existence to receive such a distinction. This would require a complete revision of the Constitutions, which would have to be completed and approved in Rome before the General Chapter, which had been convoked to commence on 10 July 1962.
In August 1961, another visitor of note arrived in Drogheda, Cardinal Montini, who would later become Pope Paul VI.
MMM's first house in Kenya was opened at Kitale, then in the Diocese of Eldoret, in February 1962. For some months previously, news of a devastating famine throughout the entire Turkana Desert had been reaching Drogheda,
with appeals to make MMMs available. The region, populated by the nomadic Turkana tribe, had lost 80% of its livestock in a severe drought now entering its third year. Large numbers of starving people were gathering at a relief camp at Lodwar. Four pioneer missionaries – two MMMs and one each from Saint Patrick's Missionary Society and the Ursuline Sisters – crammed into a Volkswagen Beetle that was filled to the roof with supplies. They set out from Eldoret, up the long road that entered Uganda and then wended back into Kenya, till they reached the small tin house, with no toilet, which would be their base until they could develop something better.
The Silver Jubilee was, of course, celebrated, in Nigeria, where two more foundations were made in 1962. One was Saint Vincent's Hospital at Ndubia, thirty-six miles from Abakaliki, where we had been since 1946. The other was at Nkalagu in Ogoja Diocese. This eighty-bed hospital had been built by Nigercem, which had connections with the Drogheda Cement Company. The Ngalagu hospital was set up jointly by the company and the diocese, so that company employees and local people could avail of hospital services.
At the same time in Tanzania (the name adopted by the former British Colony Tanganyika when it formed a United Republic with the offshore island of Zanzibar), two new missions were opened in the Diocese of Sumbawanga. One was at Mpanda. This was made possible when the mission at Chala, founded in 1956, was handed over to a local group of sisters: the Congregation of Holy Mary Queen of Africa. The other was further south at Namanyere.
The start of the first clinical work of MMM in Ethiopia was also in 1962. This was at Metcha, where we took over the running of a rural health centre formerly staffed by the Daughters of Charity, two hour's west of Addis Ababa by road.
Thirty-one delegates participated in the General Chapter, which ran from 10 July to 2 August 1962. One delegate was prevented from attending because she was unable to get an exit visa from Angola, then in the early stages of its struggle for independence from Portugal. The Chapter elected Mother Mary Martin, who had led the Congregation since its foundation in 1937, to continue in the office of Mother General. The new era would see many changes in the Church, and in religious and missionary life, following the inauguration of the Second Vatican Council by Pope John XXIII on 1 October 1962.
The year 1963 marked the tenth anniversary of MMM's arrival in Angola. From the mission hospital at Tchiulo in southern Angola, a new foundation was made at Cuamato, where a few Sisters would reside and run a health centre and small maternity unit.
In 1963, another new challenge was presented, in the form of an invitation to staff the Clinica Moscati in Rome. Like the Clinica Mediterranea in Naples, this was to be a privately-run clinic. Mother Mary understood that it would be a training hospital to provide doctors and nurses for developing countries, such as she was in the process of establishing at Drogheda. She agreed to send some Sisters in late 1964 or 1965, and those assigned began to study Italian. In December 1964, sixteen MMMs arrived in Rome to staff the newly-opened Clinica Moscati, but the original plans for the clinic had changed, and our involvement there lasted little more than a year.
On 25 June 1963, the chairperson of the Irish Red Cross, Leslie, Bean de Barra, visited Drogheda. She came to present Mother Mary Martin with the Florence Nightingale Medal, which had been awarded to her by the International Red Cross in Geneva. It is conferred on nurses and voluntary helpers who have distinguished themselves by great devotion to sick and wounded persons in times of war or peace.
Another development in Nigeria in 1964 heralded a great future commitment for MMM. Saint Mary's Hospital at Eleta opened on the outskirts of the city of Ibadan in western Nigeria.
In Ethiopia in 1965, we undertook the running of a hospital specializing in the treatment of people with Hansen's disease (leprosy) at Gambo, about five hours south of Addis Ababa.
On 26 February 1966, Mother Mary's work was once again publicly recognized when the Royal College of Surgeons in Ireland conferred her with an Honorary Fellowship.
On 6 June 1966, Mother Mary became the first woman to receive the Freedom of the Borough of Drogheda.
At the Motherhouse in Drogheda, several selected MMMs were busy studying Spanish in every spare moment. Archbishop Riberi, a lifelong friend of MMM, was now Apostolic Nuncio in Madrid. He was very anxious to have Sisters to staff a diocesan hospital in the city of Leon in northwest Spain, which was opened early in 1967, as the Third Decade of MMM's history was drawing to a close.
The Second Decade                                                  The Fourth Decade
< MILESTONES POSTS