The Ninth Decade: 2017 –
In January 2017, we transferred our ministry in Rwanda to the Diocese of Gikongoro. We first went to Rwanda in 1994 as part of Trócaire's response to the genocide. We later opened the Kirambi Community Health and Development Programme and handed it over as a centre of excellence to the Rwandan people.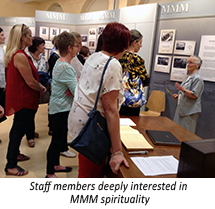 That year we celebrated the 80th anniversary of our MMM foundation and marked this milestone with local events. The first of these in Ireland was on 11 February in Saint Patrick's Church in Monkstown, County Dublin. This was the parish church of the young Marie Martin and the now Venerable Edel Quinn, To mark its 150th anniversary, the former mortuary chapel was  re-dedicated as a prayer space to their legacy.
On 4 April, the actual anniversary, MMM Sisters, Associates, and members of the Martin family gathered for Mass and a meal at our Motherhouse. Andrea Martin presented Sr. Isabelle Smyth with copies of a recently-discovered set of letters written by Charlie Martin. The originals have gone to the National Library of Ireland for special conservation.
To encourage a greater understanding of our gift (charism) of healing, Sr. Ekaete Ekop, assistant congregational leader, facilitated sessions at our Motherhouse in May for the lay staff of our houses in Ireland.

We celebrated the first anniversary of our mission in Bomadi, Nigeria and decided to open a clinic there.
We decided to withdraw from our new mission in Cabaceiras, Brazil, because of personnel constraints. The Sisters later made one community with our MMMs in Salvador.
We held a landmark formation meeting in Ireland to review our formation processes and programmes. A new formation document was later finalized by our congregational leadership team (CLT).
We handed over our house in City Island, NY, USA. Established in 1974 as a Regional house and a base for mission awareness, it provided hospitality for many MMMs, relatives and friends. The farewell marked the end of our presence in the Archdiocese of New York. We also closed our house in Crumlin, Dublin.
Sr. Phyllis Heaney's return to Ireland from São Paulo, Brazil, marked the end of our MMM presence in the city where we began our first foundation in the country.
Also in 2017, three groups of MMMs visited Drogheda and other sites in Ireland as part of the Heritage Experience.
In early 2018, we handed over our programme in Makondo, Uganda to the Daughters of Mary Congregation. They also took over our remaining programmes in Kitovu. The handover allowed us to begin in other areas of great need. By Christmas,

Sisters had moved to urban Munyonyo, Kampala and others were researching the needs in Kansiira, in the rural diocese of Kasana-Luweero..
A new healing centre was opened in Wau, South Sudan. It will bring basic health services to an area affected by years of unrest and conflict
We celebrated forty years of presence in Appalachia in the USA. Our mission is in an area that is home to many impoverished mountain people. Though life-supporting changes have been made during our time in Clinchco, Virginia, health care remains inaccessible for most families. The Health Wagon and RAM provide free medical care to many thousands each year.
Important work was done in updating our policies on child safeguarding.
Also in 2018, three more groups of Sisters attended the Heritage Experience.


< MILESTONES POSTS