1987-1996 – The Sixth Decade – "Are all your gifts being used?"
In 1987, we celebrated the Golden Jubilee of the founding of the Medical Missionaries of Mary. In our missions around the world, we invited our staff, friends and supporters to join with us in marking this milestone in our history. Two of our founding members, Sisters Magdalen O'Rourke and Patrick Leydon, were able to travel to Nigeria for the joyous events.
At that time, MMMs in Brazil were looking to new horizons. After handing over the hospital in Parana to local staff and moving on from some of our commitments in São Paulo, the Sisters headed northwards to the State of Bahia. They settled first in a small town called Capim Grosso, then at Paraiso, and later began work in the city of Salvador.
Having begun new projects in Nangwa and Ngaramtoni, our Sisters in Tanzania also moved on as in 1987 we handed over the hospital in nDareda, where we had provided general health services for forty years.
There were other beginnings as some MMMs in Ethiopia moved to Addis Ababa, living first in rented rooms and then purchasing a house. New missions were also established in Mitcha, Angola and Lilongwe and Chipini in Malawi.
In Ireland, MMM responded to a request for Sisters to come to a residential facility at Rosedale, Kilmacow to care for vulnerable, needy, and elderly people. They looked after all aspects of the running of the home: buying provisions, getting medicines, and bringing residents to doctors and to hospital. Caring for the residents was their primary focus for over twenty-five years.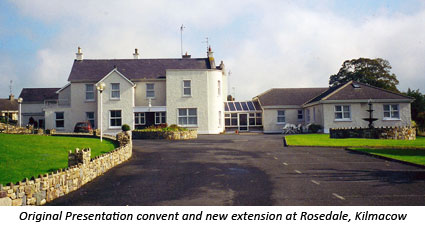 In 1989 we opened an international novitiate in Nairobi, Kenya. Women from around the world continued their initial years in MMM and experienced life with people from many cultures, very much a part of our life.
Also that year, three MMMs went to Khartoum, Sudan with plans to begin health services. They studied Arabic, became acquainted with their neighbours, and began the process to establish a project. Sadly, after two years it was apparent that there were too many obstacles in the way and we made a decision to withdraw in 1991.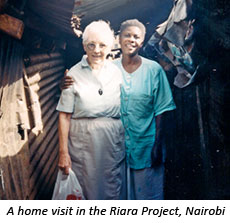 In 1990, in Nairobi, we opened the Riara Project, which provided community-based health care in a huge slum area of the city.
The Sixth General Chapter in 1991 re-examined carefully what the term 'mission' means for us today. It is rooted in the heart of our lived experience, in solidarity with the sick, the poor, the marginalized, and those caught in famine and wars. Reflecting on these experiences, our charism came alive within us. It was clear that an inseparable element of MMM Mission is being sent to other cultures and countries, to places where Christ is not yet known and the local Church is not yet viable. We are called to the frontiers of mission and not to the maintenance of any local Church.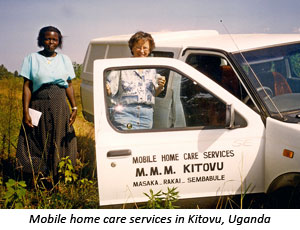 In a congregation like MMM, where healing is our goal, it took a lot of re-focusing to cope with the HIV pandemic, for which no cure was in sight. In Ireland and in East and West Africa, special workshops were arranged to share experiences and provide space for reflection and support for those who were dealing with so much death, not only among patients, but also among staff members and their families. Pioneering programmes to deal with prevention, treatment and the effects of the epidemic were established in several countries, especially at our missions in Kitovu, Uganda and in Ethiopia. In 1992, a facility dedicated to providing HIV services, the MMM Counseling and Social Services Center, was opened in Addis Ababa.

There were other new horizons for MMM when two Sisters travelled across the USA in 1993 to begin a new mission in San Ysidro, near San Diego in southern California. This led to the initiation of basic health projects across the border in nearby Tijuana, Mexico in 1996.
The years that followed were marked by upheaval in the Great Lakes Region of Africa. By 1993, the refugees pouring across the border from Burundi into Tanzania were but the first signs of greater trouble to come.
When this erupted into full-scale genocide in Rwanda in 1994, MMMs were asked to form part of the response by Trocaire, the development agency of the Bishops' Conference of Ireland. In June 1994 the first MMM team arrived in Rwanda. We first became engaged in relief work at Gikongoro. We later decided to establish a more permanent presence in the country and opened a health centre at Kirambi in 1996. MMMs also worked in the university city of Butare.
There were upheavals in other countries and the First Civil War in Liberia necessitated an emergency withdrawal of our Sisters there in 1994.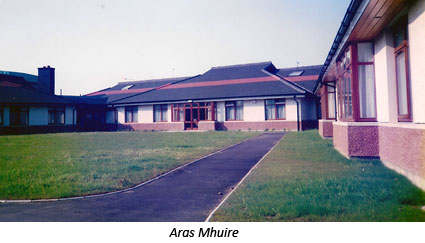 We realized that we needed to look after the needs of our MMMs who were aging and in need of long-term medical care in Ireland. A purpose-built facility, Aras Mhuire, was opened next to the Motherhouse in 1994, on the site of the original maternity hospital in Beechgrove.
The Fifth Decade                                                     Seventh Decade
< MILESTONES POSTS