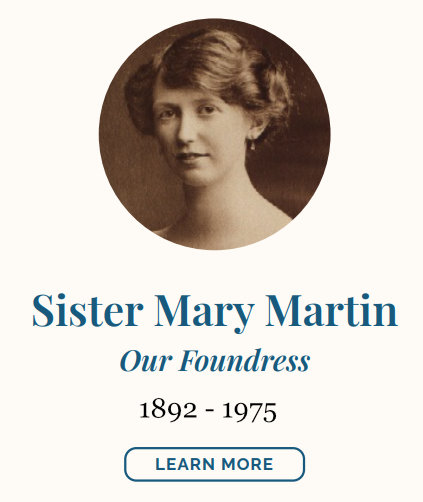 The Medical Missionaries of Mary was officially founded in Nigeria in 1937 by an Irish woman, Marie Martin.
Marie Martin spent many years discerning her own vocation and also waiting for the Church to allow religious women to work in the fields of obstetrics and surgery.  During her years of preparation she and her early companions spent some time in Glenstal Abbey, Co. Limerick.  In return for housekeeping duties there, the early group received spiritual formation.  The spirit of the Rule of Saint Benedict is important in our spiritual heritage.  Of course the Sisters do not follow the Rule literally as it was drawn up for a monastic community not an active, missionary group.
In 1936 Marie Martin and two companions set off for Nigeria as lay missionaries, but in April 1937 Marie became ill and was allowed to make religious vows before she died.  But she didn't die!  And thus the Medical Missionaries of Mary was born!
She slowly recovered and returned to Ireland where she set about recruiting more members and founding a hospital in Ireland as a training centre.  Over the remaining years of her life she established and grew the Medical Missionaries of Mary.  She died in 1975.
Over the years we have spread to 20 countries and hundreds of different projects.