Nigeria
Abajah
Medical Missionaries of Community Health project, Abajah, Nwangele L.G.A, Imo State, Nigeria.
MMM Community Health project Abajah was born on the 11th December, 2014 in Nwangele in response to the long lasting invitation of the Catholic Diocese of Orlu Diocese. The ministry is owned and run by the Medical Missionaries of Mary. We, MMM Sisters, in order to get themselves acquainted with the local community, did a familiarization tour. Then we conducted a Needs Assessment/Survey in the eight villages that make up Abajah town. This helped to determine the gap between the current realities in which the people live and the desired conditions of the Communities by their verbalization of pain, challenges, and help offered as well as ideas shared. We did not only hear what the people are saying to us concerning their needs, we also observed some of the needs not mentioned.
From our observations and responses from the people, while the Needs Assessment was still on, we started Palliative Care for the sick homebound, Health Education, both in schools and villages, and "Girls talk" in other churches and schools, Home visitations and Pastoral Ministry (referrals for confessions, communion, anointing of the sick by the Priest and counselling). Treatment of minor illnesses and referrals to the Imo State Teaching Hospital (IMSUTH) and some specialist hospitals. This formed the basis of our ministry in Abajah. The impact of our work extends to the eight villages in Abajah – Addi, Odenaguma, Amaudara, Umuishii, Umuoma, Ozuoha, Umuokpu and Umudiagba.
We are a team of three MMM Sisters working in the ministry. We have volunteers in each village with whom we liaise to reach out to the village heads and the people.
Children/youth program:
We are involved in Catechesis and in the spiritual formation of children where we model for them how to serve voluntarily in the society and teach them how to read and work for the elderly/sick/infirmed.
Networking:
We collaborate with other government/private health facilities, faith based organisations, schools, village heads and benefactors/benefactresses who provide support for the financial needs of some of our indigent clients.
Palliative Care
Following the findings of the needs assessment conducted at the commencement of the MMM ministry in Abajah, we started Palliative Care for the sick homebound especially those abandoned by their family members. We also used the opportunity to educate, create awareness of the care of family members and empower caregivers in the families on how to care for their sick ones.
Health Education and Talks
We also engage in giving health education/health talks both in schools and villages, "Girls talk", in both churches and Schools. The schools and communities are often consulted in selecting the topics for the health education. It is a very participatory process where the pupils/students/villagers share their experiences of the topic being discussed. We intensify public health awareness programmes on Cancer, Vescio Vagina Fistula, Malaria, Diabetics and Hypertension. We are grateful to the Central Leadership for the funding to be able to do this.
Home visitations
MMM community health project is located in a very rural setting. Hence, 90% of the dwellers are elderly and some of them are sick and infirm. As a team who appreciate the aging process, we often visit the elderly to keep them company and provide other pastoral needs such as informing the priests to go to them for confessions, communion, anointing of the sick and counselling.
Girls' Talk
We work with young girls in schools and in out of school programmes. Some of these girls dropped out of school as a result of teenage pregnancy. We engage couples and youth in skill acquisition such as simple crafts and homemade preparation of items such as liquid soap.
Clinic Services
We have a clinic every Monday where we attend to the sick, provide first aid treatment as well as treatment of minor illnesses and referrals. We also accompany our patients to the hospital where they can get care from the Teaching Hospital and Specialist Hospitals.
Annual Spelling Bee Competition
To encourage reading among pupils, we began the first Medical Missionaries of Mary Spelling Bee Competition in 2019. In the last two years, we have collaborated with the state education board, local community leaders, head teachers and other faith based organizations in consistently bringing together eleven government primary schools who compete for the winning trophy. This year's competition will be in June.
Abuja
MMM PHC CLINIC AND MATERNITY, ABUJA
MMM Primary Health Care Clinic and Maternity with outreach programme is situated in Lugbe (generally known as Amac/Aco housing estate) and it is about 30 minutes' drive from the town and about 20 – 25 minutes to the International Airport. The inhabitants are the Gbagi tribe who were moved from their own farmlands and familiar environment at the dawn of the development of the Federal Capital Territory. They live in clusters of families with 2-3 wives and many children.
Abuja was a small village in the centre of Nigeria. In the 1980's, it became the Federal capital of Nigeria. Abuja diocese was then erected as an independent mission in November 1981 and became Archdiocese in 1989 with Cardinal Dominic Ekandem as its first Archbishop. The Medical Missionaries of Mary Congregation own and manage the project.
In 1999 the PHC outreach started by visiting 12-15 villages around the Area. The outreach team was made up of one sister, a CHEW and a driver. Presently, we are only in 5 villages due to other government health centres and increase in insecurity. Their activities then were, setting up village health committees, immunizations, health education, antenatal clinics etc.
In 2002 there was a demand for a static clinic by the people around and a referral place for outreach. In 2003 a static clinic opened. The building of the Clinic was funded by Irish Aid and friends. In 2011 the demand to open a comprehensive maternity service increased. In 2013 the need assessment was done by a team led by Sr. Cyrina Ogbebor, MMM and the report was sent to the Central Leadership Team through the Area Leader and Team. In August 2016, the Central Leadership Team considered and approved the offering of comprehensive maternity services to be integrated into the PHC clinic which was started on the 6th of January 2017. It was officially opened and blessed by Cardinal John Onaiyekan of Abuja diocese on 4th of February 2017. The clinic now uses an automated software system, thanks to Misean Cara for funding this project.
Amukoko, Lagos
The Community Health Project, Amukoko (formerly called St.Theresa's Clinic) was established in 1983 by the St. Patrick Fathers' (SPS) and run by the Medical Missionaries of Mary Congregation. It is a Primary Health Care facility located in a slum area of Amukoko in Ajeromi/Ifelodun Local Government.
The area is overpopulated, in a crowded and unhealthy environment, surrounded by unclean canals and gutters which increase the rate of infections. The inhabitants are both Christians and Moslems mostly of the under-privileged class. It comprises of people from the different tribes of Nigeria dominated by Yorubas. The commonest occupation of the population is petty trading and temporary unskilled work making it a vulnerable community.
The Health Care centre based at St. Matthew Catholic Church, Amukoko, is an essential component of the Church's pastoral outreach to all, especially the poor and the marginalized, offering primary health care services to all classes of people, with particular concern for mothers and children.
The mission of the Health Centre is to spread the healing love of Christ through affordable, qualitative, preventive and curative health services which empowers people to take responsibility for their own health.
The Health Centre Activities
The clinic runs from Monday to Friday, from 7.30am to 3.30pm officially, but it normally closes whenever the last patient /client has been attended to, which could extend the closing time to about 5pm.
Consultation and Treatment of prevalent diseases:
This is done on a daily basis Monday to Friday and sparingly on weekends in emergency situations.
Home based care / Street Health Campaign:
This is done twice a week, aimed at reaching out to people in their homes especially the very sick, home-bound and aged. Most of these patients are poor and are not able to pay for their health care services. Some of them find it difficult to feed themselves and are supported by the clinic. The Street Health Campaign is done by the team and the volunteers as the need arises.
Baby welfare clinic:
The care of the children from 0-5 years is an important aspect of our health care services. This involves immunization and growth monitoring which is done daily Monday to Friday. Other vaccines, e.g. Hepatitis B, Cervarix vaccine, Typhoid vaccine, Yellow Fever vaccine e.t.c. are also available. During special liturgical celebrations like Easter or Christmas, babies are gifted with pampers.
Ante-natal clinic:
This is done twice weekly. Fridays are for booking, while Wednesdays are for repeat visits. During special liturgical celebrations like Easter or Christmas, antenatal mothers are also gifted with free milk.
Nutrition clinic:
(a) This service is fully based on charity as children and adults who are found malnourished are fed and also taught how to prepare and eat balanced meals for good health. This free feeding may last from one week to 3 weeks or more, depending on the health condition of the child or the vulnerable/ malnourished adult.
(b) Soya bean production: This service is an everyday activity as the staff do the selection one day, fry the next day to be ground and packaged the following day. It supplies the static clinic and the outreaches with soya beans. Non patients come from outside specifically for it
Direct Observation therapy ( D.O.T) for Tuberculosis:
Direct observation therapy is rendered to patients suffering from tuberculosis. Our environment is a highly risky area for tuberculosis due to poverty, overcrowding and unclean environment. We continue to campaign and sensitize people on the dangers of this deadly disease and how to prevent it.
Voluntary counseling and testing for HIV:
Counseling and testing for HIV/ AIDS is done daily. Patients who tested positive are referred to Hospitals for treatment and follow-up.
Laboratory services:
Laboratory tests are carried out daily which includes: Chemistry, Haematology, Microbiology /Parasitology.
Billings Method of Natural Family Planning:
This is done weekly and as the need arises.
Cervical Cancer Screening:
This is done every Tuesday and Cryo-therapy done on Thursdays.
Creighton Model FertilityCare System / Naprotechnology:
This takes place on Thursdays and according to appointments.
Ultrasound services:
Laboratory tests are carried out daily which includes: Chemistry, Haematology, Microbiology /Parasitology.
X-ray services:
This service is rendered on Fridays.
Physiotherapy services:
This service takes place 3 times in a week. Every Mondays, Wednesdays and Fridays.
Pastoral ministries:
We participate actively in pastoral ministries in the church and give spiritual counseling sessions and guidance for clients and patients as needed. One Sister gives communion service to the sick every Friday. We assist in the communion service in the Church and give spiritual guidance to some of the pious societies in the Church. We are an asset for health talks in the parish.
Safeguarding Child/ Vulnerable Adults:
This service takes care of issues that require social justice. It is rendered as the need arises.
Health education and School Health programme:
Health education is given on a daily basis in the clinic. We continue to give health education to pupils and students in 10 schools and in the womens skill acquisition center owned by the Parish. Health education is given both in the streets and in Churches as the need arises. The supervisor of the Local Government School Health joins the team at times.
Wisdom Soap:
This is a natural and herbal soap preparation that is only available in our ministry within our deanery to treat varieties of skin infections. Patients who have known the benefit come looking for it even if they are not sick.
Charity Assistance:
This service is rendered almost on a daily basis as different people come seeking help. In most situations, a team of two staff members visit the client's family to verify the information presented. With the generous support of our Congregation, we have assisted some people in a series of surgeries and other medical assistance, IGAs (Income generating activities), feeding, house rents, school fees and the like. We cancel medical bills for those who are not able to pay and assist those referred to us to financially facilitate their treatment.
The above mentioned activities take place in the static clinic except the Outreach activities, Home Base Care / Street Health campaign, School Health Education and the Pastoral Ministries that take place in the Outreaches, schools and the Parish respectively. We engage in these activities with our staff and the volunteers. SHOP Plus (Sustaining Health Outcomes through the private Sector) supports us in D.O.T services, Misean Cara has helped us to start some IGAs for patients/clients . We network with the Local Government who supplies us with vaccines, sometimes engage our staff in training when they are organized and supervise our activities. We also network with Lagos Archdiocese for training and some drug supplies.
We collaborate with other nearby health facilities within the Archdiocese and hospitals for referrals.
The Creighton Model Fertility Care System allows you to know and understand the phases of fertility and infertility that occur in a woman's cycle. With this understanding, the couple is able to make decisions (choice) regarding the achievement or avoidance of pregnancy. It is a system that also provided a woman the added benefit of being able to monitor and maintain, over a lifetime, her procreative and gynaecologic health. Furthermore, the teachers of the Creighton Model system are trained allied health professionals. Physicians are also being trained to incorporate this system into their medical practices.
The Creighton Model system treats fertility as a part of health and not a disease. It treats women to observe certain biological markers (biomarkers) that communicate with her when she is not fertile while at the same time giving her great insight into her own health. In fact, it is a language of the body which is taught in such a way that women can now listen to what their bodies are saying. In fact, it can be legitimately stated that it is 'An Authentic Language of a Woman's Health and Fertility'.
In the Creighton Model system, the couple is taught the ability to mutually value, respect and understand their fertility. This is what we call Fertility Appreciation. It is truly taking care of your fertility. Many couples find that the love and respect each holds for the other grows as their understanding and appreciation for their fertility grows. It accepts fertility as a normal and healthy process which is a precious gift from God; a gift to be loved, respected, understood and wisely used.
Benin City
In Benin City we have a Hospitality, Development and Vocational Centre, Primary Health Care, School Health Programme, Rehabilitation, Pastoral and Prison Ministry, Vocation promotion, Area Business Administration, Area Secretary and Area Leadership.
Our Centre serves as a hospitality venue for Sisters and others during assemblies and meetings.
The Development and Vocational Centre is run by Sr Chibuzo Aloka. They teach computer classes to students, women empowerment for income generation projects to enable them take care of their families.
Primary Health Care as previously known, but now the Medical Missionaries of Mary Medical Centre. They offer Community Clinic Mobile activities:-
· school health clubs,
· health talks,
· seminars,
· school health festivals,
· health competitions,
· empowering children through formation of school health clubs in secondary schools to know the value of health,
· building their self-esteem.
Other activities we offer include:-
• out patient's services,
· mobile Clinic outreach, rehabilitation,
· Visitation to older and elderly adults and other adults (physically challenged persons.)
This project is being run by Sr Leticia Enujuba, Sr Cordelia Nwaokike and Sr Francisca Maduike.
Pastoral and prison ministry are run by Sister Francisca Maduike who teaches Sunday school for children at St Agatha Catholic Church while Sr Francisca Ogbunuju goes to Benin Prison to do Catechism for the inmates, prepares them for Holy communion and supports them in health and feeding.
Sr Franca Ogbunuju is the Area Business Administrator while Sr Chibuzo is the Area Secretary. Sr Justina Odunukwe is the Area Leader. Sr Cordelia is the vocation animator.
Eleta, Ibadan
ST. MARY'S CATHOLIC GENERAL HOSPITAL ELETA IBADAN
St. Mary's Catholic General Hospital is owned by the Catholic Archdiocese of Ibadan and managed by the Medical Missionaries of Mary sisters who serve in the following posts: Hospital Administrator, Matron and MMM Doctor (General Practitioner). We have a staff who form a diverse multidisciplinary team; doctors, specialist doctors on contract, resident doctors, nurses, midwives, community extension workers, orderlies, porters, ward assistants, drivers, field men, cooks, laboratory scientist and technicians, accounts and administrative staff, and secretary. The staff and Sisters strive to give a holistic person-centred care to the community with special emphasis on the care of mother and child.
The proprietor of the Hospital is the Archbishop of the Archdiocese presently His Grace Gabriel Abegunrin of the Catholic Archdiocese of Ibadan
The hospital is located at Eleta Ibadan, Oyo State Nigeria in a densely populated suburb of Ibadan in the South East Local Government Area of Ibadan Oyo State.
The Hospital was founded in 1964, It was previously a 176-bed capacity but in order to deliver quality health care services, now 153 beds. Some improvements were made to the existing structures and it is now a 153 bedded hospital
When the Hospital was opened in 1964, Eleta was sparsely populated by low income cadre people. Now it is a densely populated and still extremely poor area. 75% of patients that access health care services at the Hospital are low-income cadre.
Health Care delivery in the city is provided by the Primary, Secondary and Tertiary Institutions.
St. Mary's Catholic General Hospital Eleta, provides both Primary and Secondary Health Care Services. The hospital is committed to the provision of accessible, affordable, and sustainable quality health care services with special interest in the care of Mother and Child.
Presently the Hospital provides care services in specialized fields such as ENT, neurosurgeries, orthopaedic surgeries, urological surgeries, and plastic surgeries besides obstetrics/gynaecological services, paediatrics and many others.
We are also continuing with our out-reach programme services to some nearby villages and to some parishes and mosques on invitation.
Safeguarding Children – We have a Child Protection Policy in the Hospital and no child is left unattended.
The Hospital by virtue of its location handles a tremendous amount of responsibility when it comes to health care delivery to the Nigerian public in general including:
• Adult Clinic
• Emergency (A & E)
• Child welfare Clinic and Immunisation, Antenatal care
• Adult Medical Surgical Care
• Delivery and Postnatal care
• TB Testing (Observation, treatment and medication)
• Counseling and testing, ART antiretroviral drugs
• Paediatric Medical and Surgical Health conditions
• Teaching on Prayer theory and practice integration
• Laboratory Investigations
Itam
The MMMs of the Itam Community operate three Ministries:
Family Life Centre/ VVF Hospital, Prolife Association of Nigeria (PLAN) and Teaching Ministry.
Family Life Centre/ VVF Hospital
As part of the process to reduce all maternal birth injuries/ complications, become more inclusive in providing quality health care services to both male, female, young and the elderly people, Family Life Centre/ V.V.F hospital, Mbribit Itam, Uyo, are responding through the provision of the following health care services:
1. Consultant's Gynecological Clinics- Thursdays 9am -1pm
2. Consultant's pediatric Clinics- (Children care services with a pediatrician)- Thursdays 9am -1pm
3. Antenatal Clinics with Scan- Thursdays/ daily
4. Surgery of all types- Tuesdays/ daily emergencies
5. General Out Patient consultations for all male, female and children- daily
6. Laboratory investigations- daily
7. Normal Deliveries, Caesarean Section and Neonatal care- daily
8. Home Based care for the elderly, male/ female
9. Outreach/ Sensitization which includes Immunization, School programs, and community service programs.
10. Free repairs of leakage of urine and or feces (V.V.F/ R.V.F) by pooled effort camp.
11. Rehabilitation and re-integration of repaired patients
12. Skill acquisition for repaired V.V.F/ R.V.F women
13. Counselling services to groups and individuals- daily
Those involved are the MMM Sisters- Sr. Sylvia Ndubuaku, the Matron, Sr. Rosemary Akpa, the Administrator, Sr. Ngozi Callista, a Midwife/ outreach coordinator, Sr. Margaretmary Okooboh, Counselor. Others are the doctors, nurses, nurse assistants, Field Men, Administrative Staff etc.
PRO- Life Association of Nigeria (PLAN) – Sr Cornelia Udoka is in charge of this ministry
Natural Family Planning Clinic is held every Wednesdays from 9:00am to 2 :00 pm
You can also arrange for training for groups or individuals
Online teaching through zoom.
Teaching Ministry in Catholic Institute of West Africa (CIWA) – Sr Itoro Etokakpan is in-charge of this ministry
Employed as the Institute's Counsellor for CIWA, this ministry in done through:
•Lecturing
•Individual Counselling/ Therapy
•Group Counselling/ Debriefing (specifically for Final Year Students in different programs which include: DPH, BA, MA, PGD, STL, MTh and PhD students)
• Coordinating a committee called Committee for CIWA Proximate Alumni as the Chairperson
•Presentations
•Presence to the Staff and Students, general participation in CIWA Family Life as an MMM
•Monday to Friday in both Port Harcourt and Obehie Campuses officially, and on Saturdays and Sundays occasional appointments.
OUTSIDE CIWA:
•Workshops on Human Sexuality/ other topics with young Religious from different Congregations.
•Designated Person for Safeguarding Children and Vulnerable Adults for MMM West Africa Area
Mile Four, Abakaliki
OUTLINE OF MILE FOUR HOSPITAL ACTIVITIES

Today, St. Patrick's Hospital, Mile Four is divided into different departments/ Units for efficient and effective operational and administrative purposes including:
Community Medicine
This comprises of a Leprosy unit, Leprosy Outreach Clinic and Chest unit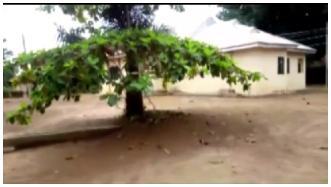 We continue to provide feeding and accommodation in the Leprosy camp for some patients who, due to the stigma they suffer, have not been able to return to their families. After their treatment we have helped people who have been accepted back into their communities to settle in by building homes for them if it is needed.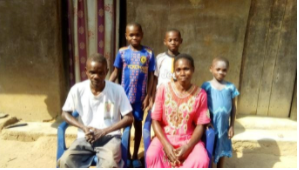 As part of our occupational therapy for rehabilitated patients, we have a cobbler's shop managed by a long time patient Mr. Mathew Ivom, who after learning, now makes and mends sandals for other patients.
We also provide farmland for patients who are able to engage in subsistence farming to support whatever aid they receive. We also employ some patients when they are fully recovered and their family members if needed.
The Chest Unit also has both outpatients' department and admission wards and a laboratory unit. Basically, patients who present with chest infections and suspected tuberculosis are attended to. We are a referral unit for patients from surrounding states.
We also have a counseling unit dedicated to supporting patients through their time of treatment. Most of our supervisors in Community medicine are furnished with motorcycles to aid .
General Out Patient Department
This is usually the first point of call for most of our clients coming into the hospital. We usually have at least two family medicine consultants and other doctors on duty along with the nursing staff, community health workers and other support staff. This is a very important unit that takes record of vital health information of all patients and the history of their illness.
Ante-natal/Child Welfare Clinic
In this unit, there is a staff strength of about 15 people – both medical and paramedical staff. Usually we partner with the State Ministry of health and have a steady supply of relevant vaccines. Our ANC clinic and storage units are also frequently inspected and supervised by WHO, and the State ministry of health. Our staff are also kept up to date on best practices by attending various workshops. We take networking to be a very important part of our responsibilities, so, we constantly network with other relevant NGOs so that intending mothers, mothers and their children have the best information to help them make informed choices.
Antiretroviral Therapy (ART) Clinic
This clinic cares for people living with HIV/AIDS. It has a staff strength of about 22, both medical and non medical personnel. Its clinic days are Wednesdays, Thursdays and Fridays. It has its own pharmacy and records units.
Labour Ward
This is our busiest section with an average of 10 deliveries daily. This figure is a drop from past years where we recorded an average of 30 deliveries daily. This drop is due primarily to the improved delivery of health care across the state. We are grateful that when there was the need, we provided the needed support to pregnant mothers in the state.
Nursery
Our nursery unit caters to children needing special attention who are born in our facility and those born outside our facility. We are equipped with incubators, oxygen and proper nursery beds for Children.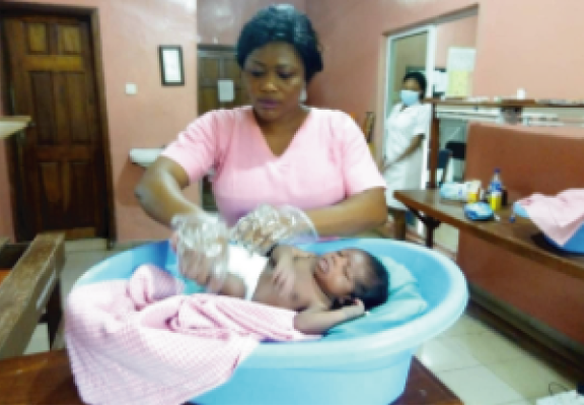 Children's Ward
Basically, we admit children between the ages of 3mths to 12years presenting with non surgical issues. We have about 30 beds which during peak season (January to March) are fully occupied daily. Since Ebonyi is endemic to Lassa fever, it is quite common to have cases brought to us. We are fully equipped with nebulizers and oxygen for patients when needed. We are lucky to have a good working relationship with the Alex Ekueme Teaching Hospital Abakaliki (AEFETA) to which we refer surgical and other severe cases should the need arise.
Laboratory
Our laboratory runs a large range of diagnostic and exploratory investigations. These are priced within the reach of the poor people who are our priority. It is run according to the profession's best ethics and practices. We have an average of 4000 tests run in the lab yearly
Radiology
In the radiology department, we carry out ultrasounds and X-rays. We have a digital X-ray machine that has made diagnosis much easier for our doctors.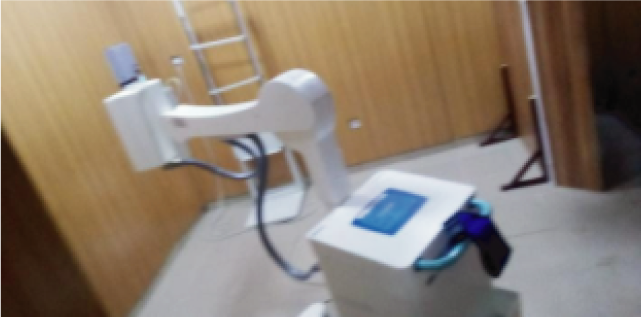 Outreach Clinic
Our ANC and child welfare outreach team is composed of Community Health workers, Nurses, Pharmacy technicians and other support staff. They are 9 in number with helpers in most of the villages we visit. We visit six villages around Abakaliki with the farthest being 2 hours 33 minutes away from Mile four hospital and the closest about 35mins away. One the average we see about 150 clients per visit in some centers.
By educating and reeducating our staff about maternal and child health and engaging in outreach, we're connecting hard-to-reach women and children with the health information and services that save their lives.
Medical Records
We have a medical records unit that is fully automated and connected to the St. Patrick's Hospital Server with an array of dictated staff that ensures that patients' data are correctly taken and updated. All the consulting rooms, pharmacy and accounts sections have been connected hopefully other departments will follow.
Auxillary Services
Training Programmes
Training and Mentoring are values we take very seriously, so, we have opened our facility to students of schools of Midwifery within and outside the state, Resident Doctors who are on rural posting to gather the necessary experience they need to complete their training. We conduct information and mentoring workshops for Traditional Birth Attendants (TBAs) within the State. Our staff are also engaged in periodic training and retraining.
Staff Library
We have a well equipped staff library particularly for medical doctors and nurses who we encourage to constantly read so as to keep themselves up to date in their professions. Other staff members also avail of this facility especially those who are students furthering their studies. It has been our tradition to encourage our staff to continue when the opportunity provides itself, to improve on themselves psychologically, academically and socially. So, it is not out of place to find among our staff those on study leave with or without pay, depending on the circumstances. Our Facility is also used by different research students and groups as a Research facility. Workshops are constantly organized and talk on the MMM core values and the child protection and vulnerable adult policy is a regular part of our morning assembly. In our facility, we have contact persons to whom staff report to when they discover possible abuse within our facility.
School Health Programme
We believe strongly in the maxims: "Prevention is better than cure" and "Catch them young". We engage each week in the Schools Health programme educating young students on taking better care of their mental health, prevention of prevailing community health challenges and where to seek help should the need arise. We also train students to become elements of change in the society by training them in practical attitudinal behavioral patterns changes.
Sterilizing, Supply & Laundry Services
We have a central sterilizing unit, where every reusable instrument utilized, is sterilized at the end of the day and supplied each morning to the different units. Also, other sensitive items like gloves, gauze, cotton wool, theater gowns, scrubs among others, needed for sensitive procedures must first be sterilized. We also run a laundry service both at maternity and child welfare clinics and at the community medicine section. Here the linens of the hospital are properly laundered and disinfected.
Nutrition/Canteen
We have a nutrition unit where food supplements such as soya beans powder is produced and made available to clients who visit our facility. A canteen is available in the compound that provides hygienically prepared meals for both staff and clients. The health standard is vigorously and frequently inspected and closely monitored to ensure the quality of meals provided to everyone.
Mortuary Services/Tailoring Services
We run mortuary services. The hospital has a sewing room equipped where scrubs, theater gowns, sterile sheets and other bed linens are made to supply the hospital's need for such items
Hospital Pastoral Care Unit
The hospital pastoral care unit carries out the spiritual and physical needs of our patients. The situation of the country is making more people vulnerable.
Shogunle, Lagos
The MMM project in Shogunle, started in September 2015 when MMM Shogunle community was opened.
BEESAM area is the place where our house and ministry will be situated and the indigenous people there are called Ewu people.
We are engaged in school health programmes, visitation of the sick/ homebound, airport ministry, working with youth at parish level, giving health talks, working towards acquiring the Certificate of Occupancy of the newly acquired property in Lagos where we hope to establish a formal ministry.
We visit the sick and home-bound to be a presence to them and the priests bring communion to those of them who are communicants every first Friday of the month. We visit each school once a month on Wednesdays because that is the mandate from the government. We work with four Government Secondary Schools and one private school. We were told we can only visit on co-curricular days. It is only the private school we visit that we go to on Fridays. We do not visit during holidays, and any other day any of the schools have special activities. Home visitation is done mainly twice a week if sisters are available. Talks in the church are usually on request.
As a result of the prolonged lockdown especially in Lagos state, the schools re-opened later in the year and gatherings of any kind were strictly prohibited. We also go to work in our church clinic and at the moment we go once a week on Tuesdays. We offer hospitality to Sisters and visitors who come into the country and travel out of the country through Lagos.
Torugbene, Delta State
MARY MARTIN PHC TORUGBENE
Mary Martin Primary Health Centre, Torugbene is in Burutu Local Government Area, Delta State under the Catholic Diocese of Bomadi.
It began in October 2016 with the aim of offering accessible, affordable and quality health care to the people of Torugbene and its environs. We offer medical and nursing care to meet the best practice of person-centred care within our reach as much as we can. We engage in a wide range of primary health care activities such as treatment of minor illness, Antenatal and Postnatal care, Immunization, Public health awareness, School health programme, Youth programmes (Boys and Girls forum and reading club.)
We also participate in youth programmes in the local church (altar boys, choir, board of lectors, Catechism). Relaxation and therapeutic Massage, Billing's natural family planning and family counselling care are also done in the clinic. We also assist in pastoral care of the infirm homebound and elderly. We assist in vocational skill acquisition and preventive health talk on non-communicable diseases in the creeks and diocese.
Programmes:
Clinic Mondays to Fridays 8:30am to 1pm, Saturday's Statistics reviews and pharmacy stock and disinfection of clinic. Case reviews, health talks, nutrition clinic, Treatment of minor illness referrals, health sensitization and public health awareness talks pre and post counselling and testing HIV / AIDS, antenatal and postnatal care, tuberculosis sensitization and follow-up medication care.
Youth Programmes:
• Reading Club every Tuesday 4pm -5;30PM.
• BOYS FORUM: last Thursday's time 4-5 pm once a month (last Thursdays of the month) in the clinic.
• GIRLS FORUM: last Fridays, time 4-5 pm once a month (last Thursdays of the month) in the clinic.
• Catechism in the Church 3rd Sundays, 8-8;30AM, children Catechism Saturdays and Sundays 4-5pm.
• SCHOOL HEALTH PROGRAMME: 3RD WEEK A WEDNESDAY OR THURSDAY.
• VISITATION AND FOLLOW UP CARE.
• PASTORAL/ PALLIATIVE CARE- HOMEBOUND ELDERLY.
• FAMILY MINISTRY- COUNSELLING/ TALKS AND PRESENCE TO FAMILIES
• HIV/ AIDS COUNSELLING TESTING/ SUPPORT GROUP AND MEDICATION
• TB SENSITIZATION AND MEDICATION