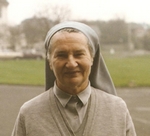 Sister Cora Wall was born Margaret Mary Wall in Lissarda, Co. Cork in 1922. She received her early education in Kilmurry and Macroom and joined the Medical Missionaries of Mary in 1949.
After initial formation she completed a diploma in social science in University College Dublin (UCD).
Sister Cora's first assignment was to Nigeria in 1954 as a social worker. She spent most of her time in missions for people with Hansen's disease (leprosy) after MMM was asked to take on this work by Bishop Thomas McGettrick. Her responsibilities included obtaining building materials and food and clothing for the patients.
She spent about five years in Abakaliki, followed by nine years in Ogoja. After doing a diploma in social policy and administration at the University of Swansea in 1959, she returned to Nigeria, where she spent four more years in Ogoja and a short time in Ondo and Irele.
She returned to Ireland in 1975 and worked for many years in the stamp department in the Motherhouse. She kept in touch with stamp buyers and donors. She also completed a diploma in catechetics in UCD in 1987.
Cora had a special gift for communicating, which she demonstrated through letter-writing and story-telling. A warm and caring person, she had a great sense of humour.
With failing health she moved to Áras Mhuire, Beechgrove, in 2006. She died on 18 February 2012.