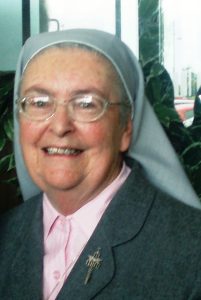 Sr. M. Davnet, baptised Sara Gertrude and known as Sally, was born in Derry in December 1937, but she was definitely a Donegal person at heart as her early childhood was in Culdaff on the Inishowen peninsula and she attended the local primary school in Gleneely. While attending Primary School in Gleneely, Sally saw the MMM film "Visitation"and encountered her first two MMM sisters, Magdalen O'Rourke and Margaret O'Conor, who were showing the film in the Derry Diocese. Sally decided there and then that she would become a sister and never wavered in her decision! Her secondary education was in the St. Louis Convent school in Monaghan and she entered MMM soon after her Leaving Certificate exams.
After the period of initial religious formation, Sr. Davnet made first Profession of Vows in 1959 and was sent to study Laboratory Science in Dublin. At the same time, she worked in the Laboratory of the hospital in Drogheda, gaining valuable experience in her field.
In 1968, after obtaining her Fellowship, she was assigned to Chiulo, Angola. Here she was in charge of the Laboratory and also tutor. She trained students both for Chiulo and for other Angolan hospitals. These were difficult years in Angola with a protracted civil war and its aftermath. Sr. Davnet spent thirteen years in Angola, with only a short break of a year in Drogheda in the middle of this period. When she left in 1981 she knew she would be moving to another mission.
After a short up-dating course in Tropical Medicine, Sr. Davnet was assigned to Ethiopia. She started her work in the Laboratory in Latichi Clinic in Mekele but also worked the three Field Hospitals. Again, she was involved in training of students for these laboratories. This assignment was only for a year and then she was re-assigned to Uganda in 1986, which became her home for the next nearly twenty years. She enjoyed her laboratory work, the training of students. She was asked to develop the laboratory and to set up HIV testing in a country where AIDS was widespread. Realising the importance of uncontaminated blood, she set up a regional blood bank and later the Ugandan Government started a national service which Davnet was invited to be part of. This was a successful enterprise, resulting in the saving of millions of lives annually. When the hospital was handed over, she stayed on in the Kitovu compound until her final return to Ireland in 2005.
Sr. Davnet was a highly organised woman, faithful in her MMM life and an expert in her professional field. One of her special gifts was the training of personnel in this vital area. She embued them with knowledge, expertise, and the capacity to faithfully follow the path they had chosen. This was apparent in Chiulo, Tigray, Kitovu and Rwanda, where she rehabilitated some laboratories at the request of the Refugee Trust. She has left a tremendous legacy which was acknowledged by the Institute of Bio-medical Science of London when they presented her with a medal for 50 years of membership and service.
In 2006 Sr. Davnet had the opportunity to visit her "first love". She went to Angola for a six-month period to help set up a laboratory there. Back in Drogheda she settled well into life in the Motherhouse. She became Librarian and helped with reception and phone duties. As her health declined, it was realised she needed more care and she transferred to Aras Mhuire Nursing home in August 2020 where she received wonderful care from the Staff and Sisters. She died peacefully in Our Lady of Lourdes Hospital on June 15th, 2023. She is buried in St. Peter's Cemetery in Drogheda.