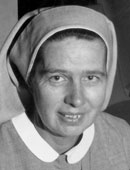 Nationality: Irish
Congregational Register No: 185
D.O.B. 25.09.1919
First Profession: 08.09.1950
Died: 04.12.1993 Aged: 74 years
Eileen, from Clonmel, Co. Tipperary, entered MMM on 15 September1947.
Because she was already a qualified nurse, she was missioned to Nigeria shortly after profession. She gave a lifetime of service in Afikpo, Abakaliki, Ogoja, Ikom, Nkalagu, Minna, and for many years in Obudu. In Obudu she started a centre for the blind in the Hansen's disease (leprosy) settlement there.
After returning from Nigeria, she spent some time in Rosedale, Kilmacow, and appreciated being near her family and home county. After a short time, though, ill health prevented her from remaining there and she returned to Drogheda.
She had a gifted and creative mind and she wrote some lovely poetry.
Sr. Francis was very earnest and committed to her prayer life. At the same time she could always appreciate the lighter side of life.
MMM is indebted to her family for their generosity in helping to set up Our Lady's House of Visitation in Clonmel, a home for our postulants and a ministry to the sick for many years.
Sr. M. Francis died and is buried in Drogheda.