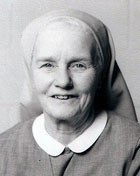 Nationality:  Irish
Congregational Register No.
D.O.B.:   24.04.1919
First Profession 02.07.1956
Died: 07.11.2009  Aged: 90 years
Angela Margaret McDermott came from Warrenpoint in Co. Down. She was educated at the primary school in Warrenpoint and at the Sacred Heart Convent, Armagh.  After completing her secondary education, Angela studied at the School of Physiotherapy, Hume Street, Dublin.
After qualifying as a physiotherapist, Angela worked in the Royal Victoria Hospital, Belfast, until early 1946 when she went as part of a team with the Irish Red Cross to set up a hospital in Saint-Lô in Normandy, France.  Saint-Lô had been almost totally destroyed during the Battle of Normandy in World War II, earning the title of "The Capital of the Ruins" from Samuel Beckett.  Angela stayed at the hospital until 1947 when it was handed over to local personnel.  She then worked at the Royal Infirmary in Leeds, England, before returning to Ireland. She worked in the Dublin Chest Hospital from 1949 to 1951 and then at Daisy Hill Hospital in Newry until 1953.
There is nothing on file to let us know when Angela decided she was called to a religious life or what attracted her to MMM in particular, but she joined in October 1953, taking the name Sr. M. Lua.
Following first profession, Sr. Lua was assigned to the IMTH, Drogheda, where she helped set up the physiotherapy department.  She worked there for six years before going to Rome to work in the Clinica Moscati for two years.  Returning to Drogheda, Lua was to fill a variety of roles.  She was a practical, efficient, hands-on person with a range of skills. She could turn her hand to almost anything.  She had a particular passion for cars and driving.  She took great care of the cars and gave driving lessons to many Sisters, accompanying them on their practice runs.
Sr. Lua was assigned to Malawi in 1980.  At the age of 61 this was her first assignment outside Europe.  Once in Lilongwe she set up Malawi Against Polio (MAP) and became known as 'the little white-haired lady in the big white van' as she drove around Lilongwe, collecting children with paralysis and taking them in for assessment and treatment.  She remained in Malawi for nine years before returning to the Motherhouse for light duties when her health declined.
Lua was moved to Áras Mhuire in 2004 for additional care.  She now spent most of her time in a wheelchair but remained the kind, generous lady she had always been. She was gracious, polite and very appreciative of any help given her.  On 5 November 2009, Lua was transferred to Beaumont Hospital for investigations and treatment, but it soon became clear that she was dying.  The end came peacefully at 3 a.m. on 7 November 2009.  Sisters Bernadette Freyne, Brenda Swan and Bernice O'Neil had been with her just a few hours earlier when one of the hospital chaplains, a Carmelite Father, administered the sacrament of the sick and gave Lua a plenary indulgence.  She had not been fully conscious, but she suddenly opened her eyes and looked up at Father with a big smile.  She slipped quietly away just a few hours later.