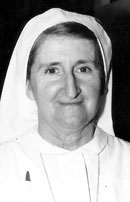 Nationality: Irish
Congregational Register No: 349
D.O.B. 08.05.1916
First Profession: 02.07.1956
Died: 27.09.1999 Aged: 83 years
Maria, from Newry, Co. Down, entered MMM on 31 May 1953, as a highly qualified nurse/midwife. Consequently, her first overseas mission assignment came shortly after her first profession. She was midwifery sister and matron in Anua, Nigeria, from 1956 to 1961, where she gave herself generously to the work.
In 1961 she was asked to join the pioneer group of Sisters going to Taiwan. She spent thirteen years there, and this was a special time to her.
On returning to Ireland, she worked in nursing administration in the IMTH for ten years. Following 'retirement' she served as clinic nurse in the tropical unit with Sr. Dr. Patricia Kelly until 1995. After this she suffered failing health for several years.
She was a special character – sensitive, musical, and creative, with a distinctive sense of humour. She made a great contribution to the liturgy, playing the organ as well as singing. She shared her gifts generously and communicated with her community and family very openly. She was aware of her own need for support and friendship.
Her whole life in MMM could be summed up by: 'The whole thing was a huge success', a quote often on her lips!
Sr. Maria died in Áras Mhuire after a short final illness and is buried in Drogheda.