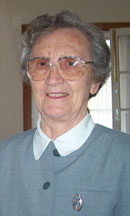 Sister Constantia was born Brigid Faul in Mullacrew, Louth, Ireland, in 1933. One of four children, she attended Louth Village Primary School and completed her secondary education at the Saint Louis Convent in Carrickmacross. She joined MMM in 1952. After profession she worked in the laundry in Drogheda for five years, first in the sorting and packing room and then in the office. She did this while attending bookkeeping and typing classes at night in the Drogheda Technical School.
In 1960 'Connie' began training as a radiographer, qualifying in 1963. After working in the IMTH in Drogheda for two years, she was assigned to Tanzania and spent eighteen months in Kabanga as a radiographer and also did the accounts. She assigned to Malawi in 1967. For over twenty-two years Sister Constantia served in Saint John's Hospital in Mzuzu as a radiographer, administrator and local and area bursar. Keen to pass on skills, she trained radiography technicians. In their absence, she filled in for Sister Gemma Breslin and Sister Julie McLoughlin in local MMM leadership and served as Area Leader for six years.
After a break, Connie returned to Malawi in 1993. She attended a Chickewa language course and worked in Chipini for several months. This was followed by over four years as a local and Area bursar. These were sometimes difficult times in Malawi and she was sustained by her deep spirituality and trust in God.
Sister Constantia returned to Ireland in 2002. She helped with general duties in the Motherhouse and again served in local MMM leadership. When ill health necessitated regular nursing care she moved to Aras Mhuire in 2015, but continued to participate in various activities. She died peacefully on 21 August 2017.
A quiet gentle person, Connie was a perfectionist, an asset in her radiography work. Known as 'night owl', she worked late at night to ensure everything was just right. She will be remembered for her hearty laugh and her beautiful singing voice. Her favourite song for parties was 'Danny Boy' and she never needed to be asked twice to sing.
Her family were the joy of her life and they were very good to her. She was also very proud of her Louth 'roots'.
Father Pat Kelly, SPS, chaplain at Aras Mhuire, five priests from Armagh Diocese, and an Augustinian concelebrated her funeral Mass, with a very large attendance of family and friends. While she spent most of thirty-five years overseas, Constantia was very much a local woman.