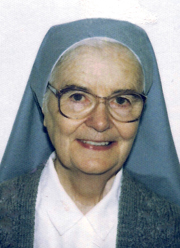 Nationality: Irish
Congregational Register No: 231
D.O.B. 16.09.1925
First Profession: 17.03.1952
Died: 24.06.1999 Aged: 73 years
Baptised Kathleen, from Carlow, Sr. Mercedes entered MMM on 15 August 1949. From early years, after her profession in 1952, one might say she entered the diplomatic service.
Her ministry was as secretary and archivist in the Apostolic nunciature in Dublin and in the Apostolic delegation in London. She also worked with Cardinal Benelli, first in Vatican City and later in Florence. Her work was so appreciated by the Holy See that she was awarded a papal decoration.
In the 1980s, she helped set up the Congregational Archive Department in Drogheda. This was her forte. In 1988 she had her first and only overseas mission assignment to Africa as secretary to the Bishop of Mwanza, Tanzania.
Her final years were spent where she had started, in the Apostolic nunciature in Dublin. She was at her most fulfilled as she helped the new nuncio adapt once more to life in a changed Ireland. He had been assigned to Dublin previously, as secretary to an earlier nuncio.
She carried responsibility for much of the working of the nunciature, including the archives, despite deteriorating health.
She was an extremely confidential and private person. She appreciated the care and concern of her community and of MMM during her last illness.
She returned to the MMM house in Artane, Dublin, to be nursed and was just being admitted to nearby hospice care when she died. She is buried in Drogheda.