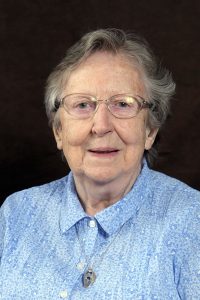 Sr. Maureen Clarke, baptized Maureen Margaret, was born in Leeds, England in July 1934, of Irish parents and enjoyed her dual nationality. Her early education was local in Doncaster but attended a Sisters of Mercy boarding school for her secondary education. After leaving school, she helped her mother in the running of the family hotel for some years before attending a Secretarial Course and joining the Civil Service. She was posted to Scarborough to the Inland Revenue Valuation Office.
Maureen joined MMM in 1959 and came to the Novitiate in Drogheda. As a second-year novice, she was already working in the Admissions Office in the I.M.T.H (now Our Lady of Lourdes Hospital). As a young Sister, she worked in the Editor's office and in promotion work where her secretarial skills were well used.
Following her Final Profession of Vows in 1967, Maureen went to Dublin and did a Social Science degree at University College, Dublin. This was followed by a postgraduate course in Social Work and Social Administration at York University and work experience in Cheshire as a social worker with the County Council.
In 1975, Sr. Maureen went to Kenya and was involved in social work in Eldoret and also helped other organizations by carrying out social surveys. She returned to Ireland in 1980 and was assigned accompany lay volunteers, helping them with their visa applications and general orientation. In 1981, she went to England to care for her elderly mother and took up responsibilities in the Romiley community which had been established in 1979. She was employed by the local authority as a social worker, specializing in work with mental disability and eldercare. For two years she moved into more specialized work for the Alzheimer's Disease Society of Birmingham.
In 1992, Sr. Maureen transferred to London, to the Ealing community. Here she did part-time counselling and was the contact person for vocations and MMM Associates. She also assumed a Leadership role. She stayed in Ealing until December 2019, when she returned to retire in the Motherhouse.
Sr, Maureen was a soft-spoken, kind and gentle person. She was always attentive to the needs of others and had a quiet sense of humour.
In September 2023, Sr. Maureen transferred to Aras Mhuire for extra nursing care but shortly afterwards was admitted to Our Lady of Lourdes Hospital. She died there peacefully on October 11th, 2023. She is buried in St. Peter's Cemetery, Drogheda.