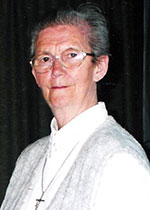 Sister Mel Brady was born Mary Brady in Corbawn, Longford in 1926. She came from a family of five boys and three girls, one of whom died in infancy. She was educated in Kilcogy, County Cavan ,and joined MMM in 1947. At her reception she was given the name Mel, one of the earliest Irish saints, the patron the Diocese of Ardagh and Clonmacnoise.
Mel was part of the challenging pioneering days of MMM. In 1951, soon after profession, she was assigned to Nigeria.
She first worked in Use Abat and Akpa Utong, where she was involved in the care of orphans and was home Sister and secretary. She also served in local MMM leadership. Her photo often appeared in our early MMM publications. She returned to Ireland in 1962 and helped in guiding the postulants in Clonmel. After a few months as home Sister in Bettystown, in 1963 Mel moved to Drogheda, where she was the catering supervisor in the IMTH (now Our Lady of Lourdes Hospital) and learned typing and bookkeeping in the Drogheda Vocational School in the evenings.
In 1965 Mel returned to Nigeria, where she again served in local MMM leadership in Use Abat. During this time the civil war broke out and she returned to Ireland at the end of 1967. She did promotion work for several months and then served in the apostolic delegation in London. In 1970 she was assigned to the accounts department in the IMTH and worked there for twenty-two years. She is fondly remembered by staff there to this day. Mel updated in other areas, completing a diploma in social and economic studies from University College Dublin and a certificate in theology from Milltown.
After a short visit to our missions in Kenya and Uganda in 1992, Sister Mel began work in the MMM archives, serving there with great dedication until 2009. She also found time to study for a certificate in pastoral liturgy. She was based in the Motherhouse until her health deteriorated and she needed nursing care. She moved to Áras Mhuire in April 2013 and was grateful for the love and care showered on her by the excellent staff. While the last few years were not easy for Mel, she died in her sleep peacefully, if somewhat unexpectedly, early on the morning of 25 May 2020.
Sister Mel was gracious and conscientious and a woman of prayer. She was a woman with high standards who dedicated herself completely to any assignment. She came from a musical family and had a lovely singing voice – and swayed to the rhythm of hymns during prayer. At concerts she was often seen to be 'conducting' the music, totally oblivious to all else! She was very close to her family and they visited her regularly.
Mel's funeral took place in nearby Our Lady of Lourdes Church and was live-streamed on webcam. Because of COVID-19 restrictions only ten people were permitted to be present in the church. Her nieces and nephews provided the music and Father Barry Matthews was the celebrant. Unfortunately it was not possible to share a meal with the Brady family afterwards, but hopefully that will be possible in the future. We give thanks for Mel, who lived her long life with great dedication to God and in sharing her gifts in service to others.