Agnes Manifold was born in Dublin in January 1931. Her early education was in Dublin and after secondary school she studied secretarial skills in a further education college. She worked in Dublin for a few years and then joined MMM in 1962.
After her initial religious formation, Sr. Agnes had a lot of varied experiences, helping MMM in Ireland when it was in its phase of expansion. She helped with the Dublin Sale of work, in the office in the Maternity Hospital in Drogheda and even did a spell in the Apostolic Nunciature in Dublin.
During this time, Mother Mary realised the great need for Sisters to fly small planes in Africa. They carried medical supplies, ferried patients to hospital, and doctors to remote clinics. Some Sisters were already trained, and Sr. Agnes was called upon to be one of that small band of women pilots. She trained at Dublin airport and received her pilot's license in 1971. Sr. Agnes was a very versatile person, able to adapt to situations where needs arose and always ready to say 'yes'.
In 1972 she went to Uganda for a short period and then on to Kenya where she used her flying skills in the Turkana Desert. But this was a brief period in her life, as she was called home to Ireland to do Mission Awareness work in various dioceses for three years – 1975 to 1978.
On her return to Kenya, Agnes trained in clinical pastoral care and worked in Lokitaung, Eldoret and Kitale. She finally left Kenya in 1990. In Ireland she had a brief assignment to Kilmacow where MMM ran a Nursing Home and Agnes helped out in both pastoral care and as the bursar and then, in 1992, Agnes made another major cultural change. This time it was to Nigeria where she used her secretarial skills and also worked as a pastoral minister in Benin City and Ibadan for four years.
Agnes returned to Ireland from Nigeria in 1997 and for the next few years worked as a bursar and in pastoral ministry in several of our houses, Mell, Kilmacow and Artane. During this period, she had the chance to return again to Kenya for one year, helping out in the Kitale community and working with women's groups in the parish to promote income generating projects.
Sr. Agnes finally came to the Motherhouse community in 2017 when her health needed more attention. She was an active member in community and enjoyed visitors and family visits. She was a lively and entertaining member of community, full of energy and in her young days, was a gifted Irish dancer. She was the life and soul of any group of any age.
As her health began to deteriorate, she finally moved to Aras Mhuire in 2019 for extra care and she died peacefully on Sunday, 27th August 2023. She is buried in St. Peter's Cemetery, Drogheda.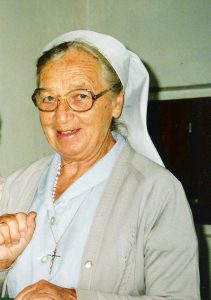 Sr. M. Pacelli Ward, baptised Margaret Mary and known as May, was born in Castleblaney, Co. Monaghan, in October 1926.  Her early education was in the local primary school, followed by secondary education at St. Louis Convent School.
In 1950, Margaret went to Dublin to study pharmacy, but at the same time, she must have been attracted to religious life, as she entered MMM early in 1951, continuing her studies as a postulant and as a second-year novice.  This would have been common in the early days of MMM.  At the time of her First Profession of Vows, she took the religious name of Sr. M. Pacelli.
She remained in Ireland for only a year after her Profession.  Newly qualified in pharmacy she set out for a lifetime of service to the poor and needy using these skills.  Her first assignment was to Nigeria, to Anua Hospital, where she was the pharmacist for nine years. During this time, she helped train local people in basic pharmacy skills.
In 1968 she was asked to return to Ireland. She was given the responsibility of being the Sister in Charge of the MMM community at Airmount Hospital in Waterford.  This was a three- year assignment followed by updating in pharmacy in London and Drogheda. Then Sr. Pacelli was ready for yet another adventure!
This time it was to East Africa, the place that became home to her.  She arrived in 1973 and her first assignment was to Namanyere, Tanzania. This was followed by Dareda, Makiungu and also Kabanga and Masaka in Uganda. In 1987, Sr. Pacelli returned to Ireland to "retire".  She worked in parish work in Dublin for a few years, but the desire to return to East Africa was strong! So, in 1989, off she went again for another thirteen years.  This was mostly in Kabanga Hospital in Tanzania.
In 1992, Sr. Pacelli returned to the Motherhouse in Drogheda where she was an active member of the community for several years.  She was a woman of many gifts and talents, artistic and outgoing and adaptable to changes around her.
She was always very close to her family in Monaghan.  On one occasion when on home leave, her sister-in-law became ill, and Pacelli looked after the children for a few months until things returned to normal.  The same children, now well into adulthood, have happy memories of those months when she looked after them and they continue to have a great relationship with her.
In 2022, she transferred to Áras Mhuire Nursing Home as her health was declining.  In 2023, her health deteriorated further, and she died peacefully on 24th July 2023.  She is buried in Drogheda.
18/12/1921 –  27/06/2023
Sr. M. Adalbert Simakova (Bibi) was born in Masov, Czech Republic, Petrovice, Czechoslovakia, the daughter of Anastasie (née Prochazkova) and Frantrisek Simakova and was the second in a family of five.  She was baptised Bozena Marie.
As a young woman she left school early to help provide for her family and was employed by an Army Officer's family, the Sumans, with whom she has remained friendly right up to the present day.  During her time with the family, she attended Mass in the Jesuit Church in the city and when possible attended youth group meetings of the Czech Catholic Action, an organisation forbidden by the regime of the time.  Among the many talks she attended there was one by a Fr. Horaek S.J. who spoke of missionaries and their work and how he was willing to help any young person who felt called to missionary life.  Bibi eventually got talking to him, expressing a desire to do just that and with his influence got a place in the Nursing School run by the Charles Borremo Sisters with a view to leaving the country as a missionary when qualified.  Several years later he contacted his Jesuit confreres in Propaganda Fide in Rome about Bibi and another newly qualified nurse who wished to become missionaries.  In the strange ways of providence, he was advised to contact a Fr. Hugh Kelly S.J. in Ireland who, by coincidence, was Spiritual Director of Mother Mary Martin, Foundress of the recently founded MMM's.
The rest is history. Contact was made with Mother Mary via Fr. Hugh and Bibi entered MMM on 08/09/1948, speaking very little English and also facing challenges both culturally and with traditions. In her second year Novitiate she, together with four professed Sisters, were assigned to the Apostolic Nunciature in Dublin, serving the Holy See in the person of the Nuncio and his household, a new commitment for MMM.
Bibi worked in the Nunciature for five years, showing herself to be extremely talented in many ways, especially working as both Chef and Household Manager. She was a great planner, full of initiative and imagination and always eager to learn more. She together with the other Sisters hosted many large diplomatic dinners for the many visitors who came.
Her next assignment was to London, working in the Apostolic Delegation where she played a similar role as in Dublin. It was an interesting time in the history of the Church when Pope John 23rd called the Second Vatican Council which involved many visitors of many denominations as well as Cardinals, Bishops and members of the Royal Family visiting the Delegation. Once again Bibi surpassed herself running the Delegation with great skill, creativity and a warm personality.
During these years, she was always aware of the presence of MMM Sisters attending various courses and programmes in London and went out of her way to welcome them warmly and help them with any difficulties they might have had.
In 1985, having completed her time in the Apostolic Delegation, she became involved in the pastoral care of the Czech community attached to the Jesuit Farm St. Church, London, giving invaluable support to them in their transition difficulties.
In 1987, Srs. Bibi and Helena Mulcahy were assigned for five years to Rome working with Bishop Jaroslav Skarvada of Czechoslovakia and the Czech community. Rome was preparing to receive many Czech pilgrims for the canonisation of Blessed Agnes of Bohemia, so it was a busy time for the Sisters as they had to be available to respond to the many needs of the pilgrims. The canonisation took place one week before the Velvet Revolution in Prague, which forced the regime to surrender. In the Czech tradition there was a prophecy that Czechoslovakia would be free when Blessed Agnes of Bohemia became a saint, and so it was.
#In 1990, Bibi made her first visit home in 40 years – a deeply emotional experience for her and her family. She then retired to Prague to work with Bishop Skarvada and later to care for him in his final illness.
Sr. Bibi's (Adalbert) whole life as an MMM was truly inspirational from her initial contact with Mother Mary and the Congregation right through to her death The challenges she left behind in Prague and those she faced in a new culture with different language, food and customs were huge, but she approached them all with commendable inner strength and calm. She was a true MMM although she never reached the continent of Africa and she exercised her MMM charism in each of the places to which she had been assigned. She kept up regular contact with the Motherhouse while living in Prague, especially to acknowledge the deaths of our sisters.
Her family and the current Bishop of Prague cared for her during her later years, and she died peacefully on 27th June 2023.  She is buried in Prague.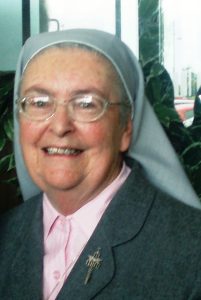 Sr. M. Davnet, baptised Sara Gertrude and known as Sally, was born in Derry in December 1937, but she was definitely a Donegal person at heart as her early childhood was in Culdaff on the Inishowen peninsula and she attended the local primary school in Gleneely. While attending Primary School in Gleneely, Sally saw the MMM film "Visitation"and encountered her first two MMM sisters, Magdalen O'Rourke and Margaret O'Conor, who were showing the film in the Derry Diocese. Sally decided there and then that she would become a sister and never wavered in her decision! Her secondary education was in the St. Louis Convent school in Monaghan and she entered MMM soon after her Leaving Certificate exams.
After the period of initial religious formation, Sr. Davnet made first Profession of Vows in 1959 and was sent to study Laboratory Science in Dublin. At the same time, she worked in the Laboratory of the hospital in Drogheda, gaining valuable experience in her field.
In 1968, after obtaining her Fellowship, she was assigned to Chiulo, Angola. Here she was in charge of the Laboratory and also tutor. She trained students both for Chiulo and for other Angolan hospitals. These were difficult years in Angola with a protracted civil war and its aftermath. Sr. Davnet spent thirteen years in Angola, with only a short break of a year in Drogheda in the middle of this period. When she left in 1981 she knew she would be moving to another mission.
After a short up-dating course in Tropical Medicine, Sr. Davnet was assigned to Ethiopia. She started her work in the Laboratory in Latichi Clinic in Mekele but also worked the three Field Hospitals. Again, she was involved in training of students for these laboratories. This assignment was only for a year and then she was re-assigned to Uganda in 1986, which became her home for the next nearly twenty years. She enjoyed her laboratory work, the training of students. She was asked to develop the laboratory and to set up HIV testing in a country where AIDS was widespread. Realising the importance of uncontaminated blood, she set up a regional blood bank and later the Ugandan Government started a national service which Davnet was invited to be part of. This was a successful enterprise, resulting in the saving of millions of lives annually. When the hospital was handed over, she stayed on in the Kitovu compound until her final return to Ireland in 2005.
Sr. Davnet was a highly organised woman, faithful in her MMM life and an expert in her professional field. One of her special gifts was the training of personnel in this vital area. She embued them with knowledge, expertise, and the capacity to faithfully follow the path they had chosen. This was apparent in Chiulo, Tigray, Kitovu and Rwanda, where she rehabilitated some laboratories at the request of the Refugee Trust. She has left a tremendous legacy which was acknowledged by the Institute of Bio-medical Science of London when they presented her with a medal for 50 years of membership and service.
In 2006 Sr. Davnet had the opportunity to visit her "first love". She went to Angola for a six-month period to help set up a laboratory there. Back in Drogheda she settled well into life in the Motherhouse. She became Librarian and helped with reception and phone duties. As her health declined, it was realised she needed more care and she transferred to Aras Mhuire Nursing home in August 2020 where she received wonderful care from the Staff and Sisters. She died peacefully in Our Lady of Lourdes Hospital on June 15th, 2023. She is buried in St. Peter's Cemetery in Drogheda.
Sr. Cecily was born in Zambia (previously Northern Rhodesia) and brought up in
Zimbabwe (previously Southern Rhodesia). Her father, Victor Bourdillon, worked for the British Civil Service in Northern Rhodesia where he met her mother who went to Northern Rhodesia from England as a missionary doctor. She was the eldest in the family of two girls and six boys. When she was young, the family moved to Zimbabwe and Cecily was educated in Salisbury (now Harare). Bourdillon is a French name, but their branch of the family had lived in England since the early part of the 18th Century.
Influenced by St. Therese of Lisieux, Cecily wanted to be a religious and a missionary and do medical work in the footsteps of her mother. Her father had met Mother Mary Martin when searching for sisters to do medical work in N. Rhodesia around 1939. Having only just founded the Congregation, there were as yet no sisters to send. However, Mother Mary obviously impressed Victor Bourdillon for he had no hesitation in suggesting the Medical Missionaries of Mary to Cecily. He communicated with Mother Mary, and she broke a trip to South Africa to visit the family in Zimbabwe. Mother Mary invited Cecily to come to Drogheda when she finished secondary school. Sr. Cecily arrived in Ireland in 1960 and began the MMM journey.
She studied medicine at University College Dublin in 1961 and graduated in 1967. The MMM students lived together in Rosemount, Booterstown, and cycled to college each day. In 1969 she was asked to go to Nigeria to relieve a sister doctor, for 6 months but that turned into 20 years!
Sr. Cecily worked in hospitals – Eleta in Ibadan, St. Luke's in Anua, St.Joseph's in Ekot Ene, Mile Four in Abakalilki, Monaya in Ogoja – and Zungeru health centre in Minna Diocese. At Mile Four and Monaya, she supervised the Leprosy and TB programme and did the three-month course in Leprosy and TB control in Ethiopia. In Ethiopia, she worked for three months in one of the refugee camps for people devastated by the famine in 1985.
In 1990, she was asked to go to Chiulo Hospital in Angola. The civil war was coming to an end and people voted for their leaders for the first time. She cared for the children and the Leprosy and TB patients.
From 2001 to 2020 she worked in Malawi – first, in Chipini Health Centre and then in Kasina Health Centre. The HIV/AIDS pandemic was rearing its head and the Sisters gradually developed a good programme of testing, care, and treatment within the Malawi National HIV/AIDS Programme. Before treatment was available, they began a Home-Based Care Programme to provide care for the many dying patients which developed into the Home Based Palliative Care programme run by nurses trained in Palliative Care.
Sr. Cecily returned to Ireland in 2020 and was an active member of the Beechgrove community. She had a gift for music and played the piano and the organ in the chapel for the Sisters. She loved to crochet and enjoyed swimming. Her last illness began in 2022 and she was aware of her own serious condition.
Once she summed up her attitude to life as:
"I am filled with gratitude for my life. In being an MMM my life's dreams to dedicate my life to God and to serve the sick poor were fulfilled. In ministering among the poor, I have learned much about suffering, courage, endurance and generosity from them. It has been a humbling experience to care for the sick and dying and I feel greatly privileged and blessed to have been able to accompany them and alleviate their pain and suffering in some small way."
Sr. Cecily died peacefully on 8th June 2023, and her wish to donate her body for medical research was honoured.
Sr. Elizabeth was born in June 1931. Although she was born in England, her family came from Waterford, and that is where she grew up and had her early education. After school, she moved to Dublin and trained as a nurse in the Meath Hospital and qualified as a midwife in the Rotunda Hospital.
One year after qualifying, Elizabeth joined MMM and after her initial religious formation, continued nursing in the I.M.T.H. (now Our Lady of Lourdes Hospital) for a few years before going on her first mission assignment to Nigeria.
Sr. Elizabeth went to Nigeria in 1959 and worked in Anua at St. Luke's Hospital for ten years. As she was working as Deputy Matron and also involved in refugee relief work following the Nigerian Civil War. It was at this stage her talents in nursing administration were recognised, she was released for further updating in Scotland. In 1970 she was appointed Director of Nursing back in Drogheda, a post she held for twelve years.
After leaving Drogheda, Elizabeth returned to Airmount Hospital in Waterford where she was Matron for three years before she was recalled to Drogheda to become Secretary Manager in the hospital for six years.
In 1993, now in her sixties, Sr. Elizabeth once again set out on an overseas missionary assignment. This time it was to Kenya where she worked in the Medical Department of the Kenyan Catholic secretariat, was in MMM leadership and finished her time in Kenya as Diocesan Health Coordinator in Kitale.
In 2006, now aged 75, Sr Elizabeth "retired" in Ireland, but of course, she never really retired. She took up residence in KIlmacow, a residence for the care of the elderly. Elizabeth always had great empathy for older people and in 1984 was chosen by the Irish Government as a delegate to attend a World Assembly on Ageing, held in Vienna, Austria. Elizabeth stayed in Kilmacow until MMM withdrew in 2012. She then came to live in Artane, Dublin, until her transfer to Aras Mhuire for extra care in December 2018.
Sr. Elizabeth was a gifted person in so many ways. She loved singing and organising liturgies. She was a good listener and was able to empathize and care for the elderly in a quiet, unobtrusive way.
She was content in her later years and her death in Our Lady of Lourdes Hospital, after a short admission, came peacefully on May 6th, 2023. She is buried in St. Peter's Cemetery, Drogheda.
13 June 1931- 11 March 2022

Sr. Úna was born in Dublin in 1931. Her family were Irish-speaking and all her early education in Dublin was in Irish. This love of the Irish language stayed with her all her life. After leaving school, she joined MMM, aged eighteen. After her initial religious formation, Úna went to do Nursing, first in Drogheda and then in St. Vincent's Hospital in Dublin as was customary at that time. On the completion of her general training, she then studied midwifery in Drogheda.
Fully qualified, Úna spent a short time as a staff nurse in the I.M.T.H. Hospital (now Our Lady of Lourdes Hospital) before setting out on her first missionary assignment overseas. This was to Nigeria, first to Abakaliki and the to Afikpo. She held a variety of roles, including matron.
In 1963, Úna was asked to return to Ireland to study for her Nurse Tutorship Diploma, a two-year course. On completion, she returned to Nigeria and worked as a Nurse Tutor for the next eighteen years, in Afikpo and Anua, with only a short period in Ireland, helping out as a Nurse Tutor in Drogheda. Una was well suited to Nurse Training and had a tremendous gift of bringing out the best in her students and helping them to dedicate their knowledge to the well-being of the patient.
In 1988, Sr. Úna returned to Drogheda, this time to care for our sick and elderly Sisters in the Infirmary. During this period in Ireland, she also worked as a Nurse Tutor in Drogheda and with her experience and knowledge helped with the setting-up and furnishing of our newly built Aras Mhuire Nursing Home.
Úna was best known for her gentle, out-going personality. She had a beautiful singing voice and quietly showed her concern and interest in the needs of the other Sisters, patients and staff.
In 1994, Úna returned to Africa. This time the call is to East Africa, where they badly needed a Nurse Tutor. She spent six years in Malawi at St. John's Hospital, Mzuzu and another six years in Ethiopia at St. Luke's in Wolisso before finally retiring to Ireland in 2007.
In Ireland, Úna spent six years in the Artane community in Dublin before finally coming to Beechgrove in 2013. In December 2018, she moved to Aras Mhuire for extra care, but her death came unexpectedly and suddenly in the early hours of March 11th, 2022. The staff were with her as she quietly slipped away.
22nd September 1933 – 22nd February 2022
Sr. M. Trinitas, baptized Margaret McMullan, was born in Belfast, N. Ireland. She came from a large family and started primary school in Belfast. However, the Second World War had started by this time and, to avoid the bombings, Margaret's parents decided to move her and her siblings to stay with relatives in Lurgan, a more rural area and safer. It was in Lurgan that Margaret finished her education and then returned to Belfast to study nursing and midwifery.
Margaret entered MMM in 1961, aged 28, and taking the name Sr. Mary Trinitas. After her initial religious formation, and because she was already a trained nurse and midwife, she was assigned immediately to Nigeria. Here she found great fulfilment and happiness; she was Matron in many of the hospitals where she worked. Her total time in Nigeria came to thirty-nine years and she only returned to Ireland when she was needed back home for another ministry.
Sr. Trinitas's first community in Nigeria was in Ikot Ene, followed by Eleta, Ibadan, Ogoja and finally Itam VVF Hospital. Everywhere she went she brought her good humour and her practical common-sense way of getting things done.
When she retired from Nigeria aged 70, it was only to take up another appointment back in Drogheda as Clinic Sister, looking after the sick or elderly Sisters. This appointment lasted for over ten years before she finally retired. In retirement she would help out with guests, reception duties, and, in her spare time, played a good game of bridge!
Sr. Trinitas had a sister, Sr. Anne, who joined the Franciscan Missionary Sisters for Africa and, in later life, is based in Dundalk, not far from Drogheda. They often visited each other and enjoyed both the family experience as well as all the missionary connections.
Sr. Trinitas's health deteriorated slowly during 2021 and after a spell in hospital she was transferred to Aras Mhuire Nursing home where she died peacefully on February 22nd 2022. Her family and some of the Sisters were with her as she died. She is buried in St. Peter's Cemetery.
Sister Jeane Lynch MMM, died peacefully at Sancta Maria Nursing Care Facility in Cambridge, MA on December 11, 2022.
Given the name Jeane Cecile Lynch, she was the third of four children born to Mary Madeline (Fitzpatrick) Lynch and John Edward Lynch on April 24, 1936.
Jeane's early years were lived with her family in Saginaw, Michigan. When she finished high school, she moved to Kansas to attend the Ursuline College earning an Associate Degree in Arts. It was at this school that she came across a leaflet about the Medical Missionaries of Mary and began the discernment that would eventually lead her to enter MMM on September 17, 1955 and made Perpetual Profession of Vows on March 17, 1964.
During her novitiate in Winchester, Jeane was eager to grow in her relationship with God and share her many talents with the community. Her flare for music and ability to play the organ were welcomed gifts.
Immediately following the novitiate, Jeane enrolled at St. Elizabeth's Hospital, Boston School of Tropical Medicine and then transferred to Emmanuel College in Boston where she earned her BA in Biology. After these studies, she spent a year at the MMM International Missionary Training Hospital (IMTH) in Drogheda, Ireland where she gained more experience in biochemistry before being assigned to Dareda Hospital in Tanzania.
Jeane lived a full life mostly in Tanzania and the USA with stints in Sudan and Ethiopia. She excelled in Lab Technology, Tropical Medicine, earning a master's degree in Epidemiology and then a Dr. of Sc. in Hygiene (Epidemiology) from Tulane University. She was a member of the American Society of Clinical Pathologists. Jeane administered numerous projects in nutrition education, supervision of village health care workers while also engaging in social services for the poor. Throughout her years in the USA Jeane was engaged in Vocation Ministry; was a Red Cross Volunteer as well as being a care giver for her mother in Florida for several years. In later years, Jeane transitioned to the ministry of pastoral care/counselling. She became an active member of the Boston Depression and Bipolar Support Alliance (DBSA), completed a Facilitator Training Course and spent a number of years as a support group facilitator for DBSA.
Jeane would be the first to help anyone, at any time, in any place!  She also had a great sense of humor and a brilliant smile reflecting all the love and kindness within.  Wherever she was Jeane made a difference in the lives of those whom she met.
She spent the last years of life living our MMM Healing Charism at Sancta Maria Nursing Care Facility, grateful for the skilled and loving care she received.  She lived as she always had, simply and respectfully.  She was esteemed and dear to other residents who elected her Vice President of the Residents' Counsel.  We were told that the staff so loved Jeane that everyone wanted to be assigned to her care.
Preceding Jeane in death were her parents, her older sister, Margaret, and younger brother, Joe. She leaves behind her oldest brother, Jack Lynch, a widower and many loving and devoted nieces and nephews as well her MMM Sisters, MMM Associates and many friends. May her dear soul rest in the peace of Christ.
Sr. Ann McLaughlin was born in Derry, Northern Ireland, in August 1931. She was the daughter of John McLaughlin and Margaret Sheils. After attending a local primary school, she went to St. Louis Convent, Monaghan, for her secondary education which she completed with a successful Leaving Certificate.
Sr. Ann joined MMM in 1951 when she was 19 years of age. While Sr. Ann was a novice, a fire broke out in the Novitiate building in Drogheda, and she would have been one of the Sisters left homeless and depending on the hospitality of the people of Drogheda at that time. When she finished her initial formation period she was assigned to Naples, Italy, a new foundation.
During her time in Naples Sr. Ann studied Nursing and afterwards worked a year in England to be accepted on the British Register. She then trained in Drogheda in Midwifery.
In 1974, she went to Kenya, to the Turkana Desert, where MMM had originally coped with a famine situation and by then were setting up rural health centres. Seeing the need for community health education, Sr. Ann went to Nairobi and did a specialist course in Public Health in 1976/1977.
Sr. Ann spent almost twenty ears in Kenya, working mostly in Kakuma, Kipsaraman and Subukia. In 1993. She was known for her innovative ideas and the ability to carry them through and for her kindness. She returned to Ireland and began work in the Communications Department in Dublin doing promotion work and fund-raising. Her other responsibility for a time was as Vocation Directress in Ireland.
Ann was an out-going, bubbly personality, a great storyteller, and someone who was close to her family and very proud of them all. She was also very fond of her hometown, Derry.
For many years in her later life, Sr. Ann did not enjoy good health and suffered from arthritic pain. But she still managed to do some volunteer work in prison ministry and kept the books for her local community. She enjoyed games such as bingo and Scrabble.
She finally moved to Drogheda in 2017 and to Aras Mhuire Nursing Home in 2018. She enjoyed life in Aras Mhuire and received good care there. Her health further deteriorated slowly, and she was finally called home to God on January 9th, 2023. She is buried in St. Peter's Cemetery, Drogheda.