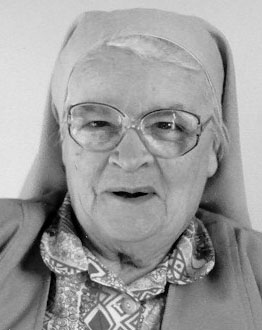 Nationality: Irish
Congregational Register No. 49
D.O.B.: 18.05.1921
First Profession 08.09.1943
Died: 02.01.2009 Aged: 87 years
Rose Teresa Farrell was born in Lackagh, Castleblaney, Co. Monaghan. She had two brothers and one sister. Shortly after completing her education in Castleblaney, she entered MMM at age nineteen, taking the name Sr. Mary Michael.
Following first profession, Sr. Michael undertook two years of midwifery training in Drogheda and was missioned to Nigeria where she worked as a midwife in the Hospital in Ogoja. Going to Nigeria in those days was still quite a venture: three weeks by boat, often in rough seas, with only basic services – not exactly a luxury cruise!
In 1948 she returned to Drogheda and worked at the IMTH, commencing her general nursing training there in 1957. In 1961, she was again assigned to go overseas, this time to Uganda where she worked at Kitovu Hospital. In 1963 she returned to Drogheda and worked as a staff nurse at the IMTH until 1970 when she went to Winchester, MA, in the USA. There Sr. Michael worked as a private nurse.
After returning to Ireland, Michael did some more private nursing and worked in the Infirmary in the Motherhouse. She was the nurse on duty at the time of Mother Mary's death in 1975 and felt deeply privileged to have been with Mother Mary when she died.
In 1983 Sr. Michael was assigned to fundraising for the missions, a job she took undertook with great diligence for the next twenty-one years. She was a great success in this venture, working with the Ladies' Committee and establishing many enduring friendships. She had a great rapport with the local people in Drogheda, empathising with them in their ups and downs. Someone said that she spoke the same language, which was probably the secret of her success.
Sr. Michael had her own ups and downs in life, but she was noted for her sense of humour and her ability to bring a smile and a sense of light-heartedness to even the most difficult situation.
Sr. Michael became a resident of Áras Mhuire in 2004 as her health began to fail. Her last months were not easy for her, although her nurses and carers did everything possible to make her comfortable. The regular visits of her family brought great comfort to her. When the end came, she went very peacefully and suddenly.
Sr. Michael was laid to rest in St. Peter's Cemetery after a funeral Mass attended by a large congregation of family, MMM Sisters and friends.