by Sr. Beatrice Chiamaka Iyioku MMM             Angola      14.09.2022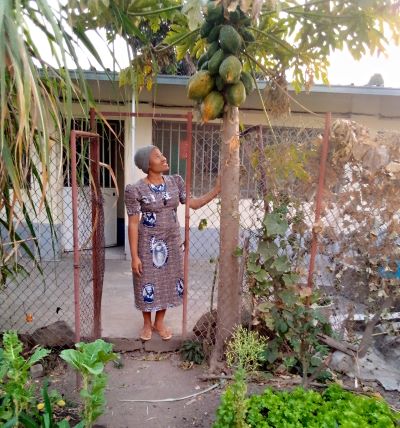 The phrase "Where there is a will, there is a way" is largely used to connote persistence and creativity as a virtue. But sometimes we do not know or imagine how far and how well we can be at things. Sadly, many welcome mediocrity. Persistence always brings out the more in you and shows ways of possibilities. Persistence makes us to be the best we can be. It also helps us to discover ways of expressing our being.
Little is something if we are willing to work with it. Out foundress, Mother Mary Martin, would subtly put it as, "If God wants the work, He will show the way". There is always something in us that helps us in our becoming. As Missionaries, we share life with the people and together discover little ways in which God has been subtly expressed in our lives. This is the seed of faith.
Where am I going with this? Let me tell you a short story…
Here in our little garden, we plant and grow our vegetables and crops, and some fruit, like the pawpaw fruit. Well, I love pawpaw fruit!
We had transplanted, from the nursery, the plants in the garden, but found one tiny little plant growing at the edge of the garden behind the wire fence, with little soil. Not giving it much attention, I had thought that perhaps, with the sun and dry heat, it would die off since it was not planted but grew on its own. To my surprise, the pawpaw plant was able to manage on its own, extending its roots deeper in the soil, growing and bearing fruits for us to enjoy.
This brought me to reflect on the times of my life when I find it challenging to grow. I blame it on the fact that I do not possess sufficient prowess to evolve. In truth, I can make do with the "insufficient", because great grace abounds in "little things". Sometimes in life, one is faced with discouraging situations requiring our persistent re-creativity. There is a possibility of creativeness in challenging situations. We may not know how gifted we can be until we are challenged and succeed. While I munch this succulent fruit that made do with it's "little" to grow and produce, I realize that I can be fruitful and life giving with my own little ways.
Hence, I am reminded always that where there is a will to grow, a desire to survive, or be the best at any thing at all – look again, there is probably a way!