by Sr. Liana de Jesus  MMM       Brazil/Kenya         27.05.2022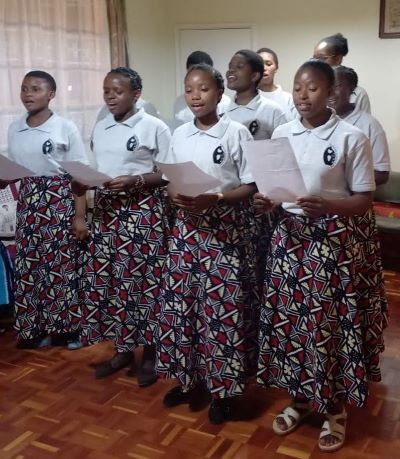 The international MMM postulancy community in Nairobi, Kenya is composed of ten young women who are at the beginning stages of learning what religious life is all about.  It is a time of discernment, when each young woman seeks to answer the question," Am I being called to follow God in this Religious Congregation, or has God other plans for me?".  This year (2022) there are ten, two Ugandans, two Tanzanians, one Kenyan and five Nigerians. 
I belong to the group of MMM Sisters who live with these women and who help them during this period of discernment.  It is an international group, as you would suspect, from, Nigeria, Tanzania and Brazil.  We strive to live creatively and to live our Healing Charism, rooted and founded in love. We welcome each other and respect our differences. Living in the community, we use our creativity in cooking, praying, studying and enjoying each other's company. We are now becoming one big family!
The young women we call postulants are united. They enjoy being together and learning from each other's culture. We admire the care and love that they have developed for each other; somebody that one never met in life, and now are meeting during this postulancy discernment period for the first time.  It is amazing!  How our Foundress would have been very happy to see a group of postulants living out her and MMM values. So, to express their joy and happiness, one of them, Tabitha Celestine, composed a song, and we would like to share it with all MMMs around the world.  It goes like this: 
It's a privilege to be an International Postulant…
Of Medical Missionaries of Mary.
We have come from different cultures with different gifts of God
Lord, we ask you for the Wisdom to work
So let there be peace and love
And harmony …so we can live in unity
Mother Mary Martin, our foundress.
Help us to live the will of God.