by Nadia Ramoutar   MMM Communications Coordinator       Ireland            10.03.2023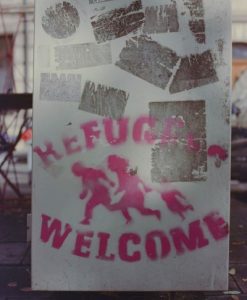 The idea that we have a country and a homeland is both a blessing and a burden.
I remember Sr Rita Kelly, MMM once saying to me that home is "the landscape of the heart". What a beautiful thought. For us, Ireland is this country with mountains, rivers, lakes, history and heritage. We were a country that was colonised. We were overruled for many, many years from overseas. It's a complex and messy story that I cannot do justice in a blog. But, we have so much here now in terms of quality of life. The concept of homeland for me has been a positive one, but for many people know it is the death of a dream.
In my work as a communications coordinator for the MMM, I meet people from all over the globe. Often people want something and are reaching me on social media asking for something I can't give. Long ago, I learned to see that I cannot help everyone and everyone is not who they say there are. What I cannot protect myself from nor should I protect myself from is how desperate some people are in our world because they are living in hell. Recently, I began communicating with a young father in Kabul City who in his earlier life worked in IT and communications for an international agency. Now, that work he did then may cost him his life. He lives in terror.  Horrified that the Taliban will find him any moment. He has five children under ten years of age. He cannot sleep or eat.
Through the miracle of technology, we can communicate and I have become his "mentor" he says and he is proud of me for not giving up on him.  How funny is this?   I am in the comfort of my own home sending emails for him to humanitarian aid agencies to try and get him and the family a way out of there before it is over for him.   I am now painfully aware of how many millions of people are living this way.   Isolated, abused, terrified, hungry and scared to speak of the fear they face.   I ask and I ask for help for them and I am told how many others also need help too.   This is not an answer that offers any peace.
So few agencies exist to help the people at the bottom of the social ladder in places of crisis. They are often forgotten about.  Discarded by humanity.  They are lost in their own land, one that they no longer recognise.  I am so sick over this realisation that I don't know how to help them.  I have no way of making their life better but to beg on their behalf to the places that are supposed to offer aid.  The agencies of good and hardworking people are overrun with requests from families like this.  Who got out already?  Who is no longer there?  Why are so many people without hope now?  It is like a bad script from a film we don't want to watch.   It wreaks of injustice.
What have we done with our humanity?  Drawn lines on maps like life is a game of survival.  If you are lucky, you are born in a free zone but if you are not, then what?  Too bad for you. W e have made up the concept of nationality and of borders.  Who is not your brother?  Who is not your sister?  We have so much more to learn about being decent human beings.
I ask you to pray with me for the young father in Kabul City and his precious family and the millions of other like them.  Also, pray for the people working to get refugees out of violent places and to safety.