by Sr. Jo Anne Kelly MMM      Ireland       08.03.2023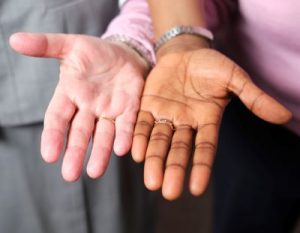 Recently one of our Sisters had her 93rd birthday. Her nieces brought her one big beautiful bouquet of flowers. It adorned our chapel for many days. One could not but be drawn to the beauty of such a variety of different blooms of all sizes, colours and shades of colours. Each added to the beauty of the whole, and without any one flower it would not have been so attractive. I thought of our Congregation. From the beginning, our foundress, Mother Mary Martin wanted our membership to be international.
I entered MMM when the congregation was only 19 years old and by then there were Sisters from Ireland, England, Scotland, Nigeria, Czechoslovakia and America. The following year sisters from Tanzania joined us. Like the flowers each one brought her own beauty and gifts. We had a common purpose. We were learning to be religious and missionary. We were all going to be living and working with people of other cultures, colours and traditions.
At that time Mother Mary was very, very busy with all the business administration. The first wing of the International Missionary Training Hospital (now Our lady of Lourdes Hospital) was about to be opened, a new wing was being added to the convent. There were new missions in Nigeria, Tanzania, Angola and Uganda as well as houses in England, Italy and a novitiate in America. All had to be supported and guided, and money raised to make it all happen.
Yet Mother Mary made time to give us conferences when she could. The time could be morning, afternoon or night depending on what was going on for her.
Her talks didn't vary much. They always included an emphasis on the absolute necessity of genuine love – "Loving together as the Holy Family, loving one another, taking on each other's burdens". She would remind us that "work without real love will never win people to Christ". Always too we were reminded to "let our work and every aspect of our lives spring from a deep interior life of love and union with God." We heard these phrases over and over again.
In 1954 she wrote "Now I hope you will all grow in understanding of different peoples-this is essential for an international Congregation which ours is. We are getting more and more Sisters from different lands. We must be big, and remember there are many difficulties for foreigners entering a congregation which is predominantly Irish…. As you grow to love the Lord your heart will expand to embrace the whole world…. You should be those who will leave the traditions of a true MMM vocation, love, generosity, self-sacrifice and loving obedience in our care of the sick and suffering"
Over the years in my own life, several times I have been in a community where I was the only one from my race and colour. I had a lot of learning to do, not just about others but about myself too. It was not always easy but so very enriching – to recognize and value the goodness, the beauty and the giftedness of others.
I will be forever grateful to God for those times.