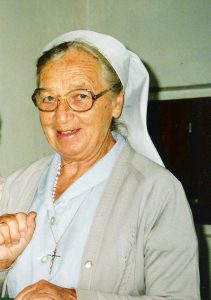 Sr. M. Pacelli Ward, baptised Margaret Mary and known as May, was born in Castleblaney, Co. Monaghan, in October 1926.  Her early education was in the local primary school, followed by secondary education at St. Louis Convent School.
In 1950, Margaret went to Dublin to study pharmacy, but at the same time, she must have been attracted to religious life, as she entered MMM early in 1951, continuing her studies as a postulant and as a second-year novice.  This would have been common in the early days of MMM.  At the time of her First Profession of Vows, she took the religious name of Sr. M. Pacelli.
She remained in Ireland for only a year after her Profession.  Newly qualified in pharmacy she set out for a lifetime of service to the poor and needy using these skills.  Her first assignment was to Nigeria, to Anua Hospital, where she was the pharmacist for nine years. During this time, she helped train local people in basic pharmacy skills.
In 1968 she was asked to return to Ireland. She was given the responsibility of being the Sister in Charge of the MMM community at Airmount Hospital in Waterford.  This was a three- year assignment followed by updating in pharmacy in London and Drogheda. Then Sr. Pacelli was ready for yet another adventure!
This time it was to East Africa, the place that became home to her.  She arrived in 1973 and her first assignment was to Namanyere, Tanzania. This was followed by Dareda, Makiungu and also Kabanga and Masaka in Uganda. In 1987, Sr. Pacelli returned to Ireland to "retire".  She worked in parish work in Dublin for a few years, but the desire to return to East Africa was strong! So, in 1989, off she went again for another thirteen years.  This was mostly in Kabanga Hospital in Tanzania.
In 1992, Sr. Pacelli returned to the Motherhouse in Drogheda where she was an active member of the community for several years.  She was a woman of many gifts and talents, artistic and outgoing and adaptable to changes around her.
She was always very close to her family in Monaghan.  On one occasion when on home leave, her sister-in-law became ill, and Pacelli looked after the children for a few months until things returned to normal.  The same children, now well into adulthood, have happy memories of those months when she looked after them and they continue to have a great relationship with her.
In 2022, she transferred to Áras Mhuire Nursing Home as her health was declining.  In 2023, her health deteriorated further, and she died peacefully on 24th July 2023.  She is buried in Drogheda.