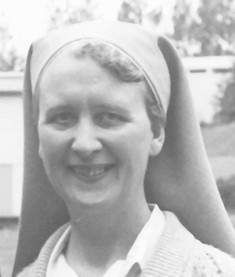 Sister Marie's sudden death on 13 June 2011 brought great shock and sorrow to all who knew her. She had been living in Waterford since 1991, and since 2002 had been working with the Waterford Immigration Network.
Born in Dublin in 1921, Marie was educated at Loreto College, St. Stephen's Green, and had qualified as a secretary and worked for five years before joining MMM in 1953. She later gained commercial teaching diplomas at the well-known Caffrey's College in Dublin.
After her religious profession in 1955, her skills were put to use in various departments at the newly-built International Missionary Training Hospital in Drogheda and in the MMM fund-raising department.
In 1960 she was assigned to Tanzania and worked for the next five years at the developing missions at Chala, Mpanda and Namanyere, all very remote locations.
In 1965 she was transferred to Uganda and helped with the administration at Kitovu Hospital for three years, before being recalled to Ireland to resume duties at the hospital at Drogheda. She spent five years assisting the secretary to the Apostolic nuncio in Dublin, and a further year at Ara Coeli, Armagh, the residence of the Primate of All Ireland.
In 1980 she was asked to go to the United States. She studied clinical pastoral education at Holy Family Hospital, Methuen, MA, and in Phoenix, AZ, and became a qualified hospital chaplain. When she returned to Ireland in 1991 she took up a post as chaplain at Waterford Regional Hospital until her retirement in 2002.
Still full of energy and with a deep desire to share her experience with others, she became spiritual director to the Legion of Mary and began pastoral visiting with the Waterford Immigration Network. She was able to share her long experience of living in diverse cultures and adapting to new situations.
The large number of friends who attended her requiem Mass at Ballybricken Parish and the tributes paid to her bear witness to the quiet imprint she left on the lives of all who knew her. May she rest in peace.