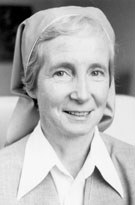 Sister Karen was born Elizabeth Shearer in Galston, Ayrshire, Scotland in 1930. Her father was employed by the owners of a castle, so she often joked that she was born in a castle. She worked in textile making for twenty years before joining the Medical Missionaries of Mary in 1965. After profession she trained in social science and was meant to start nursing training. However, at the last minute she was sent to work in the Apostolic delegation in London, where she spent ten years.
Karen then completed a short course in pastoral care before being assigned to Kenya in1978, where she served for the next twenty-seven years. She was a social worker in Aror and Kaputir. She coordinated women's groups in Nakwamoru, teaching skills that helped the women to become self-supporting. Karen was an excellent seamstress and the women learned to make school uniforms. She was also involved with religious education for the children on Saturdays.
When MMM handed over the Nakwamoru project in 2005, Karen returned to Ireland and helped in the Motherhouse until 2014. She was very artistic, with a good eye for colour, and helped in making curtains and redecorating rooms. Her favourite song was 'Buttons and Bows'. She also enjoyed drawing and painting. A cheerful, relaxed person, Karen loved ballroom dancing and singing in the Motherhouse choir.
Karen was a woman of prayer and never missed prayer with the community. When her health deteriorated in late 2014, she moved to our nursing facility, Áras Mhuire, for additional care.
Sister Karen died unexpectedly and peacefully in Áras Mhuire on 5 January 2015.