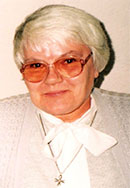 Sister Anne Sharratt was born in Gosforth, Newcastle on Tyne, England, in 1935, the second eldest in a family of ten, seven boys and three girls. Three of her brothers have predeceased her. Anne's first encounter with MMM was at a vocation display in Glasgow, Scotland, that she attended with her parents. She may have met Mother Mary there. The Sharratts were impressed by MMM's approach to religious life, with simple dress and – very important – they rode bicycles!
Anne attended the College of the Sacred Heart in Fenham and joined MMM in 1952. She studied medicine in University College Dublin, qualifying in 1959. After obtaining a diploma in tropical medicine in Liverpool she was assigned to Nigeria in 1962. She worked first in Urua Akpan for about three years and then obtained a master's degree in public health from Harvard University. Anne returned to Nigeria in early 1967 and worked for a few months in Ndubia, Ogoja and Obudu. She moved to Abakaliki in July 1967 and was medical superintendent of Mile Four Hospital until 1980. Anne then obtained a Master of Pastoral Studies in Chicago. She returned briefly to Abakaliki – until December 1982 – and began studies in psychiatry in Scotland in early 1983, completing these in 1987.
Sister Anne worked for two years in England, first in London and then as a staff member of the Institute of St. Anselm in Kent and as a part-time clinical assistant in psychiatry at the Royal Free Hospital. She returned to Ireland in 1991 and helped in ongoing formation, based in Dublin. From October 1992 to February 1993 she gave workshops in East Africa in communications.
Back in Ireland, Anne spent most of the next twenty-five years helping various groups with assessments, spiritual guidance and counselling, and assisting people in times of transition. She organised renewal courses with her good friend Sister Barbara MacNamara. While living in Terenure, Dublin, she trained herself in computer skills and then trained others on a voluntary basis. She also served for six years in MMM leadership as Area leader for Europe.
Anne was known as an excellent and compassionate doctor and a great working colleague. She was a gentle and gracious person with a great sense of humour. She was gifted in many ways and among her hobbies was capturing beautiful scenes with her camera. When she lived in Temple Villas in Rathmines, Dublin, a pair of nesting swans appeared annually on the nearby Grand Canal and Anne would make sure to photograph them with their young. She was always careful not to upset the cob (Mr. Swan) who was guarding his family from danger. She transformed many of these photographs into attractive greeting cards. One of her favourite activities was getting on the bus and enjoying the sights of Dublin. She did this regularly until her health began to deteriorate.
As Anne's health gradually deteriorated she made the decision to move to our nursing facility, Áras Mhuire, in March 2019. She accepted the changes in her mobility, eyesight and hearing as best she could and trusted totally in God. She was always appreciative of the loving care she received from the wonderful staff and the spiritual support from the chaplain, Father Patrick Kelly, SPS. She died peacefully on 20 June 2020 as Father Pat was offering Mass for her. Sisters Rita Higgins, Anne Carr and some of the nursing staff were with her.
Her funeral took place in nearby Our Lady of Lourdes Church. Because of COVID-19 restrictions, attendance was limited to fifty people. Sadly, none of the Sharratt family could be present but they followed the Mass on webcam. Sister Anne Carr, who was the link between the family and MMM in the last few weeks, spoke on behalf of the family, expressing their pride and gratitude in their older sister Anne.