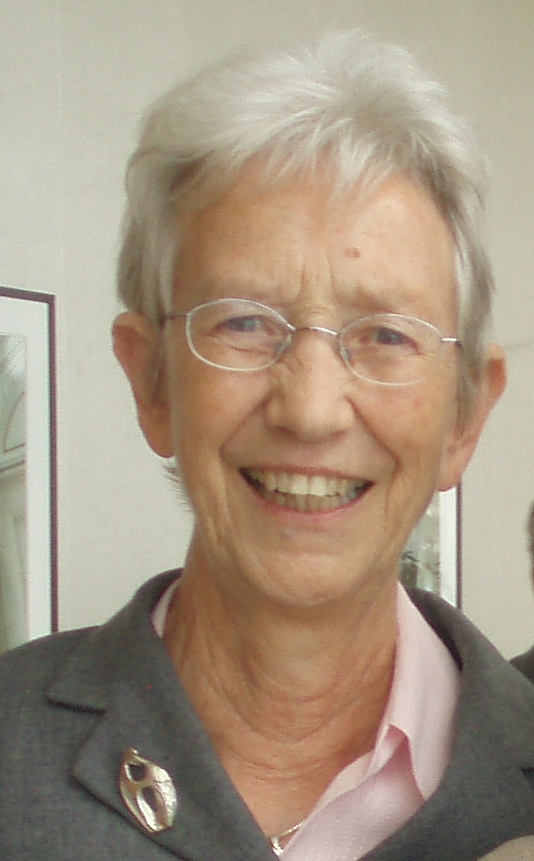 Sr. Patricia O'Kane, known in the family as Phyllis, was born in Belfast in Northern Ireland and attended her local Catholic primary school. She was employed locally in a factory before she joined MMM in 1956, aged 21. She came from a family of six, four brothers, Paul, Gabriel, Maurice (R.I.P.) and Fergus, and she had one sister, Colette, who married and went to live in New Zealand.
After her initial religious formation, Patricia went to the IMTH Hospital in Drogheda (now known as Our Lady of Lourdes) and helped with general duties on the wards. In 1963, she was asked to go to the Apostolic Delegation in London. This is the house where the representative of the Vatican State lives. She stayed in England for six years and then returned to Drogheda and worked in the Guest Department. Before she left England, she trained in London as a State Enrolled Nurse (S.E.N.)
In 1972, she had the privilege of caring for Mother Mary Martin, our Foundress, for two years, in the later stages of her illness. Mother Mary died soon after this in 1975. Patricia then had her first overseas assignment to Abakaliki, Nigeria where she cared for the patients suffering from Hansen's disease, formerly known as Leprosy. She was happy there and loved the patients, helping them overcome the disabilities caused by the illness.
On completion of her time in Nigeria, she was assigned to Kilmacow, a residential home for elderly people, on the borders of Kilkenny and Waterford. She worked there for over three years and from there she went to the Czech Republic for 18 months, working with Sr. Bibi MMM, one of our Czechoslovakian Sisters.
In August 1998, Patricia became the MMM representative on the Drogheda-based Ladies Committee, a wonderful and dedicated group of women who promoted fund-raising activities for MMM. She was with them for over a decade until the group disbanded because of advancing years.
In all her ministries, Sr. Patricia was known for her welcoming and joyful attitude and her deep care for all whom she met. While she was in Prague, she met Anne Marie Kenny Bull who later became one of our first MMM Associates (AMMM).
After a short period of Mission Appeals in the U.S.A. in 2007, Patricia finally retired to the Motherhouse where she helped with driving, shopping for Sisters, writing letters and other services in our Nursing Home, Áras Mhuire. However, her health began to deteriorate gradually, and she eventually was transferred to Áras Mhuire as a resident in January 2019. During the early months of 2022, her health began to weaken further, and she died on 10 October 2022. She is buried in St. Peter's Cemetery.