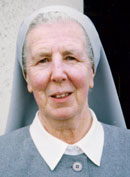 Nationality: Irish
Congregational Register No. 166
D.O.B. 01.07.1917
First Profession 07.09.1949
Died: 01.09.2003 Aged: 86 years
Born and educated in Castlebar, Co. Mayo, Mairead O'Quigley came from a family of ten children; five boys and five girls. After school, Mairead stayed at home for two years helping to look after the family before moving to Dublin where she trained as a nurse and fever nurse. She worked in several Dublin hospitals before entering MMM in 1946, aged 29.
In those early years of the congregation, Sr. Mairead's training and experience were put to immediate use. As a postulant she worked in the hospital and as a second year novice completed her midwifery training. Her gifts for leadership were already in evidence.
Within months of completing her novitiate, Sr. Mairead was sent out to Tanzania, called Tanganyika at that time. She was one of the early members of the community and hospital at Dareda, which was to be her home for the next twenty-five years. During this time, she worked as a nurse and later as a nurse tutor. During the last five years she was also appointed Regional superior for Tanzania.
In 1978, after a sabbatical spent between England and Ireland, she undertook a new assignment in Kenya at the AMECEA Pastoral Institute in Eldoret. Here she was infirmarian to the students and staff and was a proof reader for their publications department. She really enjoyed this assignment, which lasted for six years.
In 1984, Sr. Mairead was asked to return to Tanzania to take up the position of novice directress. She worked in this capacity for three years before returning to Ireland for health reasons. Subsequently, she was unable to return to Tanzania.
During her first few years in Ireland she was directress of postulants and then spent a year in London before returning to Drogheda as a member of Mell Community. There she became local bursar and worked with an adult literacy programme during her retirement years.
Sr. Mairead is remembered as having a great capacity for friendship and her "loyalty to her family and friends was legendary". She led an active life until the last year of her life when her health deteriorated significantly.  She died in Áras Mhuire on 1 September and is buried in Drogheda.