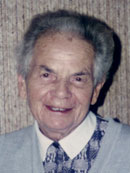 Nationality: Irish
Congregational Register No: 393
D.O.B. 01.03.1910
First Profession: 03.05.1957
Died: 28.09.1999 Aged: 89 years
Rose O'Neill, from Tyrone, entered MMM on 8 December 1954. A qualified nurse, she had been working for many years in St. Patrick's College, Armagh. The title of matron in its best sense described her.
Apart from a couple of years as infirmarian in the Motherhouse, her ministry was spent in Africa: five years in Kabanga, Tanzania, and from 1965 onwards in Malawi.
It was thirty-one years before she left her beloved people and home in Malawi. She expected a high level of efficiency from her co-workers, but she was truly rooted and founded in love. She had a human, personal touch with the staff. She had little ways of obtaining scones for the laundry staff on their morning break!
Sr. Rosemary returned from Malawi in 1995, aged 85. She died in Drogheda four years later. She is buried in the MMM plot in Drogheda.
One of her nephews, Fr. Tom Cunningham C.S.Sp., celebrated her Requiem Mass and in his homily he compared Rosemary's life to that of St. Therese. Just as Therese sought and found a solution to her problems in the Scriptures, so did Rosemary – the solution was LOVE.'