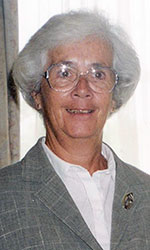 Sister Sheila Lenehan was born in Sandyford, County Dublin in 1943. She was the sixth in a family of six girls and two boys. She received her education in Sandyford and at Loreto College in St. Stephen's Green, Dublin. After joining MMM in 1961, she trained as a nurse in Drogheda and then was a staff nurse in charge of the outpatients' department in the International Missionary Training Hospital for about a year. She was remembered for her boundless energy, organizational skills and ability to multi-task.
These skills were well used when, in 1969, Sheila was one of the first two MMMs assigned to Brazil.
She and Sister Brigid McDonagh faced the challenges of learning a new language and culture, finding a place to live, and discerning the health needs of the people. Early on she did her midwifery training through Portuguese.
She then spent a year as a nurse at an outpatients' clinic run by the Knights of Malta in São Paulo.
From early 1972 she set up small clinics in six different parish communities. These were for the poor living in shanty towns who had no access to medical care. She became an excellent diagnostician. In 1979, Sheila became partly responsible for the parish community while continuing her clinic ministry. She also served in local MMM leadership.
With our presence established in Brazil and many more MMMs assigned there, it was decided that it was time to seek Brazilian vocations. In 1981 Sheila was appointed vocations directress. When young women then expressed interest in joining MMM, she accompanied them in their early formation – appointed postulant directress in 1983 and then novice directress in 1984.
In 1985 Sheila was elected to the MMM Congregational Leadership Team as assistant to the congregational leader. Based in Ireland, she had the opportunity to visit MMM communities throughout the world, which gave her a global vision of the congregation. She also did a pastoral counselling course.
By 1992 Sheila was back in São Paulo, where she worked as a nurse with an AIDS project for four years. From 1997 to 2003, she continued to be involved in parish health care in São Paulo. During that time she again served in local MMM leadership for three years and as postulant directress for two years.
In January 2004, she moved to Capim Grosso, where she worked in community health. She developed projects to provide water for farmers, income generation for women and complementary medicine. She was appointed Area Councillor from December 2012-15.
Sheila had periods of ill-health over the years, with which she coped well. However, in more recent times she became seriously ill, requiring major surgery and long convalescence. In 2015 she returned to Ireland and was assigned to the Motherhouse. She had intermittent treatment, which was difficult to take and quite exhausting. Throughout it all she used the same approach as she had done with each new assignment. She familiarised herself with her condition, adopted the measures necessary to live with it and quietly kept living. Eventually she was confined to a wheelchair, which she drove expertly through the Beechgrove corridors. She was able to work at the Motherhouse reception for several months, attending the phone and door, and graciously receiving the many visitors.
Sheila's condition continued to deteriorate during 2018. She fought it as well as she could but when she realised that she was not going to get better, she accepted the inevitable. In July she moved for further care to Our Lady's Hospice in Harold's Cross, Dublin, where she died peacefully on 26 July 2018 with her MMM Sisters and family at her bedside.
Her funeral was truly a celebration of her life. Father Seán Deegan, SPS, was the main celebrant, supported by eleven other priests, many of whom work in Brazil. The auditorium was packed with members of Sheila's extended family, Holy Rosary Sisters, members of other congregations, friends, and MMMs from the smaller communities in Ireland.
Before the final blessing Father Seán invited everyone with Brazilian connections to come to the altar and join in the singing of a Portuguese hymn, O Povo de Deus (the People of God) – all five verses. It is all about the journey of the people of Israel to the Promised Land. They sang with gusto!
Sheila was a self-contained person, warm beneath her reserve. She loved Brazil and its people and had a special fondness for children and small babies. She loved to garden and had 'green fingers'! Nature nourished her contemplative spirit. She was also a talented artist and loved doing water colours. Sheila is greatly missed but her many years of illness are at an end and she is at peace.