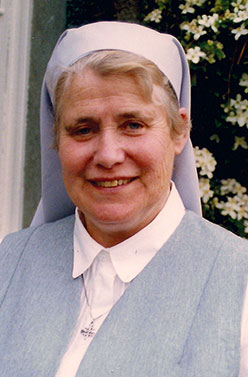 Sister Patricia was born Bridget Patricia Kelly in Ricehill, Co. Cavan in 1925. Known as Pat, she joined the Medical Missionaries of Mary in 1943, after completing her leaving certificate. She was soon sent off to Dublin to study medicine in UCD. In MMM's early days, Sisters were often sent off to assignments at short notice. Soon after qualifying, she was assigned to Nigeria. From 1951 to 1953 she worked in Anua and Urua Akpan.
She returned to Ireland to qualify in obstetrics before serving two more years in Nigeria in Anua, Urua Akpan and Ikom. After a few months doing mission awareness work in the USA, she relieved Doctor Godfrey Hinds as medical officer in Afikpo, Nigeria in 1960.
After some updating in the IMTH, Sister Pat was assigned to Tanzania. She served for a few years in a locum capacity in Makiungu, Dareda, Kabanga and Namanyere.
In 1968 Pat was once again in the USA and helped in the house in Winchester, MA. She did updating in psychiatry, as well as mission awareness work and further updating in surgery and obstetrics.
In 1973 Sister Patricia returned to Ireland, where for the next twenty-two years she worked in the tropical unit in the IMTH in Drogheda. She provided advice and preventive and treatment services for countless people working and travelling overseas. She also assisted in the Motherhouse infirmary for thirteen years. She travelled to Kenya in 1986 to attend a course in tropical diseases.
From 1995 Pat helped with various duties in the Motherhouse and served in local MMM leadership, continuing to provide consultancy advice in tropical medicine by phone. She moved to the nursing facility, Áras Mhuire in March 2010 for care when her health deteriorated. She enjoyed frequent visits from her family, including her brother, Sean, and his wife, Cecilia. Shortly after her ninety-first birthday her condition worsened considerably. Her nephew Raymond came every day from Cavan the week before she died. She died peacefully in Áras Mhuire on 9 March 2016.
Pat served with professionalism and kindness, and perhaps her own experience of illness made her compassionate towards others. She had two sisters, Mary and Eilis. Mary, her twin, was married and lived in Seattle, WA, USA. In later years Mary's deafness meant they were no longer able to talk on the phone, which was difficult for them. Mary died in 2012. Her other sister, Eilis, was out for a drive with some MMMs from Rosemount, Dublin, one Sunday early in 1981. In a tragic car accident, two MMMs and Eilis died. It was a very difficult time for Pat, her family and MMM.
There was a large gathering of her family, friends and MMM Sisters at her funeral Mass. Her namesake, Father Pat Kelly, SPS, chaplain in Aras Mhuire, was chief celebrant. Priests representing Saint Patrick's Missionary Society (SPS), the Augustinians, Spiritans (CSSp) and the Society of African Missions (SMA) concelebrated. They introduced themselves at the end of Mass and it was very touching to hear them express their appreciation for the way Sister Patricia restored them and their colleagues to health when they were ill, at home or abroad. They were joined by her cousin, Monsignor Liam Kelly, from Co. Leitrim, who said he has laboured for many years in the foreign mission fields in Co. Cavan!
A deeply spiritual person, Pat appreciated all God's gifts, especially friends. She had a great sense of humour and was very approachable, ready to listen and help if she could. Many remembered her with fondness and spoke of how she saved their lives.