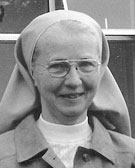 Sister Mary (Canisius) was born in Galway, Ireland in 1929 and grew up in Tulsk, Co. Roscommon. She attended school in Tulsk and Athlone before joining MMM in 1948. Her sister, Christine, a qualified anaesthetist, also joined MMM, in April 1964.
After profession Mary went to the USA. MMM was just becoming established there and she was part of the first community in Boston, MA, which later moved to Winchester.  She completed training as a nurse at Saint Elizabeth's Hospital in Boston in 1954.
She returned to Ireland and from 1955 to 1962 worked in the IMTH as a theatre and OPD nurse. After completing midwifery training, in 1963 Mary was assigned to Nigeria and served for four years at St. Luke's Hospital in Anua. Returning to Ireland in 1967, she did night duty in the IMTH. In 1968 she was appointed directress of novices in Winchester, MA, and served there for three years. She was assigned to Tanzania in 1972 and worked for three years in Makiungu, involved in teaching in the school of nursing and working in the pharmacy, outpatients and general hospital.
After completing a refresher course in midwifery, in 1978 Sister Mary was assigned to Kenya and served in a number of missions in remote areas in the Turkana Desert. She spent nine years in Kaputir and helped in Aror for several months. She was then in charge of our health centre in Nakwamoru for seven years and worked for a short time in Kipsaraman and again in Aror.
In 1997 she returned to Ireland. In 1998 she was assigned to Kilmacow, Co. Kilkenny where she was involved in pastoral care for the elderly for eight years in a parish-run facility administered by MMM. In all these assignments she worked with great dedication and commitment, ensuring that patients received the best possible care available.
In 2006 she moved to the Motherhouse, where she helped generously at the reception and telephone team, welcoming visitors and attending to the switchboard and general duties.
Sister Mary's health began to deteriorate in early 2017 and she was admitted to Our Lady of Lourdes Hospital on 10 September. She died there quite suddenly but peacefully on 16 September 2017.
Mary was a deeply spiritual woman and very generous, private and very dependable. She would help out wherever there was need, regardless of how she was feeling. Even when her health was disimproving and she had to spend a number of weeks in the hospital, she kept going with quiet determination.
The main celebrant at Mary's funeral Mass was her brother, Bishop Christopher Jones, with two other bishops and sixteen priests. Also attending along with MMMs were members of her immediate and extended family from Ireland and the United States; Mary McAleese, former President of Ireland, and her husband Martin, friends and colleagues.
Bishop Christopher spoke of Mary's fidelity to the 'yes' she gave to God sixty-seven years ago, which she lived every hour of her life. He described his visit to Kaputir a number of years ago. It involved a hazardous drive of seven hours from Nairobi to Kitale, followed by a three-hour journey on a dirt track. After wading through a river, they continued their journey with another jeep until they reached the mission.
He described the living conditions as poor, while the treatment and healing of the patients under Mary's care was superb. He expressed his gratitude for the opportunity to experience her love for those in her care in the heart of the desert.