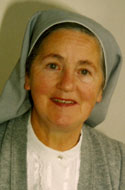 Nationality: Irish
Congregational Register No. 129
D.O.B.: 03.03.1925
First Profession 02.07.1947
Died: 19.09.2010 Aged: 85 years
Julia Teresa Doyle, known in her family as Sheila, was born in Busherstown, Co. Carlow into a farming family.
She had two brothers and two sisters, one of whom died at an early age. Sheila was educated at the national school and later at the Mercy Convent in Carlow, obtaining her intermediate and leaving certificates. A deeply spiritual girl, she decided that she was called to the religious life at an early age. She entered MMM in 1945, at nineteen years of age, taking the name Sr. Mary Declan.
The young Sr. M. Declan started her general nurse training at the IMTH in 1947 and completed it at the Mater Hospital, Dublin in 1951. She went on to work for the next 32 years in Ireland at Drogheda, Waterford and Clonmel. She was an excellent nurse with high standards and expectations. Over her long career in nursing, she brought comfort and care to many. She was a hard worker and expected others to work hard, too.
In 1983, Sr. Declan received her first overseas assignment, to Kitovu Hospital in Uganda. She was to spend only two years there before being called back to Ireland to take up the position of matron/administrator of Airmount Hospital in Waterford; a position she held until 'retirement' in 1994.
From 1994 – 2005, Sr. Declan worked in hospitality in Beechgrove. Here her ministry was to the Sisters on home leave from overseas. This was a true ministry of love for her. She went out of her way to make everyone feel welcome, remembering all the small things that different Sisters were particularly partial to or might have a special need for. She ensured that Sisters' rooms were comfortable and had little supplies of fresh flowers, fruit and sweets, which miraculously appeared, seemingly from nowhere!
Sr. Declan was a woman of prayer, faithful to her MMM calling. She was also artistic and clever with her hands, designing and making beautiful cards that she sold, sending the proceeds to Uganda. She also made other lovely things that she gave away to family and friends.
Her health started to fail during the last few years of her life and she suffered a lot from back pain. In April 2009 she moved to Áras Mhuire, where her health continued to decline, despite the loving care of the staff and frequent visits from her devoted family of nieces and nephews. During the last few weeks her health deteriorated noticeably, and she slipped quietly away on 19 September, in the presence of staff, MMM Sisters and family members.