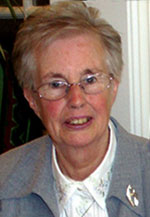 Sister Mary Burns was born in Moneymore, Co. Derry in 1933. From a family of two girls and one boy, she had her early education in Moneymore and her secondary education in Magherafelt. She began training as a nurse before joining MMM in 1954.  After profession she completed her training as a nurse-midwife in Drogheda and worked there as a staff midwife for almost two years.
In 1963 Mary was assigned to the Clinica Mediterranea in Naples, Italy, where she served for six years. This was a busy general hospital staffed by MMM. She worked in the neonatal department and then as a general nurse. She had to learn Italian but mastered it very quickly. She returned to Ireland in 1969 and worked as night sister in the IMTH (now Our Lady of Lourdes Hospital) for six years. During her time in the IMTH Mary completed a diploma in social and economic studies in the Drogheda Technical College. In 1976 she completed a diploma in religious studies in Maynooth.
Mary then trained as a public health nurse. After helping in the MMM infirmary in Drogheda for a few months in 1978, she began work as a public health nurse for the North Eastern Health Board in Clones, Monaghan, serving there for twenty years. During her time in this post she completed several other diploma courses. She is still remembered with great affection by the people of Clones and messages of sympathy were received from friends and colleagues who worked with her.
Sister Mary returned to the Motherhouse in 1999, where she helped in a number of roles. She helped on reception, with driving and served in MMM leadership.  She was the MMM contact person with the Apostolic Workers' Society since 2004. This wonderful group of people share in the mission of the Church by prayer and supplying material and financial aid where needed. They make vestments and altar linens and acquire other items for overseas missions. Mary put great energy into this and loved the contact she had with these dedicated people. Many of our Sisters availed of their generosity and brought back much needed items when they returned overseas.
Mary was very interested in local history. She availed of education opportunities, attending a renewal course in Canterbury, England, in 1999, which she enjoyed very much. In 2019 she supported the Gift a Knit project in Our Lady of Lourdes Hospital, encouraging groups to donate blankets, especially for people with dementia.
Fully active until the day she died, Sister Mary was found collapsed when she did not appear for duty on the Motherhouse reception on 19 May 2020 – a great shock to everyone.
Her funeral took place in Our Lady of Lourdes Church, with attendance limited to ten people because of COVID-19 restrictions. Mary was very close to her family. Her sister Agnes and brother-in-law P.J. attended the Mass with some of their children. Music was provided by Sisters Christine Lawler and Rita Higgins, who sang beautifully, and Presentation Sister Colette McCluskey, who accompanied them on the organ. Father Barry Matthew from the parish celebrated the Mass of Thanksgiving.