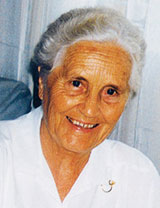 Sister Gemma was born Mary Breslin in Curroy, Ballina, County Mayo in 1923, the third in a family of twelve children. After completing two years of post-primary education in Ballina, she attended vocational school in Castlerea, County Roscommon. She worked in her aunt's hotel in Castlerea as a receptionist and manageress for seven years and was very successful, developing her innate ability to relate with people. She met Bishop Thomas McGettrick and Sister Magdalene O' Rourke, MMM, and heard many stories about the missions overseas and the needs there. Mary was an active member of the Castlerea Red Cross and other organizations before joining MMM in 1945. Her decision came as a great shock to her family.
After her first profession she helped in the Spiritan (Holy Ghost) seminary in Kimmage, Dublin for two years. During that time Gemma met Bishop Joseph Kiwanuka, who came to Ireland in 1950 to ask for Sisters to staff a hospital in his diocese in Uganda. He told her that he had asked many congregations to come to Masaka, but they had all said no. The next day he would be going to ask Mother Mary. Sister Gemma promised to pray that Mother Mary would agree.
In 1951 she was assigned to join Sisters Margaret Garnett and Evangelist O'Connor in beginning a new mission in Kabanga, Tanganyika –now Tanzania. That foundation group remained firm friends all their lives. Gemma was a real homemaker for all the missionaries as well as the MMM community. She was also responsible for the administration, fundraising and accounting as the mission developed into a general hospital with general nursing and midwifery training schools.
In 1955, Sister Gemma was one of the pioneers who would make Bishop Kiwanuka's dream come true. She was asked to help begin MMM's first foundation in Uganda, at Kitovu, on a hill above Masaka. Once again a hospital was started as well as a number of outstations. Later, services were developed for people affected by HIV/AIDS and for women with obstetric fistula that became models for other countries.
When Bishop Jobidon of the White Fathers requested Sisters for a new foundation in Mzuzu, northern Nyasaland (now Malawi), Gemma joined Sisters Edel Weir and Maria Goretti O'Conor in yet another country in 1961. Saint John's Hospital gradually developed into the regional hospital for northern Malawi, with midwifery and general nurse training schools. Local nurses were proud to say that they were trained in Saint John's. In the early years Gemma drove the staff to the outstations, which provided an opportunity to relate with the local people and learn their language and culture. During this time Gemma attended the first MMM General Chapter in Ireland in 1962.
In 1974 she went to Nkhata Bay, on the shores of Lake Malawi, as housekeeper and bursar, but she was soon elected a general councillor in MMM Congregational Administration for a five-year term. Following a course in community development she returned to Mzuzu in 1981 as projects secretary and Sister-in-charge of the community.
In 1987 the Propagation of the Faith accepted the resignation of Bishop Jobidon. He had invited MMM to Malawi and was a wonderful support to them and all missionaries. Father John Roche, SPS, was appointed as apostolic administrator of the diocese.
At this time the Malawi Episcopal Conference was becoming more concerned about the plight of the poor in the country. Education and health care facilities were inadequate. Archbishop Chiona, chairman of the conference, suggested that a pastoral letter be written, addressing human rights and good governance.  All the bishops and the apostolic administrator of Mzuzu agreed. Tensions developed between church and state and Mzuzu Diocese was greatly affected. On Good Friday, 17 April 1992, Mgr. Roche was given twenty-four hours to leave the country. He was expelled along with other Irish missionaries. Sister Gemma and other religious women and men joined the convoy of cars that accompanied him to the Zambian border on Holy Saturday. Gemma's wisdom, motherly care and trust in God were a source of calm and hope for many during this turbulent time.
Gemma became the mother figure of Mzuzu Diocese. Local people, religious, and lay missionaries from various countries and religions found a sacred space in Mzuzu. She had her office away from the hospital, at the side of the convent. The door was always open and she was ready to receive anyone anyone who needed a listening ear and time. The warmth of her hospitality often gave new life to flagging spirits as they enjoyed 'Gemma's infamous scones'.
Serving as bursar and visiting the sick whenever possible, Gemma remained in Mzuzu until 2000, when MMM handed over the administration of Saint John's Hospital to the diocese. She retired to the MMM community in Lilongwe before returning to Ireland in 2001.
She spent the next four years in the Motherhouse, helping where necessary and being a friend to many returned missionaries. Her health continued to deteriorate and in August 2005 she transferred to Áras Mhuire for extra care. The staff loved Gemma and found her to be 'totally undemanding 'and a joy to care for. Missionaries who worked in Malawi often visited her. As verbal communication became difficult, her gracious smile communicated peace, joy and appreciation for the care she received.
Sister Gemma died very peacefully in Áras Mhuire on 22 February 2018. Her sister, Sister Breege, MMM, was with her, as were her long-time friend Sister Jude, Áras Mhuire staff members, and other MMMs. Her funeral was a reunion of the extended family and friends who had always supported her missionary work through their prayer and financial support. It was a real celebration of her life of service.
In her family, Gemma learned the virtues, values, and skills that marked her life: concern for others through caring and sharing, total self-giving, managerial skills and patience. We received many messages of condolence and stories of happy memories of Sister Gemma from the Bishop of Mzuzu and missionaries who had worked with her.