Congregational Register No. 162
D.O.B. 23 07.1919
First Profession 17.03.1949
Died: 31.07.2002 Aged: 83 years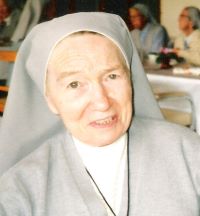 Born in Oldcastle, County Meath, Eileen Boylan came from a family of four: two sons and two daughters. After finishing her schooling she stayed at home to help her mother who was ill and eventually died. It was only when Eileen was twenty-seven that she felt free enough from family responsibilities to follow her calling into religious life.
At her reception into the novitiate Eileen took the name Sr. M. Assumpta. All her religious life was spent in Ireland, and her profession was recorded as "helper". She worked in Clonmel and Waterford. She also spent some time in Rosemount in Dublin when it was a house for students but most of her life was spent in Drogheda. She worked for several years in the IMTH cafeteria and also looked after the hospital oratory for a number of years, work which she especially loved.
Throughout her life she suffered from ill health which gradually became more and more disabling.
From the 1980s until her death, she had constant illness and suffering. When Áras Mhuire opened in 1994 she became part of the founding community of MMMs there. She died peacefully and free from suffering in Áras Mhuire on 31 July 2002 and is buried in Drogheda.