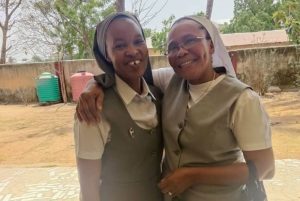 In June, the Global Sisters Report published an article about MMM Sisters in Fuka, Northern Nigeria. It was entitled "After violent attacks, Sisters of the Medical Missionaries of Mary in Nigeria launch mini clinic" and the journalist was Patrick Egwu.
He interviewed Srs. Florence Njoka and Nancy Ong'era as they worked in their small rural clinic. Before the recent violent bandit attacks, MMM once ran a hospital in Munya, a local, government-administered community about 25 kilometres from the capital city of Niger, north-central Nigeria.  This changed in 2021 after several bandit attacks in the area.  MMM has been in the area since the 1980s, covering 16 villages and offering basic primary health care services. We run health education, and basic water, sanitation, and hygiene programmes. The focus is health and holistic healing for people from marginalised communities or areas with greater health needs.
Niger is one of the seven Nigerian states affected by the violent activities of heavily armed bandits and local gangs who attack villages, destroy farmlands and abduct for ransom. In the last few years, our MMM Sisters have found themselves entangled in a web of violent attacks by bandits. They have been living in fear and danger, unsure of what happens next.  Niger State remains a safe haven for the bandits who abduct villagers and kill security personnel. Since the beginning of this year, dozens of locals have been killed by the bandits while more than 100 others have been abducted.
After fleeing their community and shutting down the hospital, the sisters started brainstorming on how to start another clinic to provide health services to residents. After consultation with the relevant authorities, they decided to focus on the important aspects of care that people needed the most, sickle cell anaemia and tuberculosis.  The area has one of the highest number of cases of tuberculosis in Nigeria and the hospital run by the Sisters is one of the best treatment centres for the disease. Government hospitals sometimes rely on their facilities to collect relevant data on the disease.  The Sisters decided to open a mini designated outreach clinic that will serve as a central location for people around the area who need basic health treatment, especially those who fled their communities because of attacks by the gunmen.
To make the new hospital work, the sisters went back to their hospital to get the essential equipment and supplies. They took lab equipment, generators, reagents, tables, and computers.  From Monday to Thursday each week, the new clinic runs limited services, unlike the one they left behind in Munya. Fridays are reserved for restocking supplies.
Naturally the Sisters want to return to the main hospital. We want to go back", they say. "When you look at families with little children and how they bounced back from attacks, that gives you the courage to carry on. They run after attacks and return the next day because that is the only home they have. They have nowhere else to go. So, you have to develop your own resilience to deal with trauma."
By Patrick Egwu – Published in the Global Sisters Report – Read the full story at www.globalsistersreport.org/node/246951