By Sr. Dumka Michael, MMM
The Cardinal Onaiyekan Foundation for Peace, in collaboration with The Medical Missionaries of Mary PHC clinic and maternity, Aco Estate, New Lugbe Airport Road, Abuja held a 2-day workshop and training on peaceful coexistence themed "strengthening peaceful coexistence through enhancing the economic capacity of Sauka women". The event took place in Zhigbodo Sauka Village of Kuje Area Council from the 16th to 17th of January 2023 and was convened by Sr. Dumka Michael, MMM.
The project target is to solve the issue of hunger being caused by the heightened incessant insecurity and this has in turn inhibited the crop harvested in the community. The fear of going to the farm due to insecurity has also increased food scarcity in the community. And as stated by the Village Chief, hunger is unbearable as it triggers quarrelling and fighting among members.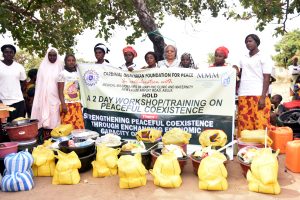 As women are the backbone of the family, they would love to be financially stable to support their families, hence the need for this project among the Zhigbodo Community. It will help seek out alternative ways and provide the skills required for a better understanding of the complexity of this problem.
The economic empowerment program was targeted to enhance the economic value and skills of the Sauka women to make their impact in the community formidable, while also educating them on the role they play as peace enablers.
The Project empowered 23 women (7 women with materials each to be able to make Ghana soap, liquid soap and izal; 3 women farmers for groundnut farming with 70 mudus of shelled groundnuts each; 1 woman with 20 mudus of soya-beans and other materials for making awara; 1 woman with 20 mudus of groundnuts and other materials for kuli-kuli (groundnut cake) making, 1 woman with a female goat, 9 women with materials each for the making of chin-chin and puff-puff and 1 woman with a sewing machine).
The project climaxed with the training of the women on how to use their empowerment materials to make various things such as puff-puff, chin-chin, izal, liquid soap, kuli-kuli, awara, and clothes etc for economic gain to solve their family needs. The women were also educated on the importance of home management, basic business skills and personal hygiene.
We learned that the community were fully aware of their importance and roles in society not minding their financial status, they were all excited about the visit and hoped for a positive outcome, and they were equally eager and ready to learn new skills or innovations.
The Medical Missionaries of Mary hope to maintain a continuous collaboration with the Zhigbodo people and encourage them in all their activities. They also seek to create more collaboration with other NGOs or institutions within and outside FCT-Abuja that have the same common interest for partnership.