A Guide for Churches on the Prevention of Obstetric Fistula
Over 70% of Maternal death in the world takes place in Sub-saharan Africa. Obstetric Fistula is a horrific condition that needs to be prevented to protect birthing mothers and babies. A new guidebook was released recently by the to understand this further.  Here is the link:
https://www.oikoumene.org/news/wcc-guide-raises-awareness-of-obstetric-fistula
PDF: Guide for Churches on the Prevention of Obstetric Fistula Web
'Spirit' explores the work of The Medical Missionaries of Mary at home and overseas. The Sisters have provided a powerful insight into the legacy of their work, through interviews with the filmmakers. The short documentary includes contributions from LMFM presenter Gerry Kelly, former Trócaire CEO Justin Kilcullen and Dr. Conor Mulvagh, UCD.
Find out more about the making of this documentary at   
 • 'Spirit' Explainer Piece  
Development Perspectives are a non-profit NGO based in Drogheda.
Find out more about our work at https://www.developmentperspectives.ie/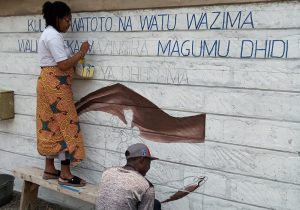 In this article published in the Global Sisters Report, Sr Prisca Ovat, MMM shares the way the Sisters share the Healing Charism by serving the poor in many ways.
Read more: As part of our healing charism, we work to solve health needs of others | Global Sisters Report
Sister Sheila along with other walkers taking "Steps for Hope."
Medical Missionaries of Mary's new awareness event for Lent (Drogheda Life)
The former Bakhita House, in Malden, Massachusetts, was home to human trafficking survivors
and the sisters from Boston congregations who helped them recover.
Read More – Global Sisters Report
This episode is about Sister Bernie Kenny and Tauna Gulley. Their book, Better for Being With You – A Philosophy of Care, chronicles decades of providing compassionate, quality health care to people in Central Appalachia.