Our work in palliative care in Uganda developed as a result of the HIV epidemic, which wrought devastating effects in that area. Many cancers are among the AIDS-defining illnesses and the palliative care team brought holistic care to those affected. The following report describes the services that MMM provided before handing over Mobile Palliative Care to local staff in 2013.
'In Uganda, we have a very active Palliative Care Team, made up of Sister-Doctor Carla Simmons along with nurses Rose, Resty and their driver, Aloysius.  Nurses Rose and Resty are pictured here visiting the home of a patient with Kaposi's sarcoma.
'The Palliative Care Team is part of the home care unit, based at Masaka. It has a staff of twenty-two, including the staff who administer antiretroviral therapy.
'The programme has more than 4,000 patients currently registered. Of these, 112 are in need of palliative care to relieve the severe symptoms of the advanced stages of disease.'
Sister Carla, pictured here with Nurse Rose, visiting another patient, said,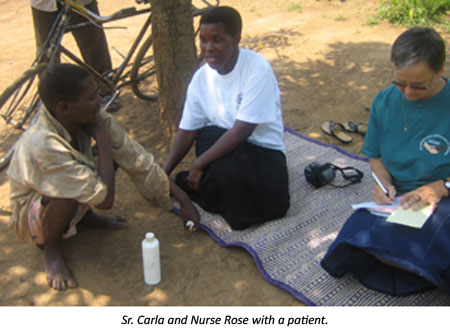 "We offer this service to our own patients in the AIDS Mobile Outreach Programme and also to patients with cancer referred from the hospital. While the purpose of our Mobile Outreach Programme is to care for people and families who have been struck with AIDS, you couldn't have a service in an area as poor as this without it being available to anyone who needs it."
"We are very fortunate in Uganda that morphine is available for treatment of severe pain. Because morphine is a classified drug, an opiate, a drug of addiction, there are very strict laws about its handling, use and prescription. In many African countries it is not even allowed to be imported. It is only since the growth of the hospice movement that the benefits of morphine in terminal illness have been appreciated fully.
"The beauty of the morphine we use is that it is oral, cheap, easy to take, and wonderful for pain relief, as everybody knows. It is also helpful in the control of severe diarrhoea that often accompanies terminal stages of AIDS. That gives tremendous relief not only to the patient but also to the family."
See 2010 Palliative Care Report
Important aspects of our life as MMMs are 'reading the signs of the times in a rapidly changing world' and being 'alert to new needs and opportunities' (MMM Constitutions).
In 2015, after twenty-four years in Makondo, our Sisters began a process of discernment about the need for our continuing presence there. In what was previously an underserved area of great need, there had been great development, with shops, houses, schools, and other health facilities. The local government had trained village health workers. The government also wanted Grade II health facilities to offer a wider range of services, which posed a challenge for sustainability.
In the reflection process, the Sisters were guided by our MMM Resource Team and involved the diocese, the health unit management committee and staff of the Makondo complex, local leaders and the local parish. After considering the resulting reports, proposals and suggestions, the MMM East/Central Africa Area Team recommended to our Congregational Leadership Team that we hand over the Makondo complex to the Diocese of Masaka.
The Congregational Leadership Team responded positively and our Congregational Leader informed the bishop, Rt. Rev. John Baptist Kagwa, about the decision in August 2016.
Sr. Maria Gonzaga, the area leader for East/Central Africa, met Bishop Kagwa to discuss the steps in the transition and to fix the date for the official handover. He was asked to find a group to take over the management of the complex and the Daughters of Mary Sisters generously accepted. The resource team returned in September 2017 to follow up the planning with all involved and an assessment of the financial system was completed.
Time to say farewell
Sr. Maria Gonzaga wrote about the day of the handover on 27 February 2018.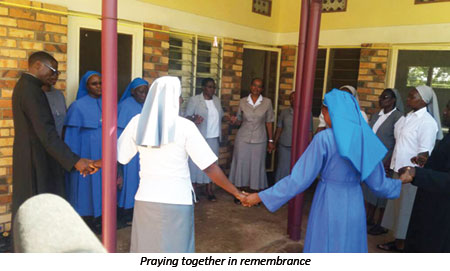 'It was a beautiful day, blessed with rain until around 9.30 a.m. We had arranged to have Mass in the open, so this delayed us a bit as we waited for those who had to travel over the bad roads.
'Bishop Kagwa celebrated the Mass with Fr. Ssekabanja, the chancellor; Fr. Katabaazi,the diocesan health coordinator; Fr. Paschal, the parish priest of Makondo; and Fr. Henry,his assistant. Daughters of Mary Mother General, Sr. Noeline Namusoke, and her council also attended, with the Sisters assigned to the new community. Our Makondo staff were there,as were representatives of our partners. The parish choir sang beautifully.
'In his homily Bishop Kagwa said that MMMs are missionaries. After twenty-seven years the seed we planted has germinated, so it was time to take the Good News to other places. He thanked MMM for what we have done in Masaka Diocese, where we have been since we first arrived in Uganda. He was very proud of our contribution in the health sector. He then thanked the Daughters of Mary for taking on this big project at Makondo and promised to support them in any way possible to continue the work and even do more. He prayed especially for those who contributed to the work and have gone before us:  Srs. Benedicta Nannyondo,  Cate Nakintu,  Maura Lynch,  Dympna Hannelly, and Rita Hand.'
Stewardship: Sharing God's blessings
'After the Thanksgiving of the Mass the official signing of the handover report and the trustees' agreement took place. The MMM Area Leader presented the bishop with copies of the handover report,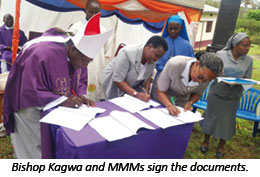 the financial reports, and the keys to the buildings. Bishop Kagwa emphasized that MMM had not sold the property and assets to him but had given them free of charge and openly. He thanked us for the wonderful, well-written, detailed and transparent handover report they had given him and for the open and beautiful handover ceremony.
'Representatives of the various groups spoke after Mass. Following lunch with the visitors there was a tour of the compound with Bishop Kagwa. When everyone had gone, we went back to the convent. Led by the parish priest, we prayed with the new Daughters of Mary community. We said good-bye to the Sisters and the staff, and freely left Makondo.'
Sister Lelia Cleary thanks all who helped her raise funds for: A Tractor for Loolera.
Sitting in the plane before it took off from Kilimanjaro International Airport, Sister Lelia smiled to herself. She was thinking about Sikorei's request as he bade her farewell before she set off on home leave. There was very little hope she would be able to accomplish what he had asked, "Please Sister, see if you can bring us back a tractor."
Two hundred miles to the south of Kilimanjaro, in the Maasai village of Loolera, Sikorei and the rest of the health-care team went about their daily rounds. They had seen a lot of drought. They had built a grain store to protect the people from ever again experiencing the hunger of a famine year. The tractor they once hired from the Diocesan Development Office in Arusha had been a great help in filling the grain store, but it was more than ten hours' drive by lorry to Arusha. You couldn't get that tractor very often! Nonetheless, it gave Sikorei ideas about how much they could achieve if only they had a tractor of their own in the diocesan integrated health-care project in South Maasailand.
Sikorei's words never let Sister Lelia rest.
"I said I would try but, deep in my heart I thought there was little hope of accomplishing this. Soon after arriving in Drogheda I went to visit friends with four children living in Julianstown. During the course of the conversation I asked them had they any idea how much a tractor would cost. "Oh," they said, "probably between 18,000 and 24,000 Euro for a tractor and plough.
My heart sank. How could anyone hope to find this much money? My friends said immediately that they would like to help. The father said he was expecting a bonus at work and he would give a thousand Euro. I was speechless – these two hard working people educating their children. I thanked them for their great generosity.
Then I went home to Clare. I was telling my sisters and brothers the whole story. They were most interested. One of my sisters suggested having a whist-drive. She and friends and neighbours got many cards printed for it. Young and old bought cards to support the tractor project. It was a huge success! My family and friends gave generously. My brother put an advertizement in the local paper and this brought in a lot of donations. The Apostolic Workers gave a large donation. I wrote to my Californian friend – an old mission helper who had travelled with me to my first mission in Tanzania over 40 years ago. She had worked with us in Tanzania for several years, and now, once again, worked tirelessly collecting dollars. The money started pouring into the 'Tractor Fund' for Loolera.
While at home I visited a dear friend in Kerry whose sister, a Sister of Mercy working in England, was also at home on leave. I told this sister about our project and, laughingly said ,"If you meet any rich man in England tell him about our need of a tractor for Maasailand."
She went back to England in due course. A few months after my return to Loolera I received a letter from her. She told me that she had contacted two tractor firms and both were most interested in our cause! The first had no back-up for repairs, etc. in Africa but promised to send money to our fund in Dublin. The other firm, Massey Ferguson, said they did have a company in Dar-es-Salaam: Diamond Motors Ltd. The man in charge at Massey Ferguson, Mr. Adrian Short, said he would contact their company in Tanzania. He wanted very much to help our project, and knowing the amount of money collected, said that they would donate the balance for the tractor and the plough and also transport of the new tractor by lorry from Dar-es-Salaam to Loolera, a distance of more than 500 kms.
On January 11, 1996 the lorry bearing the tractor and plough arrived in Loolera. Excitement was high and there was much rejoicing when it arrived. The people came in great numbers to look at it and admire it and tell us how many acres that they had cleared of tree trunks in readiness for ploughing. The parish priest of our neighbouring parish sent his senior tractor mechanic who has used Massey Ferguson tractors for years to supervise and train our own mechanic.
The tractor is a huge gift and a great help for the Maasai people, who only recently have been getting used to cultivating. Traditionally the Maasai are pastoralists, but due to changing conditions have had to take up agriculture. Many acres have been ploughed and the people are very happy to have such a machine in our remote bushland. Because of having a tractor we have now been granted a ten-acre field. Since the arrival of the tractor our families and friends have continued to take a great interest in it. They have also continued to send donations and we have been able to buy a trailer. This trailer was made out of bits and pieces, an old chassis and various important components. It was then painted Massey Ferguson-red to match the tractor.
The trailer has been a great addition. It has been used to harvest, but sadly, not a lot because the rains failed last year. However, there is quite a lot of building going on at present so the trailer is hired out to carry sand from the dry river bed, which is twenty-four kms away, and stones from the mountain behind us. Our own water supply here in Loolera would not allow for the filling of a water tanker. So the trailer is taken to a neighbouring village, six kms away, to collect water for the buildings.
So may God bless and reward all these wonderful people who have helped us in any way to get the tractor and trailer.
MMM handed over our programmes in Loolera in 2003.
Naples:

In November 1951 Mother Mary went to Italy. In 1952 Mother Mary undertook the staffing and running of a General and Maternity Hospital, Clinica Mediteranea, in Naples. This clinic was newly built and owned by Professor Chiariello and a Committee of lay-men. The bed complement was 115.
At that time most international congregations had a house in Rome but, as there did not seem any opportunity of MMM getting a house in Rome, to have a base in Naples was seen as a good thing for the Congregation. It was thought it would be a good centre for vocations to MMM.
The founding members were Sr. Anthony Connolly, Sr. Attracta Scanlon, Sr. Aidan Gallagher, Sr. Joannes King, Sr. Fidelma O' Shea, Sr. Mary Casey, Sr. Caritas Wurserova. Sr. M. Perpetua Hayes went later to Naples was Superior there until she transferred to Clinica Moscati, Rome, in 1964. She returned as Superior to Naples in October 1966. In August 1964 Sr. M. Anthony Connolly replaced her as Superior in Naples.
Rome:
In December 1963 Mother Mary went to Rome in response to a request for Sisters to staff a hospital being built by a partnership of three: the mission-minded Moscati Society, the more secular Immobiliare Society and the Bank of Sicily. The Clinica Moscati was meant to be a training hospital to provide doctors and nurses for under-developed African countries. Dr. Riberi knew the promoters and thought the project an exceptional opportunity for MMM to become established in Rome. Mother Mary saw the Clinica Moscati as another International Missionary Training Hospital, with great benefits for the African mission countries. Nevertheless, she had some reservations and was taken aback to find Cardinal Cushing opposed to her Congregation staffing the Clinica. After protracted discussions, she agreed to provide sufficient staff in late 1964 or early 1965, and left two Sisters to supervise the completion of the building, the cost of which was being borne by the three groups that owned it. The Clinica Moscati finally opened in 19thDecember 1964 and was staffed by sixteen MMMs. Sometime before the opening, the Bank of Sicily withdrew and its share was taken over by the Society Immobiliare, giving that body a controlling interest of two-thirds in the hospital, a signal of troubles ahead. It became obvious after some months that the Society Immobiliare and the Society Moscati differed in aims and approach so, in 1966 after assessing the situation, the Sisters were withdrawn from the Clinica Moscati. It was also considered a drain on missionary staff.
MMM closed the house in Naples in 1975, following a decision taken at the Third Congregational Chapter held in 1974. Sr. Maria Pia Parlato, who spent many years in Nigeria, and originally came from Naples and joined MMM in 1960.
His Excellency, Antonio Riberi, Apostolic Nuncio to Ireland and a good friend of MMM, took up duty as Apostolic Nuncio to Spain in June 1962. Mother Mary Martin visited Spain in August 1962 and set about an MMM foundation in Leon. The Sisters started off in Madrid where they bought an apartment and attended the various universities, colleges and hospitals to acquire the necessary knowledge and experience. Sister M. Rose Casey and Sister-Doctor M. Andrew O' Donohue were assigned to this mission in September 1962 and very shortly afterwards Sister M. Ignatius Rooney joined them. The principal aim was to attract vocations to the Medical Missionaries of Mary in order to meet the needs of the missions, particularly Latin America. This proved to be a difficult mission. The Sisters had to learn the language and adjust to the Spanish culture. They also had to sit their medical and nursing exams again in Spanish to become eligible to practise their respective professions.
Mother Mary Martin accepted an invitation from the Bishop of Leon to administer a hospital. It was a hundred-bed general and maternity hospital, including a School of Nursing. It also provided accommodation for retired priests. The Sisters went to Leon for short periods during the erection of the hospital but their base was Madrid. In 1965, they took up residence there even though the building was not complete. On 02 January 1966, His Excellency, Antonio Riberi, Nuncio to Spain, celebrated the first Mass in their provisional hospital oratory. The hospital progressed slowly and, by Easter 1968, nine MMM Sisters were in Leon.
Many Spanish girls showed an interest in the Medical Missionaries of Mary and their work but seemed more interested in the lay apostolate. The only girl to go to Ireland for her Postulancy and Novitiate found this was not the life for her and returned to Spain in 1969 before completing her Novitiate. MMM closed the house in Spain in 1975, following a decision taken at the Third Congregational Chapter held in 1974. By then the Congregation was already established in Brazil, a Portuguese-speaking country.
In 1961 the Right Reverend A.J. Verineux, Bishop of Yingkow, Administer Apostolic of Hwalien wrote to Mother Mary requesting Sisters to work in the Apostolic prefecture of Hwalien (Formosa, as it was then).
The founding members Sr. Kieran Saunders and Sr. Maria Glancy left Drogheda on 23 November 1961 and travelled via Rome, Bangkok, Hong Kong and reached Taiwan on 15 December 1961. Sr. Petria Whelan followed.
The Holy Cross Congregation of Sisters handed over the medical work to MMM and the building of the convent and hospital continued with the MMM Sisters moving into their new convent 11 November 1963.
Some girls showed interest in joining MMM and subsequently did so in 1964 as aspirants/postulants but the Sisters then faced the difficulties of these girls having a poor standard of English and the enormous challenge of getting exit visas for them to leave the country to go to Ireland for further formation.  In 1967 the remaining one of these aspirants who had been living in community with the Sisters left and subsequently married.
In 1974, at the Third Congregational Chapter a decision was made to close the mission in Taiwan.  One of the Sisters living in Taiwan at the time, Sr. Maureen Sinnott, was part of the decision making process.  Some of the reasons given were:- the isolation from the rest of the Congregation, the fact that there were many other hospitals in Taiwan, there was no possibility of entering mainland China for expansion, visa difficulties and a lack of vocations to the MMM way of life.
MMM first went to Honduras in the aftermath of the devastation caused by Hurricane Mitch in 1998.
The journey of MMM to Honduras began at the 1997 MMM Chapter, when a decision was made to open a new mission in Latin America. Sisters Mary McKearney, Renée Duignan and Rita Higgins, and lay woman Mary Egan, were assigned from the USA. MMM USA had done research on possible ministries in Mexico City and, after language school, the group entered a process of discernment to explore these possibilities. They found that the reality had changed.
During the discernment, a call came from the Congregational Leadership Team alerting them to the situation in Honduras after Hurricane Mitch. Two Sisters went to Honduras from Mexico to do research and they saw the devastation first hand. They also contacted NGOs and the Honduran Conference of Religious. On their return to Mexico it became clear that God was calling MMM to Honduras. On 1 May 1999 the group arrived there to establish a new mission in Marcala in the Diocese of Comayagua.
Beginnings
The Sisters tell the story. 'We joined the parish pastoral social ministry and established an integrated health and development project among the indigenous Lenca people who live in isolated mountain communities. We were involved in natural medicine, home pharmacies, stove making and training traditional birth attendants. Mary Egan started a "Teacher at Home" programme, providing education opportunities for students from marginalized families. MMM continues to support this programme.
'As levels of trust increased we worked more with the most vulnerable groups. We developed an integrated health programme in schools and formed women's groups. The project raised awareness by building capacity and self-esteem. We encouraged women and children to recognize and break negative cycles of behavior and provided information on health, human development and human rights issues. We also supported women with Pap smear screening. Participation in the groups helped children to develop their creative skills and build their confidence.
'We promoted formal education and collaborated with like-minded organizations. In Marcala Parish, a pastoral care team was formed to visit the sick and the elderly in their homes.
Moving on
'After 15 years in Marcala, Sisters Bernadette Heneghan and Cleide Daniel da Silva moved to Siguatepeque and began working in the parish of Meambar, 40 km northeast. The project focuses on capacity building in health and human development, awareness-raising on human rights issues, and care of the environment. Sister Margaret Nakafu arrived in 2016. She works in Siguatepeque Parish in pastoral, social and youth ministries.
An urban ministry
'In 2004, Sisters Renée Duignan, Joanne Bierl and Rosalinda Gonzales opened a new mission, Casa Visitación, in Choloma, in the Diocese of San Pedro Sula. The emphasis is on integrated health care and human rights issues. In response to emerging needs and through the generous contributions of benefactors, a new centre was constructed. We provide services through an outpatients' department, complementary therapies, counseling, dental services, income-generating activities, workshops, nutrition, home-based care, community pharmacies, and pastoral social work with community volunteers. Casa Visitación has networked with the diocese, parishes, NGOs, the ministry of health and other organizations, sharing resources with them. Sisters Maria Gonzaga Namuyomba and Danielle Darbro also contributed to that mission.
Sharing the gift
'From the beginning we have been immersed in the daily lives of the people. This has been a blessing, enabling us to share the MMM charism of healing. We have been enriched by the people's openness, generosity, trust and hospitality. We are grateful for the mutual working relationships with our co-workers that enabled the Sisters and staff to fulfill our mission. We appreciate the collaboration of the many volunteers and benefactors who have been our partners.
'One of the joys of getting to know the local people was that some were attracted by our spirituality and wanted to have a deeper relationship with us. There are now 20 MMM Associates in Honduras and many are involved in our projects. To our delight they are committed to continuing to live our MMM charism into the future, with the support of MMMs and AMMMs.
'Because of personnel constraints MMM decided to hand over our projects in Honduras by the end of 2021. A succession plan was put in place.
Handing over
'Now we celebrate the positive impacts that our presence has had in the lives of the people. Many have imbibed a sense of integrated health care for their families and communities, as well as awareness of human rights, care of the environment, etc. We, too, have been transformed by the people's deep faith and resilience in face of the challenges of corruption, drugs, violence, extreme poverty, and the country's vulnerability to natural disasters.
'It is difficult to move on from a place in which we have invested so much of ourselves, and again it is a matter of discerning when it seems the time has come. As we leave so much of our hearts behind us in Honduras, "in hope and love we are ready to walk in paths that are new" (MMM Constitutions 2.6).'
Closure
MMM finally withdrew from Honduras in December 2021. The departing Sisters were: –
Pictured L-R are: Sisters Bernadette Heneghan (Ireland, Europe), Margaret Nakafu (Uganda, Africa), Renée Duignan (Ireland, Europe), Rosalinda Gonzales (Philippines, Asia) and Cleide Daniel da Silva (Brazil, Americas).
________________________________________________________________
Turkana Desert, Kenya
In Kenya, Sister Kathleen Crowley is involved in the Women's Development Programme of Lodwar Diocese. Basket-making has become quite an art and a source of income for many women.
"Here in Turkana, every bit of work in the home is a woman's chore," says Sister Kathleen. "The women are the main bread-winners, but their own basic human needs are not met. Water is very scarce and they walk long distances to get it."
"None of the women in the programme can read or write. With their nomadic lifestyle it is difficult to address this problem. Our biggest hope is that their daughters will be allowed to go to school. Traditionally, the girl's role is to help the mother in caring for the younger ones. The boys have preference when it comes to schooling. Having a little income of their own gives the women some status and enables them to see that their daughters could have a better life if they got a fair start.
"The basket-making has already brought some change to their lives," says Sister Kathleen. "The doum palm is available in the desert. So are the bark and the stone from which they make the dyes they use. So there is no outlay. It is wonderful to see the creative designs they come up with – finding new designs all the time.
"These women are badly off for money for food or for treatment for their children who may be sick. They are willing to walk for two days with the baskets on their heads to bring them to us for sale. We pay each woman for the baskets she makes and she gets the cash in her hand. Then we send the baskets down country by truck to Nairobi, where they are marketed."
Some of the women who are particularly talented have become teachers of their craft. Sister Kathleen and her team take them from village to village to train others. This gives them a lot of satisfaction and status. They also become role models for the village girls, helping them to dream of a future life that is not all house chores and drudgery.
Home Based Care In Malawi 2012
Our experience has shown that the place to provide the best form of care for the chronically ill and the terminally ill is at home. In a country like Malawi, where there is a serious shortage of trained doctors and nurses, this is all the more true. Where there is a strong tradition of family values, it is not difficult to find carers and volunteers who can be trained to provide the services needed.
The MMMs at Chipini have funded bicycles for home-based care volunteers, providing two bicycles for each cluster of villages. At present the bicycles are used to get the volunteers from village to village on their rounds of mercy.
As they visit the homes, the volunteers assist the family members in their care of the person who is ill. When they see that a visit from the doctor is needed, they inform Sister Cecily, who arranges to come.
Sister Cecily Bourdillon is an MMM doctor, responsible for a network of home-based care services in seventy-six villages. These villages have an estimated population of 22,544 people living in 5,633 households. The villages are scattered throughout the Shire River Valley within an area of about 200 sq. km.
Sister Cecily told us, "Villages are clustered into centres, each centre having a trained home-based care volunteer. Initially, the volunteer attends the health centre at Chipini for a basic introduction. This covers essential information on how to help families care for children or adults with a disability and care of the chronically ill, those with cancer and the elderly. We also provide essential information on HIV/AIDS and how to pass on this information in the villages where they serve. This initial training is followed at intervals with various upgrading courses."
In addition to the trained volunteers who provide the home-based care, another essential member of the health-care team is the Health Surveillance Assistant, seconded by the government. People gather in the shade of a large tree to learn about topics such as malaria prevention and treatment, HIV/AIDS, re-hydration and nutrition. After the talk, children are weighed, screened and vaccinated.
Sister Cecily said that home-based care provides great satisfaction for both patients and carers alike. "It brought great satisfaction and joy to everyone involved when Elina learned to walk again after a stroke. The care provided by her family members, supported by the home-based care volunteer in her village and the staff at the Chipini Health Centre, all meant this young mother could resume a normal life."
MMM handed over Chipini Health Centre in 2014.

To begin our initial health survey back in 1984, we visited each boma to acquaint ourselves with the peoples' felt needs, their expectations and the general health picture. The biggest problem expressed was getting medicine for cattle,sheep and goats. The last time a weekly dip had been held was eight months earlier. Nobody could afford the transport to the nearest town to buy the medicine.
That was their felt need. Obviously, we had to find a way of addressing that if we were to have any credibility. At the same time, we observed that we had not met any children under five who had completed their vaccinations. Barely half a dozen children had been registered at a clinic.
It was not very long before we were able to get a mother and child welfare clinic under way and training for traditional birth attendants, with whom we worked very closely. An anti-polio campaign followed. We also found TB to be a big problem in Loolera, so we started a case-finding programme, with treatment and follow-up. We had meetings with the elders to find ways of eradicating yet another outbreak of relapsing fever. The issue of pit latrines was also on that agenda!
We became very active with the Village Water Committee. After some time the Dutch agency CEBEMO sent a water engineer to advise on the protection of the springs. We were also involved in health education in the primary school. This became more important as the problem of HIV/AIDS became widespread in the world. The young people became very interested in role play about this deadly health threat. With the constant problem of drought and diminishing pasturelands, it was not too long before the Maasai began to raise questions about the possibility of diversifying their livelihood through agriculture. This would be a major cultural step for them, but they wanted to take a serious look at it.
As Sister Lelia set off on home leave in 1995, the people reminded her that what they wanted her to bring back was a tractor!

With the help of her generous friends she raised the funds not only for a tractor but a trailer, too. Soon, there was no family without a shamba or field for planting. Ploughed land in village border areas also proved to be a protection for their rightful pasturelands, which are often encroached upon.
A severe hunger in 1995 led to the communal purchase of a seven-ton radio-equipped truck and a store where maize could be stored against future food supply problems. We have seen much development at Loolera, and we will be sad to leave. Whenever the MMMs who served at Loolera see the sun setting behind the mountains, they will think of the cattle passing outside and hear again the bells tinkling around their necks, and remember those treasured years among the Maasai.
MMM handed over our programmes in Loolera in 2003.