by Sr. Prisca Ovat MMM       Kenya          11.03.2022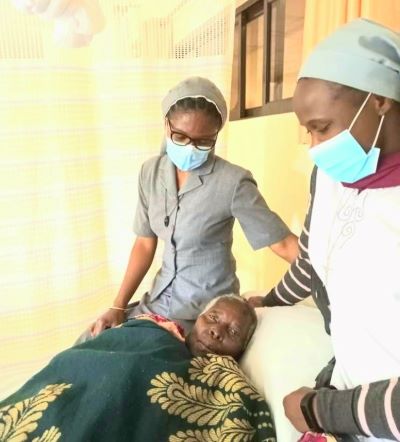 Here she is called Mama Kemba, Mercy, 85 years old. She was referred to us by one of the palliative caregivers (Esther). The latter had, alongside others, received a couple of training on identifying, reporting and assisting palliative care patients within their communities. Mercy lives with a son and a daughter who are rarely sober, leading to her neglect. She also suffers from a terrible breast sore of gory sight and unbearable stench.
Mercy had first been diagnosed with breast cancer ten years ago. Receiving no professional help, she and her family settled for herbal treatment until the sore had replaced the whole breast, right into the axilla. She suffers from stage 4 breast cancer. My first visit left me with questions on how best to help. After a few consultations with a nearby hospice, they immediately agreed to take her in as the MMM medical facility sourced for funds on her behalf.
The following day at Mass, as I sat listening to the readings, I looked up at the celebrant and wondered if talking to him about Mercy's situation after Mass would be appropriate. I had mixed feelings on what response would follow. I was not to directly request help, but just in case, he might know someone willing to support palliative care activities, particularly for Mercy. "We will see what to do" was the response I got. The following day at Mass, it was the same priest again. I wondered if he gave it a thought, but I whispered a silent prayer, " I pray you don't take too long, Father." As soon as Mass was over, a considerable sum followed me home, an unexpected miracle that spurred a dance from all the staff. Fr. Oliver Barry, SPS, has always supported St. Mary's Medical Centre. Indeed, words are daily said, but those uttered at the right time and place, in the right manner, and to the right persons yield positive results. No one way is right; ours is to keep trying.
Transition to the hospice was unexpectedly challenging. Mercy would not move an inch. Without a word of English or Swahili, the patient only spoke Kalenjin (one of the major tribes in Kenya), so that all conversations require a translator. Kemboi (the grandson) told us the reason for her resistance. She was afraid her piece of land might be sold in her absence. However, after several dialogues, she gave a condition: she would go only at the request of the senior doctor and would spend just a day! We agreed to whatever would make her move.
With the help of Salomé, a good friend and volunteer at the hospice, we received a grand welcome, and Mercy was quickly settled in bed. The peaceful environment and care made her forget that she was not to spend a night, and so one day turned into one week. She confessed to being pain-free due to the daily morphine administered. She was happy to be back home, where the caregiver would continue her care.