By Sr. Sheila Campbell MMM          Ireland         05/03/2022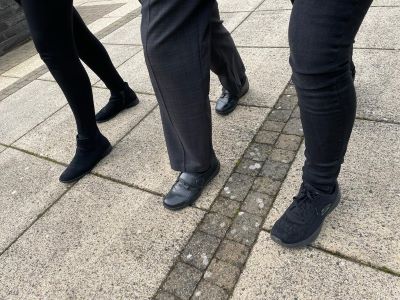 Isn't it cheating a little bit to say you are walking for Lent when actually you do go out walking most days? These thoughts were in my head when I set out to start the MMM Steps for Hope 2022 Lenten Campaign. Well, I thought to myself, if I make a pledge to do something I still have to do it, especially on days that are raining, and days when I just want to sleep a little bit later.
So, I set out to walk today and I just want to share how much I enjoy my early morning foray into the darkness. I usually leave around 6am – sometimes a little before, and sometimes a little after. It is the time when the town is beginning to come to life. Some of the commuters are whizzing past, anxious to get onto the motorway on route to Dublin. But most traffic is local, delivery vans pulling up to the petrol station, the local supermarket, the corner shop. The early morning bus driver nods at me now – we cross paths at almost exactly the same place each day. The shifts are changing at the hospital – security guards are going off duty and a new batch arriving. Then of course there are the dog walkers, and the more serious exercise freaks marching along or jogging. It is not a crowded scene, but it is predictable and reliable.
Walking around Drogheda in the early morning roots me in this place. Because of our missionary life I have been coming and going between Ireland and Brazil, Ireland and USA, for most of my life. Now I am being called to be "rooted and founded in love" in this small Irish town. And I love the challenge. Recently I joined a Facebook group called "Drogheda down Memory Lane", not because I have any historic memories, but it helps me see the town through the eyes of others.
I am drifting away from my initial thoughts of Lent. Perhaps not. This Lent I am not being called to "give up" anything. Rather I am being called to "take on" my new ministry here in Drogheda. My Steps of Hope will be light, and I will do them with a good heart.