by Sr. Margaret Anne Meyer MMM             USA                       09.11.2023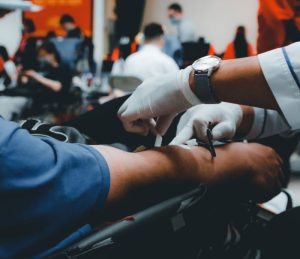 What a thrill? Now our mornings were spent in the hospital instead of the classroom. We had the choice of choosing what hospital we would like to attend. The three of us, Martha, Maura, and Margaret, also known as The Three MMMS, agreed to go to St Vincent's Hospital. At that time, it was located at the corner of Stephens Green and Leeson Street.
I will always remember my first day in the ward. Our tutor had told us how to feel the pulse and then we were to find one on an assigned patient who was agreeable to this. I was delighted to hear my sweet elderly lady tell me "Don't worry dear, the Doctor had a tough time finding it himself. She had a very weak irregular pulse which I eventually found with her help. I am eternally grateful to her for all the encouragement she gave me.
We were also assigned in threes to a consultant. The two men assigned with me were most helpful, Maurice Fitzgerald who later became the Professor of Medicine in UCD and Seamus Healy who later became a successful Doctor. It was our job to collect the blood specimens and I had an exceedingly grim time getting into a vein and drawing blood. The lads always came to my rescue. This went on for some time and I became worried that I was not cut out to become a Doctor and dutifully told Mother Mary about my plight. Mother Mary listened attentively and brushed my worry aside telling me to pray, Dear, as if Dear had not already prayed. Well, lo and behold Dear prayed and got in the vein the first go. All seemed to get better after that.
In the afternoons we had our classes in Pathology, Histology, Social and Preventive Medicine, and Pharmacology. After 5pm in the evenings we could visit the patients in our Consultant's ward.
As I mentioned before, our Consultant was Mr. Duff. He jokingly remarked I am not the "Holy Man", implying he was not the Frank Duff who started the Legion of Mary.  Yet he was a very gentle and good doctor and treated his patients as well as us medical students with profound respect. We watched him operate, an excellent genito-urinary specialist, and sometimes he let us assist him.
We were with him for three months from March to June 1962 and then we switched to a medical Consultant,  Dr. Muldowney, who was a renal specialist.  Our time here was divided into periods of six weeks in the hospital and six weeks' vacation. We knew we would have an examination in September, so the vacation time was spent studying.  I took my vacation period first.  For three weeks, I had the joy of being with my mother and father, grandfather, family friend and my younger brother, Albert, who came from New York to visit me.  We toured Dublin and later went to Glendalough and Cork.  Mother Mary told me to wear lay clothes in Dublin but to wear the habit in Cork and Kerry.  On the way to Cork we stopped in Tipperary and a storekeeper told me there is one of you in the town.  I went to see Sr. Bernadine who was taking care of her extremely ill sister.  I was glad to see her.  She showed me pictures of her Final Profession in Uganda.  Little did I know at the time that one day I would be assigned there.
We visited Blarney Castle.  I told Mother Mary I did not kiss the stone because I had my habit on.  She was pleased.  I can still see my 82-year-old grandfather waiting for us to descend the rocky stairs.  He was glad we had an enjoyable time up there, kissing the stone, but he conserved his energy for the trip to Kerry.  I stayed with the Mercy Sisters and my family stayed in the main hotel.  My mother told me all the older girls wanted my brother Albert, aged fourteen, to teach them how to do the Twist.
Finally, the sad day to say goodbye arrived and we all hugged each other with gratitude for having the chance to be with each other again.  I still had another three weeks to study, and it felt good to be studying again after such an exhilarating time with my family.
The end of September loomed forth too hastily and we found ourselves in the throes of the examination hall.  Our Professor of Pharmacology had a reputation of being hard on nuns, so we were afraid of failing like many of those who went before us.  The night before the pharmacology exam I had a very pleasant dream of a Grimms' fairy tale princess walking through silver speckled woods. It put me in a good mood and, thanks be to God, I had no difficulty with the exam.  In fact, most of the questions I could answer were from what the consultants taught me in the hospital and on the wards. I  used to listen to the nurses give out the medicines. They knew exactly what each person was getting.  They were well trained by the Irish Sisters of Charity who ran the hospital at that time.
Thank God this period of classes was completed. The rotation of consultants and new classes proceeded but that is another story.