by Sr. Sheila Campbell MMM            Ireland                16.07.2023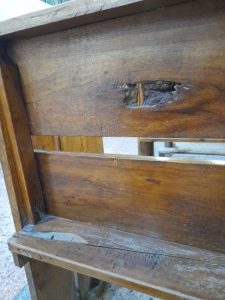 Earlier this year I was in Tanzania and going to an early morning Mass in St. Mathias Church in Arusha. It is a newly built church and there is a lot to admire. But this particular morning my attention was not drawn to the artwork, nor the colourful lights nor the stained-glass windows.
As soon as I sat down in my seat, I noticed the pew in front of me. The plank of wood that formed the back rest of the seat had a large hole in it. It looked so natural that I felt it must have happened to the tree when a bough broke off before the tree was cut down.
As I looked at the hole in the wood, the Mass in Kiswahili started. Of course, I didn't understand a word that was being spoken but in a strange way I felt God was giving me the word of God that day by showing me that piece of wood.
How many times have I laid something aside because it was not perfect?  If that piece of wood had been carved in Ireland, it would have been discarded as inferior.  But this African craftsman had the wisdom to see that it would serve its purpose – it was a good back rest.  We all have our "holes".   Not one of us is perfect.   But God does not expect us to be.   Do I serve the purpose for which I was created?   Can I tell forth God's love to the people around me?   Can I sit in awe and wonder at God's creation?   Can I continually give thanks for how much has been given to me in my life?  This is what matters, not my outward show or ego-building performances.
Thank you, God, for today's scripture lesson through that piece of wood!