by Nadia Ramoutar    MMM Communications Coordinator          Ireland         15.08.2023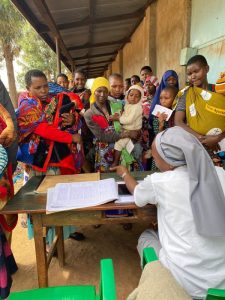 One of the great joys of my work with the MMM Sisters is being part of so many exceptional and empowering missions in some of the poorest and most neglected parts of the world.  I am honoured to know the MMM Sisters and their work intimately because there is so much unlimited good that is being done in so many ways.  We are at work in every area of humanity where healing is needed.   No two missions are alike and every MMM Sister is also unique.   The MMMs were founded on the calling of the Visitation, when Mother Mary rushes to her cousin Elizabeth's side , when both women are pregnant.  This is the MMM ethos.  You need us and we will come in your hour of need, no questions asked.  When I see the mission work in person and witness this coming together of MMM Sisters, staff and volunteers and the community members in most need, I am moved deeply.
Back in the office in Ireland, I work with a wonderful team to tell and show the stories of the MMM healing charism to the world.  This must be so easy one would think with so much goodness flowing.  But, it gets tricky.
In Philippians 2:3 we read, "Do nothing out of selfish ambition or vain conceit, in humility consider others better than yourselves."   This is really at the heart of the humility that the MMM Sisters practice on a daily basis.   So, no matter what wonderful acts of service are done or amazing work that happens with very little resources available, there is little said about it often.   If an MMM Sister meets with tragic conditions in her day, then it is faced with humility and she moves on as best she can with the comfort of her MMM Community to support her.   There is little said about anything incredibly good or bad.   When we want stories to share with the world, we have to beg.   Everyone is too busy to share anything with us.   They are also unable to see what is special about what is done, because it is just a normal day.
Now, we are working to put together our MMM annual yearbook.   We know that there is so much to share with the world about what the MMMs are doing, but they are too busy to tell us or too humble to share.   So we have to strive to find that harmony between being informative and being in any way boastful, because that lacks dignity and humility.  It is in humility that we strive to stay.  Graciousness is such an important trait I have learned from working with the MMMs but it is veiled in a tenacious approach that allows very hard work to be done with little resources in often impossible places.
The MMM Sisters, staff and volunteers are tenacious and silently doing God's work in a whisper.  This is something both beautiful and challenging for those of us sharing their tales.  But, take it from me, you can know in your heart that miracles are happening daily and quietly.