by Sr. Sheila Campbell MMM             Ireland                        13.08.2023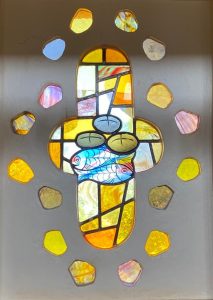 I am fascinated by stained glass. It is such a simple mixture of colour and light. Without the colour, we would hardly see the glass, but without the light, the patterns, imagery and meaning would not be seen at all. Isn't this like so much of life, this inter-dependence of things (and people!) to bring out the best in both.
Recently, on a visit to Tanzania, I came across a church that had "old-fashioned" stained glass windows alongside new, modern design. The old glass had been 'rescued' from a church in Ireland that was being demolished and was transported carefully for use in this new African church. The new glass was a recognition that local art is alive and well in the area. I like to think that the juxtaposition of the two types of stained glass in the same church is also a reminder that all for part of the Church, the young and the old, the "old-fashioned" and the radical. I think that is why I love the word "catholic" – it means all-embracing, universal.
Stained glass is constructed of coloured glass pieces connected and outlined by strips of lead. Here in Drogheda, in the Motherhouse we have a set of stained-glass windows by the artist Phyllis Burke. Originally, they were in the chapel of the Nurses' home but came over to the convent when the convent was undergoing reform and the Government was assuming ownership of the hospital and associated buildings.
Each day as I pass along the corridor I gaze in fascination at the snake, the eagle, the wheat and all the other symbols. I am reminded that we learn our stories as much from visual memory as word memory. I guess the cave paintings by our remote ancestors were the first stories ever told!  I also remember the stained glass windows in the church I attended as a child.  There was one of St. Therese, kneeling before the Pope, asking to be allowed to enter religious life at a young age.  I remeber shaking my head and thinking, "She is too young to take that decision."  Of course, I took the same decision only a few years older than Therese was at the time!
So today I just want to thank God for artists, painters, and architects, all those who by their work bring so much beauty into the world.