by Sr. Celestina Aganyi  MMM       Nigeria/Kenya            07.10.2022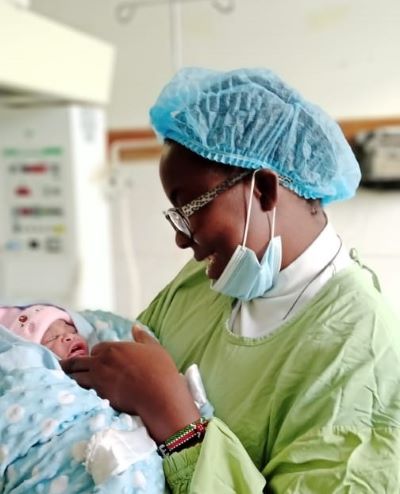 I am a third-year nursing student. As a foreign student, studying at Daystar University, Nairobi, life has been rewarding although not without challenges.
Besides being a peaceful, calm and accommodating people of all tribes, nations and races, my three years' study experience in the medical sector in Nairobi, Kenya, has been worthwhile with great insights. I love my midwifery experience!
Clinical experience is an essential component of education for the development of competent midwives. Mine was quite memorable as I developed a passion for welcoming and caring for both mothers and babies. I was in Pumwani Hospital between the 3rd of January and the 8th of April 2022 for midwifery and neonatal clinical experience. The Pumwani Maternity Hospital is a pioneer in the provision of maternity care in Sub-Saharan Africa. Working with a team of staff vast with student relationships created more opportunities for learning and growth while at the antenatal, postnatal, neonatal unit and labour ward.
At Pumwani Maternity Hospital, we conducted a minimum of seventy deliveries per twelve hours shift. The bed space was usually insufficient due to the increasing numbers of women coming to deliver. My responsibility as a student midwife was to provide care and wait patiently for the mothers in their different stages of labour, which often takes a natural course and one can only see the hand of God in the creation of new life. Irrespective of the pains and agony experienced by mothers in the first and second stages of labour, the smiles on the faces of the new mothers following the birth of their newborn were often quite consoling. The stress of a midwife following this procedure also vanishes at the delivery of a healthy baby and a healthy mother.
However, my heart sank at the conditions of birth and the aftermath of the women in Pumwani. The alarming poverty and struggle experienced by families to raise these children is often heartbreaking. Besides being a student, I often assume my responsibility as an MMM Religious and use the opportunity to educate these mothers on various ways to attain self-sustainability. I am grateful for the past experience I gained from working with women while on mission in Abaja community, Nigeria.
As I gradually come to the end of my clinical rotation, I feel grateful and equipped to provide loving care to mother and child. Knowing that this is a vital aspect of the MMM Healing Charism, is very exhilarating for me.