by Sr. Jo Anne Kelly MMM              Ireland                         14.03.2023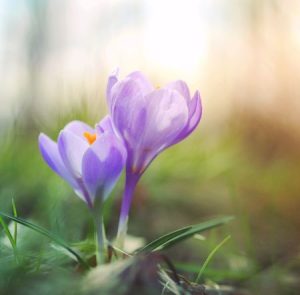 Spring has come and new life is "springing" up all over our garden. Daffodils big and small are in full bloom. But for some reason the crocuses are very slow to open. They appeared weeks ago, but so far, none have reached full bloom. I can only conclude that weather conditions are not yet favourable for full blossoming and the crocuses are still waiting.
I think of the early days of MMM. In 1924 when Marie Martin, then a lay missionary, left Nigeria to return to Ireland she knew without any doubt that what was needed for that country was a group of professionally trained dedicated religious women, who would provide a competent medical service, where, at that time there was none. But conditions in the Catholic Church then were not favourable as Religious women were not allowed to practice Obstetrics or Surgery. So she searched, she prayed and she waited –waited for 12 more years until that law was changed in 1936.
The congregation was founded in 1937. Once founded it blossomed rapidly and spread over the world. It is interesting to note what people were saying about Mother Mary in those years. She got a lot of media attention- a few examples-
"She held on to her ideals despite illness, setbacks and all kinds of obstacles" (Sunday Independent)
"A leader in a hurry who hates cameras and refuses to talk about herself" (from Healing Hands-Daily Express)
"Our most famous Nun- known for her shyness, humility and yet described as a tycoon who runs a vast empire dedicated to Healing" (The Sunday Press).
"Awarded the Florence Nightingale Medal for distinguished service across the world" –
"Awarded Honorary Fellowship of R.C.S.I. for the lustre she added to the reputation of Irish medicine in many parts of the world- first woman to receive the honour" ( Irish Independent)
"First woman to receive the freedom of Drogheda in recognition of her devoted care of the sick and her tremendous economic contribution to the town" and "to thank her for her courage and devotion in the cause of suffering humanity".
"Undoubtedly the most outstanding woman of this century, her vision, wisdom, courage and the legacy she left".
"She topped the poll as the greatest Droghedean of all time by readers of Drogheda Independent." (Drogheda Independent)
" Mother Mary Martin probably the best example of a nun as liberator of women- nuns, an extraordinary bunch of independent and independent- minded women holding down the most responsible jobs in society" (The Irish Times)
During these same years we knew Mother Mary as frail looking, soft spoken, shy She was constantly busy with administration, but she still made time to welcome visitors from all walks of life. No matter how busy the day, each evening she went across to the hospital to visit the patients. Then, late at night, after everyone had gone to bed, she was there at the back of the chapel kneeling in silent prayer. From there she went to her office to catch up with correspondence. During the day she had two secretaries but the letters she wrote at night were handwritten with pen and ink to sisters and communities across the world.
She is also the woman who wrote in 1953 "God is over all things and needs only our good will and He will do the rest. My God, I sometimes quake if I thought MMM depended on me. All depends on God and my desire and effort at each moment to allow Him to use me as He will. Yes, often in very strange ways".