by Sr. Jo Anne Kelly, MMM    Ireland  28.12.2021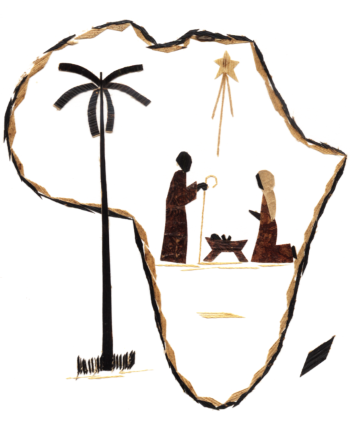 We were two MMM communities in Eleta, Nigeria.  The novices and I were in one and, across the road, were the professed sisters who took care of St. Mary's Hospital. Between the two, and on our side of the road, was the parish church and Christmas was for all of us.
There were a lot of preparations but the first activity together was carol singing for the patients in the hospital.  Members of both communities and the parish choir got together. There was a wonderful spirit of joy and anticipation as we sang carols in the wards in every language we knew.  Patients who were able joined us, if not in song, in movement and rhythm rejoicing for the birth of Jesus, the most important Person ever born into our world.
Christmas Eve night we gathered in the church for midnight Mass, a church beautifully decorated and packed with people, some of whom worked and lived elsewhere but all home for Christmas. The two-hour Mass was a liturgical ceremony of profound reverence and solemnity, mixed with a complete abandonment of joy and happiness expressed in song and dance and prayer. We prayed for all who could not be with us and for those who had died in the parish in the last year. My own feeling throughout that Mass was of deep gratitude to God. After Mass we greeted everyone, and all made their way home in the early hours of Christmas morning. Jesus was born again in our hearts and in our world.
On Christmas day some went to the hospital to distribute small gifts to the patients. There were special gifts for the three new babies born on Christmas day. The three new mothers were delighted with the gifts and that their babies were born on such a special day. The rest of the group prepared our dinner, Nigerian menu. We had it early. Just as we sat down to eat, our bishop came to greet us for Christmas and joined us. It was a good and very joyful meal and before the bishop left he taught us a new lovely Christmas carol in Yoruba, the local language.
We were invited to join the other community in the evening for dinner, Irish menu. Darkness falls quickly in the tropics and we walked over at dusk to find the parking area alight with lanterns, some fairy lights in the trees, a circle of chairs, a decorated table, Christmas music playing and a lovely friendly atmosphere.  As well as the sisters there were some lay missionaries who were far from home. We all covered up well to avoid the mosquito bites!!
The meal was simple and delicious and then the entertainment. It was a moonlight night and moonlight in Nigeria is really bright. There is something deeply moving or even mystical about singing in the moonlight. With little artificial light, a full moon and vast clear sky I felt in touch with God and the whole Universe.
We had one guitar and traditional Nigerian instruments. Everyone had a chance to do a party piece and the music was really good. Near to me was an older lay man, missionary, who did not appreciate Christmas as we did, or even perhaps religion. I knew him as a very dedicated health worker and that night he looked as if he would have been happier somewhere else. But there was no place else to go on a Christmas night.
My turn came to do something and I sang "The Spinning Wheel" or rather I started it and all joined in. Immediately I was aware of a reaction in the man beside me. It is a long song with many verses and he was full of attention. Soon after that it was time to go and the party broke up. That man came to me and said "Thank you for the Spinning Wheel." From a brief few words I gathered that someone he once loved and lost used to sing that song.
Mother Mary kept a crib in her room all year round because she said Jesus is born in someone's heart every day. There is no knowing how Jesus comes to claim each moment of life. I would like to think He came to that man through the Spinning Wheel. It certainly touched his heart.