by Michèle Sinnott               Ireland                 30.03.2023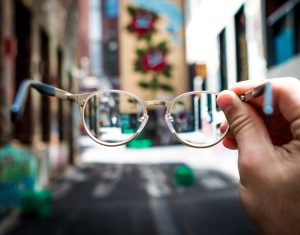 Welcome back and glad you can be here again this morning…
And so, together we move to the Fifth Lenten Stepping Stone to Pause On…
Outer Vision, Inner Vision…
Last Sundayè's Gospel offered the story about the healing of the man who was blind from birth. Though my own sight is most definitely becoming more dependent on my glasses for clarity, (a reality with which maybe some of you can identify!), I can't imagine what it must be like to have no sight, no vision at all…living life, missing so much that we all just simply take for granted.
I was grabbed by the word blind…
began to think about other ways, apart from visual impairment, through which blindness can come into our lives…
My mind meandered off on its own trail…
Some of the signposts met along the way directed my thoughts to
•that which we might like to turn a blind eye to and camouflage within ourselves
• aspects of ourselves we try to blind from those around us…
•the ways in which we can be blinded within Our Inner Selves…
•the struggles of being blinded to the True Path…
•the empty places to where we can find ourselves going, seeking a clearer vision of the way forward…maybe blind to their destructiveness…
• the Spiritual Blindness that we all might experience from time to time…
These are just a few simple, yet complex thoughts, that slowed me down along the way…
I'm sure you may well have others you can add to them…
• What does "Blind" awaken in you?
• Where might you find yourself resonating with something said here?
• Is there an insight you might like to share back with me?
Like the blind man, there is always something in us in need of healing…
His obvious need was external…
His healing, opening a whole new vista around him…though I don't doubt for a second, that there is a Deeper Spiritual Healing in the underlying story…
a healing that was needed too, but maybe not so obvious to the naked eye…
Let's not be blinded to the potential truths that possibly lie in some of these lines for all of us too…
Perhaps this week, we might authentically engage the stirrings around this theme, within our Own Unique Internal Worlds…
And as we do, be open to gently awakening our Inner Vision, to that, be it obvious or not quite so, which might be calling for Healing's Embrace in our own lives…
Happy Pondering!
Editor's Note:  Michèle Sinnott works as a Spiritual Director/Companion, in Bereavement Support, Meditation and Retreat Facilitation. She writes Reflective pieces and has a Contemplative, Earth-based Spirituality.
by Nadia Ramoutar   MMM Communications Coordinator         Ireland       28.03.2023
Recently, I faced a daunting challenge and survived. Go through the photographs of the MMMs and select only six images that reflect the pioneering spirit of the Irish Sisters. This request is for the MMM to participate in a photography exhibition that includes other congregations of Sisters too. Only six images could be sent and they had to represent three time periods since the 1920s. Perhaps that does not sound daunting but when you consider the incredible MMM women since the Congregation was founded in 1937, going through the images of them at work around the world would take your breath away.
Since I began in my role working in Communications with the MMMs two years ago I have been amazed and enthralled by the MMMs stories of overcoming challenge and hardship to deliver health, healing and services to some of the world's most remote areas. Nothing stops them. Not distance, floods, gang violence or languages. Somehow they find their way there and always provide an effort and not an excuse. The MMM Sisters would never write such a sentence about themselves because it could be viewed as boasting. That kind of 'bragging' would never be valued or encouraged.
Sr Sheila Campbell, Sr Mary Doonan, Jolene Mathews (our MMM graphic designer) and I sat around a table and we each proposed a photo we loved. It was then like a United Nations negotiation to see which photo made the cut.
'What about the one with the Sister on the tractor?'
'What about the sex trafficked person being hugged by the Sister who helped free her?"
'What about the Sister operating on the woman with VVF?'
'What about Mother Mary carrying the bucket in Africa?'
Then to find the image amongst the thousands and thousands filed on hard drives and jump drives. It was like an Indiana Jones film where we tried to find the exact right photo and where it had lived for many years.
A photo is worth a thousand words, we often hear. In this case the images just show so much joy, love, care, frustration, determination and most of all – the healing charism of MMM. We see in the endless array of slums and unknown villages where the Sisters toil, the love that fuels their efforts and their investment in the mission where they now serve. Potentially thousands of miles away from where they were born.
I gave a tour to a person recently and brought him into what is called 'The Mother Mary Room' at the convent in Drogheda where Mother Mary once lived. Now, many Sisters live at the Convent after a life of devoting their work to the missions. As I walked him around the room, I saw his face soften and under the exhibition lighting, I saw his eyes water.
'I am not a religious man' he explained, 'But there is something about this room and this woman that really moves me.'
I looked around at the images of Mother Mary as a young woman growing up in Dublin, then as a nurse in World War I, then her uniform after she founded the MMMs and as an elderly woman near the end of her life. I knew what he meant. The MMMs move me all the time and inspire me to be a better person. That is the secret of the healing charism at work, silently though the world seems to fall apart, a healing is underway.
by Paul Brian Campbell SJ                     U.S.A.                         26.03.2023
My favorite Lenten poem comes from Robert Herrick (1591-1674).
Is this a Fast, to keep
The larder lean,
And clean,
From fat of veals and sheep?
Is it to quit the dish
Of flesh, yet still
To fill
The platter high with fish?
Is it to fast an hour,
Or rag'd to go
Or show
A downcast look or sour?
No; 'tis a Fast to dole
Thy sheaf or wheat
And meat,
Unto the hungry soul.
It is to fast from strife.
From old debate,
And hate;
To circumcise thy life.
To show a heart grief-rent,
To starve thy sin,
Not bin;
And that's to keep thy Lent.
Its argument, of course, is that it more important to stay true to the spirit of Lent than merely follow the rules of the season. In Lent, the Church asks us to fast, to show compassion and be generous to the less fortunate among us and to pray. Admittedly, we do talk about "fast and abstinence" but I've always thought that we are maybe too diligent about the abstinence part of Lent and not as assiduous as we might be about the prayer and generosity dimensions of the Lenten journey.
It's why I haven't "given up" anything for many years, but each Lent I try to do something extra. I don't have much money but I give what I can to our local food bank and I'm taking the time to pray more in gratitude for the abundance of blessings in my life.
I'm trying to starve my sin, as the poem says, and I hope I'm keeping a true enough Lent.
by Nadia Ramoutar  MMM Communications Coordinator       Ireland            24.03.2023   
One day, when my son was very little after school he was crying. Like any parent, I was concerned.
'I have really bad news,' he sobbed. 'They murdered Jesus. Murdered him.'
I must have omitted elements of my version of the Easter story to my son, perhaps feeling he wasn't ready for the darkness of it all. Being human, I have a way of trying to make things seem easier than they are for my children.
Is this what Jesus was doing in Luke 23:34, Jesus said 'Forgive them Father, they do not know what they are doing." And they divided up his clothing by casting lots.
He seemed to understand that the other people could not be on his level yet. Was Jesus trying to make things easier on others? The Roman soldiers, the Roman leaders, Judas, the friends who didn't intervene to save him and his followers Religious scholars argue as to who Jesus was actually asking them to forgive, but in his intense pain and suffering this was his reaction.
In our own lives it is easy to feel betrayed. We can look at the evening news or open a newspaper and think that the world around us in completely falling apart. At closer examination of history though, when has human history not had treachery and war? Can we look at a specific year and say 'Oh, no one was murdered or raped or betrayed that year.' Almost always, somewhere in the human world there is trouble.
Do these words in his dark hours also offer us a lesson. Is Jesus showing us how to avoid being bitter. Instead of wasting his last hours in hatred, blaming other people and feeling wronged, he is showing concern for those who hurt him. Forgiveness is not an easy trait to master. It is not easy to turn the other cheek as we feel angered or slighted.
Jesus is the master of compassion, he shows us what love in action looks like throughout his life. Not only when he was being hailed as a leader and healer, but when he was downtrodden and treated like a common thief.
Perhaps detachment is the hardest of the spiritual lessons to learn. We cannot take our circumstances or the actions of the people around us so to heart that it destroys us. We have to find a place within us that only knows love, kindness and peace. It is not easy to get to this place and certainly not easy to stay there.
Again, Jesus shows us how to transcend our human condition and ascend to a higher plain.
As we celebrate Easter, perhaps we can find room in our heart to pardon those who we do not like or understand. We can find a way to be less judgemental and more open. We can see that people don't really try to persecute us sometimes they are just ignorant and they don't know what they are doing.
The idea that our suffering was not 'intentional' but born out of ignorance is a new world view.
My greatest lesson in this though is that I don't need to find retribution. I don't need to seek revenge or settle scores. All I need to do it turn it over to God, the Father. This reminder is one of the greatest hidden gifts Jesus gives us every Easter.
MMM Publications 1982                             Ireland                                   22.03.2023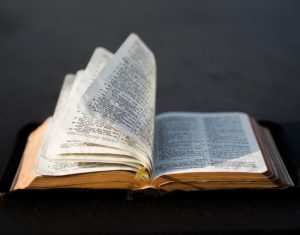 A man once got a Bible as a present, and he was very much determined and looking forward to studying it earnestly.
But on his way home he got caught in a fire from which he only escaped by the skin of his teeth. Unfortunately, the Book was lost in the fire.
or a long time, the man resented the loss. Then he recalled having heard, time and time again, that the book contained only those things that were the best and the deepest in life.
He said to himself: "I must live in future as if I have read the Book. Perhaps, in this way, I can make up for its loss."
And he set out with the best intentions. He led a life which was full of good and conciliatory deeds.
But when he died and stood before God, he was asked what he had done for God in his life. The man bent his head and confessed:
"Lord, I don't know what I should have done for you. I have lost the Book which would have told me what to do. Please, forgive me!"
God ordered: "Bring him his Book!"
Then entered a group of people whom the man had consoled, encouraged and conciliated.
And God said: "This is your Book. You have read without following letters. You have understood without knowing it".
The man was speechless with amazement and joy.
Taken and translated from: Der Geburstag von Adam and Eve (The Birthday of Adam and Eve), by Werner Rinser, Friedrich Reinard Basel. Reproduced by courtesy of the Bethlehem Missionary Society, Switzerland.
by Michele Sinnott                   Ireland                              20.03.23
Editor's Note:  Michèle Sinnott works as a Spiritual Director/Companion, in Bereavement Support, Meditation and Retreat Facilitation. She writes Reflective pieces and has a Contemplative, Earth-based Spirituality.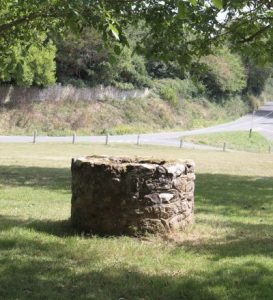 The image that I have carried with me over these recent days, is that of The Well in last Sunday's Gospel story, about the Samaritan woman who encounters Jesus at Jacobs Well. The woman comes to fill her bucket with water from the well at the very hottest time of the day, as she doesn't want to bump into any other person there. However, she unexpectedly meets Jesus, who has stopped to rest alone…to rehydrate with a drink from The Source. What follows is a brief conversation between them, which opens the sense within Jesus that, really, she has a deeper thirst that needs to be quenched…And so, rather than filling her bucket, he wants her to fill Her Own Well with something she didn't know she was searching for – Living Water…
Her Own Well had run dry…and was clearly in need of replenishing…
Isn't that true for us all at different times along the way?
Our Own Personal Inner Wells can become empty and in need of replenishing…
When we have become depleted of all that nourishes and sustains us,
· What really has become empty?
· How has this happened?
· What needs to be refilled?
· What is it we need?
· How do we set about replenishing The Deeper Space Within?
· From where do we seek Our Source?
At times, Our Personal Inner Wells can become depleted for any number of reasons…
Sometimes, by an endless demand upon us…a too-free pouring out of ourselves, combined, possibly, with a lack of life-giving opportunities, to help us to recharge…
So often we've heard, if not maybe even engaged the phrase "running on empty" ourselves… It's impossible to last that pace, isn't it, without having to embrace the reality of the absolute need to allow ourselves to STOP again, to re-evaluate what is needed?
Refilling our Empty Interior Places, with consistency, sometimes needs to take priority, instead of trying to live through days and nights, below the danger levels….
"Running on empty" and living with the dryness of Our Personal Inner Well…simply put, are not comfortable places to be for any of us, no matter how it might appear…
We always have a choice…
On the one hand, to choose to fill our emptiness with that which is healthy and life-giving…
Or, on the other hand, to indulge in unhealthy and life-draining means…
This week, I invite you to STOP, come off The Busy Road of Life for a while and consciously take time to visit The Well of Your Being…
Look into The Well of Your Own Interior Self …
Become a witness what you might find there, just like Jesus became The Witness to the deeper needs of that Chosen Samaritan woman…
• What might you notice?
• What might you discover?
• How might you begin to tend to The Interior Well of Self-Care and Spiritual Well-Being, in a way that can help you to become replenished again with life-giving energy?
• And where might God's Sacred Energy be in all of this for you?
• Can you or can I, honestly and kindly allow ourselves time to fill Our Interior Wells, with True Rest and Presence in God, in our own unique and meaningful ways?
We cannot pour from a cup that is already empty…
We cannot live with ease in a Well that has run dry…
How might we embrace the thoughts of these lines and turn them into learnings for Our Own Personal and Spiritual Interior Wells, so that each of us can live, not from a place of Shallowness, but from a Well of Abundant Depth?
Dip in…
Drop down…
Draw up…
Replenish…
Refill…
Blessing you with these simple, yet profound ponderings…
ÉIST Spiritual Companioning and Bereavement Support
One-to-One Accompaniment,
Supporting Spiritual Well-Being 
& those who are Grieving
https://www.facebook.com/profile.php?id=100085919367474
Editor Note: In the life of a missionary not everything is upbeat. Sometimes you feel impotent when faced with some situations. Sr. Ese's story below reminds us of this.
by Sr. Ese Idogen MMM                     Nigeria/Angola                      16.03.2023
I don't feel too good today. I remember my little friend Miguel. He is just 6 months old; he has a beautiful smile with such nice dimples. Whenever you tickle his nose, even if he had been crying, he will begin to laugh. It is always lovely to see and to hear him laugh. Sounds beautiful right? Yes, he is! I am sure you are wondering where the story is leading. I will tell you.
Miguel isn't really one of the 'lucky ones'. He was born into a poor home. His mother, Maria, is vulnerable. She has a problem understanding things and it seems she always has a runny nose.
Despite her vulnerabilities, how she always remembers to bring Miguel for his vaccination when due is still a mystery to me. When it comes to vaccination for her children, she is a perfect example of a good mother.
The last time she visited, she came in her usual way; struggling to carry Miguel on one hand and a big bag on the other. But something was different about this visit. The way she handled Miguel was different, the usual big grin you see on her face was missing.
Maria sat behind, as she usually does. She kept moving her body as if she wanted me to notice her, and I did. Clearly, she was distressed. I went over to her and I struggled to communicate with her in Portuguese "Mãe, Tudo Bem?" (All well?). She could not say a word. She took me inside away from the other women. She made gestures with her hands, removed her wrapper that already was almost falling and showed me her stomach.
I bet you are thinking the same thing as I thought. "Oh, could there be another little one on the way?'' I said to myself as I kept struggling to make meaning from the gestures she made. I asked her if she could explain to my colleague as she will understand better. She had no problem talking to her so I invited my colleague. We struggled between trying to make meaning from her words to hearing her low toned voice and then following the gestures she was making. My colleague finally asked her "Are you pregnant"? And Maria slowly nodded her head. I looked at Miguel who was clearly malnourished, I looked at the mother and then I looked at the little one we are expecting and her words that followed, broke my heart. ''Please take Miguel, make him yours. I am offering him to you. I am not able to take care of him along with the children I already have in the house" and then she added "Vou morrer" (that is to say "else, I will die").
Yes, the clinic is really hectic. We asked her to come along with her husband so we have a conversation and know how best we can help. But for some weeks now, I haven't seen Miguel or Maria. The last time I tried to find out from the staff that lives close to them, "they seem to be fine" I was told.
I still look forward to seeing Miguel and Maria and I hope to visit them soon. Until then, I just keep them in my prayers, and I ask you to do same.
by Paul Brian Campbell  SJ                  U.S.A.                                            16.03.2023
One of the oddities of our faith is the way we play fast and loose with our saints' names and origins.
My favorite example is St. Anthony of Padua. Not only wasn't he from Padua, he wasn't christened as Anthony. He was born Fernando Martins de Bulhões in Lisbon, and adopted the name Anthony when he took vows as a Franciscan friar. Leaving Portugal, he first went to Morocco before landing in Sicily on his way home, except he never got there. He lived in various Italian towns until he went to teach in southern France. It was only when he was appointed the Franciscan Provincial for northern Italy that he decided to settle in Padua.
The founder of the Jesuits never lost his designation as a Basque from Loyola, but he was christened as Ignaki [in Basque] or Inigo [in Spanish.] One theory is that he adopted the name Ignatius apparently because he believed it was a variant of his own and would be better understood in France and Italy. Others say he took the name in about 1537 in honor of Saint Ignatius of Antioch.
All of this brings me in a roundabout way to St. Patrick of Ireland. In his writings, he refers to himself as Patricius which in Irish becomes Padraig. We have relatively little information about his life, but it is pretty well established that he wasn't from Ireland but was Romano-British.
It isn't that strange for a nation's patron saint to be from somewhere else – think of Italy having the Palestinian St. Joseph as their patron – but I have always been happy that Ireland's saint isn't from the island itself. I hope that it speaks to a certain openness among the Irish and we certainly haven't been slow to share him with other people.
In the United States, where I now live, St. Patrick's Day has become more of a secular celebration than a religious one [although our local bishop has given a dispensation so we can eat corned beef and cabbage on a Friday in Lent!] You'll have heard about our parades and how Chicago dyes its river green, but the most extraordinary "tribute" to St. Patrick I've found is in my local supermarket where there is a large stand featuring "Sour Cream & Shamrock" flavour potato crisps.
Happy St. Patrick's Day – tomorrow!
by Sr. Jo Anne Kelly MMM              Ireland                         14.03.2023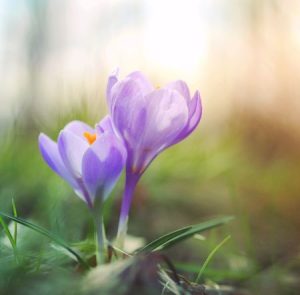 Spring has come and new life is "springing" up all over our garden. Daffodils big and small are in full bloom. But for some reason the crocuses are very slow to open. They appeared weeks ago, but so far, none have reached full bloom. I can only conclude that weather conditions are not yet favourable for full blossoming and the crocuses are still waiting.
I think of the early days of MMM. In 1924 when Marie Martin, then a lay missionary, left Nigeria to return to Ireland she knew without any doubt that what was needed for that country was a group of professionally trained dedicated religious women, who would provide a competent medical service, where, at that time there was none. But conditions in the Catholic Church then were not favourable as Religious women were not allowed to practice Obstetrics or Surgery. So she searched, she prayed and she waited –waited for 12 more years until that law was changed in 1936.
The congregation was founded in 1937. Once founded it blossomed rapidly and spread over the world. It is interesting to note what people were saying about Mother Mary in those years. She got a lot of media attention- a few examples-
"She held on to her ideals despite illness, setbacks and all kinds of obstacles" (Sunday Independent)
"A leader in a hurry who hates cameras and refuses to talk about herself" (from Healing Hands-Daily Express)
"Our most famous Nun- known for her shyness, humility and yet described as a tycoon who runs a vast empire dedicated to Healing" (The Sunday Press).
"Awarded the Florence Nightingale Medal for distinguished service across the world" –
"Awarded Honorary Fellowship of R.C.S.I. for the lustre she added to the reputation of Irish medicine in many parts of the world- first woman to receive the honour" ( Irish Independent)
"First woman to receive the freedom of Drogheda in recognition of her devoted care of the sick and her tremendous economic contribution to the town" and "to thank her for her courage and devotion in the cause of suffering humanity".
"Undoubtedly the most outstanding woman of this century, her vision, wisdom, courage and the legacy she left".
"She topped the poll as the greatest Droghedean of all time by readers of Drogheda Independent." (Drogheda Independent)
" Mother Mary Martin probably the best example of a nun as liberator of women- nuns, an extraordinary bunch of independent and independent- minded women holding down the most responsible jobs in society" (The Irish Times)
During these same years we knew Mother Mary as frail looking, soft spoken, shy She was constantly busy with administration, but she still made time to welcome visitors from all walks of life. No matter how busy the day, each evening she went across to the hospital to visit the patients. Then, late at night, after everyone had gone to bed, she was there at the back of the chapel kneeling in silent prayer. From there she went to her office to catch up with correspondence. During the day she had two secretaries but the letters she wrote at night were handwritten with pen and ink to sisters and communities across the world.
She is also the woman who wrote in 1953 "God is over all things and needs only our good will and He will do the rest. My God, I sometimes quake if I thought MMM depended on me. All depends on God and my desire and effort at each moment to allow Him to use me as He will. Yes, often in very strange ways".
by Sr. Mary McKearney MMM (1942 – 2017)
To be a missionary, what does it mean?
I don't know, but two thousand years ago, Christ said:
"Let your light shine for people,
Do not put it under a tub, but on a lampstand."
I am not aware that there is much light in me, but I know
through his gift of faith to me,
that Christ is in me.
As the years have passed, I've heard him call me,
I've seen his light shine through my parents, teachers, relatives, friends.
Their faith was strong. I saw that.
But I wanted to keep my distance from this Christ,
Right from the very beginning.
He could demand too much…even my life…not an easy thing to give, but
Someway, somehow, sometime, unknown to myself,
I must have started giving little bits, because some years ago,
A very happy day dawned for me, the day I decided to give ALL.
But painfully I've discovered many times since, it was only a decision.
Giving is giving, not just the decision to give.
And giving costs, even when one loves with a great love.
But love is very personal and precious to me.
It isn't something I want to squander on just any person or any thing.
I'd like to select the people I would love.
It's just not possible because the most unexpected people surprise me
at the most unexpected times, and I love them – in spite of myself!
Strange!
With so little co-operation from me
Christ can shine through this thick wall.
But I realise, when I stop to think about it, that
"letting Christ shine through me"
Has a lot to do with being a missionary,
And that every Christian, every follower of Christ,
Has got to be a missionary,
In his or her own particular way.
How much light we would have in the world
If all Christians helped each other to realise this.
But it all comes back to the depth of my faith,
My readiness to give, my willingness to love.
Not easy for isolated me!"
So what does it mean to be a missionary?
I suppose there are as many answers as there are missionaries.
So let your light shine!