by Sr. Helen Aherne MMM                    Ireland/Uganda                  22.09.2023
(Editor's Note:  This story was first published in 2009 when Sr. Helen was still in Uganda)
I once read that every person who touches our lives leaves an indelible mark on us. Looking back on the many people whom I see as having had a big influence on my life, I think of Maria.
I met Maria when I first went to visit and work with prisoners in the large town in Uganda where I live. I wanted to start some kind of ministry to prisoners as I had retired from an MMM hospital and as there is a very big prison there, I felt I could be of help.  Maria was a young woman who spoke a little English and was obviously a leader among the forty women there. She was out-going, friendly, and literate.
At that time she was on Remand, accused of having killed her husband. Over the next months she told me all about it. Her tife was not an easy one. She had four boys and one girl of school going age. But at the time they were all out of school because there was no money to pay there fees. She told me how it had been with her husband: how he had mistreated he and how he wanted to sell their firstborn son to a witchdoctor to get money. On that Friday, she had waited all day for him to come home with his week's pay. She and the children were so hungry, the little ones crying. She promised them there would be food. But when he came in, he was drunk again, with all his wages spent. Anger overcame her.
Over the next three years I got to know Maria very well. I watched her use her leadership talents among the other women. She advised, comforted, supported, and counselled them without ever using the word 'counselling'. She prayed with them, and this is always a help to prisoners. It gives them courage and hope and helps to mould them into a living community. I would say they form even a kind of family, so that their life in such a confined space id more bearable.
Then an awful blow came. Maria was tried, found guilty and sentenced to death. Women are not executed in our country, but they are on Death Row for ever and never released. She was transferred to the capital city and placed on Death Row.
I began visiting her as soon as it was permitted. It was painful to see her trying to come to terms with this terrible thing that had happened to her. She had always thought it would not actually happen. I now visit her every month; just one hour and there is always a guard present. We hug each other, talk, and pray and cry and even laugh. I know that is some way I am supporting her. She keeps a journal now and writes in it after every visit.
I come away sad, but also encouraged in some way; glad that I have spoken with her and convinced that my visit has helped both if us carry on with our lives. She prays for me, and I pray for her every night, and I find this an enormous help.
Every year Human Rights groups make an appeal to have the death sentence repealed, without success so far.
A prisoner can only be pardoned by a direct word from the President. So, I would ask everyone who reads this to join me in praying for Maria and for her family. And for the removal of the death Penalty in every country where it still exists.
By Sr. Siobhan O'Keefe SHJM             Ireland                                  20.09.2023
Editor's Note:  Sr. Siobhan is a frequent visitor to our Motherhouse in Ireland to visit her aunt, Sr. Nuala Horgan.  She has her own website with reflections  at https://www.sistersiobhan.org
As I reflect on the Gospel today, the story of the Good Samaritan, two true memories come to mind which reveal to me how social, economic, political and spiritual factors impact on our lives.
A few short years ago, when I was thirty and living in Dublin, I was the proud owner of a moped.  This provided me with transport to work at St. Vincent's Hospital.  A cheap tank of petrol lasted forever.  On a glorious August Bank Holiday Monday, I set off for work.  Shortly afterward the heavens opened, and a deluge of rain fell on bone dry tarmac, a treacherous combination.  As I entered a major roundabout, the bike skidded, and I was thrown off.  Lying prostrate on the ground, unable to move, a car approached.  Two doctors got out, examined me, and concerned that I may have broken my right leg, called an ambulance.  It was embarrassing to arrive in A+E in my workplace and to have to relay what happened.  However, I was treated with utmost courtesy and care. Fortunately, no major injury had occurred, and I was discharged later that day.  Extensive rainbow bruising left me barely able to walk for several days, however, aware that had been saved from serious injury, I was grateful to be alive.
Many years later, I arrived at the scene of an accident in London.  A young non-national Pizza Delivery Man had been knocked off his L plate motorbike.  He spoke no English and was clearly distressed.  I attempted to comfort him as I awaited the ambulance which arrived very quickly.  When the paramedics assessed him and recommended hospital admission, he was determined not to go, rose and stumbled away.  I suspected that he may have been an undocumented worker and was afraid of either losing his job or being extradited.  My heart ached for this good man as he suffered physically, psychologically, and socially.
Each year we celebrate Seafaring Sunday in July; we are aware that as we sail the seas of life, we meet many who are bruised and broken by its choppy waters.  Some suffer great physical pain, others a dark cloud of sadness, grief of loss rob life of joy.  Economic hardship and political turmoil ravage world peace.  Onto these waters, Jesus our Saviour pours His oil of anointing and the wine of hope on the wounds of the world.  He asks that we place our hands into his crucified and glorified hands so that fortified by his grace, we are more able to reach out a hand of friendship to all who suffer.  God is glorified in the upbuilding of his kingdom on earth.
by Nadia Ramoutar  MMM Communications Coordinator                Ireland             18.09.2023
It's unusual for me to say that something shocked me, but this week it did.
There can be a lot of darkness in the world and I am not immune to the ill effects of the news. I try as best I can to focus on lighting a small candle, rather than cursing the darkness.
Many year ago in my earlier career I was a reporter and worked in news. I eventually got tired of it and decided I wanted to make a difference in the world and not just report what was wrong all day long. It was a huge shift in my career but it is not one that I regret. I believe that journalism and news are very important parts of our society and we need to know what is going on locally and globally.
The news from where I used to live in Florida for many years took my breath away this week.
A 21 year old man deliberately stalked and shot black people in a hate crime killing three of them. I will not go into the details here but I will say that the cruelty and hatred in such a young man is tragic and now innocent lives are lost because of his hatred. What shook me further was that the young man used to go to a college where I had been a communications professor for many years. It was all too close to home for me. How does society breed such hatred?
I am not here to be political or talk about guns. I just question the loss here and how disturbing such racism and hatred continue to be. We can't be passive about the ignorance that fuels racism and causes a young person to act this way. I am unable to comprehend that level of misguided emotion and the actions fuelled by it.
We need more love in the world. We need to find a way to reach young people and to educate them about the importance of diversity and inclusion. We need to bridge the gaps that a lack of love creates in communities. We have a serious issue when seeds of hatred are allowed to grow so tall as to choke good people to death.
When such a brutal and senseless crime takes place, it leaves a massive hole in the world. Beautiful lives lost in a second while shopping and going about their daily lives. Compassion for the victims and their families is easy to rouse. But, what of the killer's family? After killing the people, he shot himself. What happens to his family now? How will their lives forever be scarred?
Violence is so prevalent in our world these days, I hope and pray we are not accepting it as normal. I hope we will question how we can counteract such a loss with love or better yet, prevent such a loss.
I will reflect on this and contemplate a better world. I hope you will too.
by Sr. Sheila Devane MMM               Ireland                  16.09.2023  
Should this read the Chinese woman or the woman from China?   No, this is about the China Woman.   Let me tell you about her!
Last week, two colleagues called and, when offering them tea, I suggested mugs or china teacups.   They opted for the china!    Later, when washing up the cups, I remembered the 'china woman' who called to our house about three or four times a year when I was a young child in Boyle Co. Roscommon.   Every sitting room that I ever visited in Boyle had a  cupboard made of glass, called a china cabinet, and it kept all the really good things that were only used for visitors, like Waterford glass, china teacups and saucers and sometimes even Belleek pottery. Many of these items were wedding presents and were very precious; we had a key to our china cabinet and for years my parents hid it just in case……….
I was learning the name of the various kinds of china – Wedgewood, Willow Pattern and English Rose.  Such beautiful cups but in our house I only ever saw them used for visitors and on Sundays when granny Friel was staying with us.   Sometimes the China cups got chipped or a plate fell and was broken so we had sets that had something missing.  That was sad, but mammy found a clever way to get more china cups and saucers even though she didn't have to get married again and have another wedding to get wedding presents.
There were no charity shops in Boyle, and everyone wore the clothes of their older brothers and sisters, and it was alright.  So, getting clothes was hard and getting new, bought clothes from a shop  only happened if you were the eldest in the family.  I wasn't.  Mammy made all our clothes of every kind so that was nice.
People, now called "Travellers", lived outside Boyle and made money by repairing metal things like horseshoes, making tin buckets & mugs,  and selling horses.  The women worked extremely hard and looked for ways to get clothes especially for the men and children.  One traveller woman called to our house looking for clothes and knowing how good mammy was with sewing and knitting was so happy to get clothes from her.  But she especially wanted clothes from 'the boss'.  I didn't know at first who the boss was but then I learned that this was the name she gave daddy, or any grown up man.  We gave her a name too and called her the 'china woman' because she came with china and gave mammy lovely cups, saucers , plates and fancy things and mammy gave her the clothes, especially the clothes from the boss.  Those china things went straight into our china cabinet, so we were able to feel less sad that a few things had got broken.
The china woman and mammy became particularly good friends; they loved each other a lot, as children we knew this.  They used to sit down in the sitting room and talk especially about their children and their  boss too.  Then we noticed that the  lady came sometimes and just said to mammy: ""I am here for a chat, mam."   Mammy was a great listener; she didn't ever say very much at all, but she allowed other people talk away.  They were saying things all about their children and worries about sicknesses and then they always talked about their  boss too!   I don't think they said much about  the china and the clothes.  But it seemed particularly good because they used to smile and laugh, and the china lady would say leaving:  "I will be back mam…. and do you need any china?"
Before we left Boyle, mammy sent a message – I don't know how she did this as the china woman lived in different places and there were no mobile phones then – to tell her dear friend we were leaving.  The china woman stood outside the house on the footpath as the furniture removal men packed the van for our journey to Dundalk. "I will see you again mam because we move around  and travel to fairs" were her parting words.
I feel sure those two special women have met in Heaven and are still worrying about the children and the boss in their lives……and even the china too!
Author Unknown                                                                                       14.09.2023
Who was he? This young man was born in an obscure village, the child of a peasant woman.
He grew up in another village. He worked in a carpenter shop until he was thirty, and then for three years he was an itinerant preacher. He never wrote a book. He never held an office. He never owned a home. He never had a family. He never went to college.
He never put his foot inside a big city. He never travelled 200 miles from the place where he was born. He never did one of the things that usually accompany greatness. He had no credentials but himself.
While he was still a young man the tide of public opinion turned against him (if he were alive today, he would have been the victim of 'cancel culture'). His friends ran away. He was turned over to his enemies. He went through the mockery of a trial.
He was nailed to a cross between two thieves. While he was dying, his executioners gambled for the only piece of property he had on earth, and that was his coat.
When he was dead, he was laid in a borrowed grave through the pity of a friend.
Twenty centuries wide have come and gone, and today He is the central figure of the human race and the leader of the column of progress.
I am far within the mark when I say that all the armies of the world that ever marched, and all the navies that have sailed, and all the parliaments that ever sat, and all the kings and presidents that ever ruled, put together, have not affected every human person on earth as has that ONE SOLITARY LIFE.
by Vera Grant AMMM                 Ireland                     12.09.2023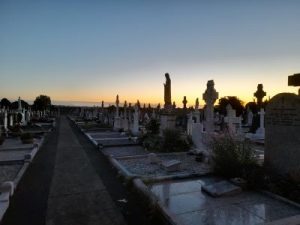 Donegal in August – 4 seasons in one day, it is said.  Together Maggie and I walked slowly, deep in thought and thankful to be out now that the rain was staying away.
On passing the cemetery I broke the silence saying, 'I called in here yesterday to say a few prayers.'
'What kind of prayers did you say?' was the response.
I laughed and, in regaling the story of my dearly loved Sr. Josefa, I recalled the day when on a visit to Belfast she suggested we went to the grave of my nephew and grandson who had taken his own life.
Josefa stood and waited whilst I blessed myself and was about to say The Memorare only to stop when I heard Josefa's voice, 'Hello Ronan I am sorry that I never got to meet you, but I am here now and wanted to have some time to talk'.
Josefa continued her conversation as I waited patiently for her to start praying. Suddenly she was saying, 'Bye Ronan I hope that I will get back to talk to you again'.
I looked at her in amazement and said, 'are you not going to pray?'   She smiled in replying, 'I have said my prayers'.
I have been to visit many graves, those of my husband, my parents and all of those long gone in Bonamargy Abbey in Ballycastle.   Not once, not ever, have I said hello and had a chat.
Having shared this with my own children I was heartened when one of them said that she brought her children with her when she visited her Dad's grave.  She said it was much easier now and more fun as she talked to him as Sr. Josefa had done at Ronan's grave.  'Hi, dad, its me and I've brought Juliet and Olivia to say hello.  They never got to meet you and I tell them stories about their Gramps..do you want to hear some stories about them?'
Maggie and I walked on and she broke the silence saying, ' I say the Rosary every day, sometimes more than once but they are only words and at times I question myself, do these words mean anything to me?'
Maggie's uncertainty brought to mind another dear friend also called Margaret.  She went to Mass every day until one morning she said to herself, 'this is meaningless, it's only a routine and I am being a hypocrite coming here when it means nothing.
In her distress she went to have a chat with the Parish Priest and his advice was to give herself a break, to just go to Mass on Sundays and to forget about the daily Mass.
I remember her laughing in telling me the story and how she had stayed away for three mornings and on the fourth day she put on her coat and walked down to Mass.  She knew that was where she wanted to be and where she belonged.
What I have taken from the sharing of these very wise women is whatever way we connect to God we are praying.  For some it is going to Mass, for others it is saying the Rosary, some like to chat, some meditate, many do novenas…all are about connecting with God and having him in our lives.
by Sr. Sheila Campbell MMM                Ireland                 10.09.2023
The story is told about one of our early MMM Sister Doctors, Sr. Margaret Mary Nolan.  Sr. Margaret Mary was a highly qualified surgeon, obstetrician, and gynaecologist when she entered MMM in 1939, just two years after we were founded.
Because her mother was a widow and an invalid and Margaret Mary was her only child, it was arranged that Mrs. Nolan would live in with MMM.  There she truly shared life with the young MMM Sisters, one room being designated as 'Mrs. Nolan's dormitory'.
Before entering, Margaret Mary worked in India.  After profession, Nigeria became her main field of ministry, but she also spent some years in East Africa, in Chala and later in Makiungu.  In Nigeria, in Anua and later in Ikot Ene, Minna and Eleta, she became an almost legendary figure. The people had such faith in her, that when Pope Pius XII died, they cried, "Why didn't they send for Sister Doctor?"
This story comes from her time in Nigeria. She was the Medical Officer in Charge in Anua.  She was also the examiner when it came to nursing examinations.  So, one day the student nurses thought up an unusual present.
Sr. Margaret Mary was an ardent advocate of Africans eating African food and made no secret of it.
"You could not please Sister Doctor when it comes to diet," said one young nurse after her examination. "She asked me, 'From what food do Nigerians get their protein?'
"I said, 'Meat.'
"She said, 'Nigerians eat meat once a year. Anything else?'
"I said, 'Eggs.'
"She said, 'Nigerians sell their eggs.' (This was quite true as you could buy them cooked in the market.)
"I said: 'Beans.'
She said, 'Mh – mh,' which is equivalent to: 'Now we are getting somewhere.'
So, on her feast day the student nurses thought the time was ripe to introduce a new member of Staff. They introduced Sr. Margaret Mary to Doctor Diet.   Doctor Diet was a doll.
His hat was a coconut, his head was a large lemon, and the hair was made from strands of dried meat. The eyes were fashioned from roasted groundnuts and fat. For the eyebrows, they used Marmite, for the mouth a slice of tomato and the ears were made from palm fruit. The body was a large yam with bananas for arms. The buttons of his tunic were made from cheese and his belt and collar made from orange peel. The tunic? Green Leaf.
Doctor Diet was a well-balanced addition to the Nutritional Unit!
by Eilin Teeling AMMM              Ireland               08.09.2023
At dinner time, when Anya allowed me to serve her some vegetables, I knew finally my husband and I were accepted.  When she, her mother Olga, and her sister, eight-year-old Khrystyna arrived in our home in October 2021, she hid behind her mother's legs and wouldn't look at us.  I don't know how her mother explained to this five-year-old child why she and her family needed to leave their home in Kyiv, Ukraine.  They chose Ireland because a friend recommended it, but otherwise how do you choose where to go, when your country has been invaded by another?
My husband and I felt compelled to help when Russians invaded Ukraine in February 2022.  What is our faith if we cannot reach out and help others?  "I was a stranger and you welcomed me… "just as you did it to one of the least of the members of my family, you did it to me" (Matt. 25: 35, 40).  Yes, but having strangers living in our house?  It seemed like a huge step.  What are strangers but people just like us?
We started to think of people seeking refuge rather than the colder term "refugees," and reading other blogs on the MMM website about people seeking refuge helped us.  We understood legally in the EU that Ukrainian people were granted automatic international protection, and so were free to live with families.
We took the leap of faith, said "yes."   We registered our interest with the Irish Red Cross and waited, undertook Garda vetting, and waited.  We were frustrated with waiting for official channels to link us with a family.  God provides solutions when we pray so when a friend asked if we would consider taking a family she knew, we said yes.  A voluntary organisation "Helping Irish Hosts" arranged paperwork, and finally in October 2022, the family arrived in our home in Drogheda.
Who knows who was more nervous, us or them?  What are we to say to them?  How do we deal with their trauma?  What happens if we don't get on?  Well, one day at a time dear Jesus, as the old song says.  We kept busy with the practicalities, bedrooms, bathroom, towels, kitchen cupboards, food, cooking dinners.  We ate Ukrainian food: borscht (beetroot soup), varenyky (dumplings), syrniki (Ukrainian cottage cheese pancakes), and Olivye (Russian salad).  We taught Olga how to roast a chicken, make omelette, and oven roast vegetables.
Gradually we got to know each other.  The children went to school and did their homework at the kitchen table just as our children did.  We bought skipping ropes for Christmas and they learned to skip in our kitchen.  When Anya was sick, I helped get her a GP appointment.  When Olga's friend's child was sick, I phoned on her behalf and got her help.  The priority was to be consistent in communication and use Google Translate when necessary.  We ate Ukrainian food on Christmas Eve and Irish food on Christmas Day.  They don't go well together!  We exchanged presents at Christmas and birthdays, conscious that they are not home.
My husband loves joking or "messing" with children: hiding a toy, moving things, pretending to cry, dancing to music.  At first, when he tried to "mess", he was met with blank stares.  As time went on, the children learned to relax and then they started to laugh at him.
We were constantly aware that they were in our home though and sometimes it was hard.  We needed to keep looking after ourselves and be patient.  They visited Kyiv at Easter and decided then they would return there in June.  The last few weeks were busy for Olga, packing, and sending parcels to Kyiv.  It was an emotional time, glad for them, but happy to have our space again.
They left in June 2023, eight months after arriving.  They have returned to Kyiv in the hope they can stay.  That is where home is, with grandparents and friends.  Ukraine, and all war zones, need our prayers.
by Nadia Ramoutar MMM Communications Coordinator             Ireland         06.09.2023
I find myself lately reflecting on the word "home".
Most likely this is because I have been fortunate enough to buy a little house and I am in the process of renovating it.  As I get tired working nights and weekends on so many projects, I am refocusing my attention on the gratitude that I get to have this problem of making my home the way I want it for my family.  There is so much in the Western world that looks like a "problem" when it is in fact a "privilege."
I am grateful to the MMMs for teaching me so much in my time working with them.  When I travelled to visit the mission work in Tanzania we went on home visits.  There were multigenerational families living in homes with concrete floors, no electricity and no running water. Families made this structures into the best place they could with what they had.  Many people were working from their home too making something they could sell.  The enthusiasm to create was most admirable to witness.
So, when I catch myself grumbling – I stop.  I take a moment and give thanks to have a mattress and a bed, and not just a concrete floor to sleep on.  It seems easy to overlook what we have not had to experience but the truth is that where one family struggle we all struggle.
Recently, I was speaking with a lovely young woman from Afghanistan.  Intelligent, bright and caring, this young woman has experienced hell in her homeland before leaving.  She is kept awake at night worrying about her family especially her sisters who are living under the Taliban rule.
It is shocking to think that this young woman almost died on a number of occasions in her attempts to leave her country.  She could not ever experience justice or freedom there.  She spoke highly of how welcome she is made to feel in Ireland but how her life before in Afghanistan still haunts her.  Her trauma was both palpable and understandable.  She is so strong and so wise but it is a pity that she has had to become this way at such a young age.  When other young woman have the freedom to just live their life with day to day stresses, this woman carries heavy weight in her heart each day.  She masks her grief and despair so it is not a burden to anyone but to herself.
The UN Refugee Agency data shows that in mid-2021 around 4.3 million stateless people were living in 93 countries – but the real number is considered to be much higher than this.  It seems so unfair that for some people, there is no option but to leave their homeland due to cruel politics or dangerous dictators.  I think that providing "homes" for people is a much bigger issue of human fragility than we seem to be able to deal with globally.  Perhaps we will all need to expand our definition of "home" so more people can experience the safety and comfort all people deserve.
by Sr. Jo Anne Kelly MMM                           Ireland                           04.09.2023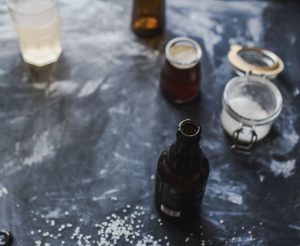 Many years ago, I was doing a course in Dublin. Included in the course was one month of "Field Work". My field work was in a Facility which helped people suffering from addictions especially alcohol and drugs, or both. I was assigned to a male ward. The men were otherwise strong and healthy and could look after themselves, so my time was mostly taken up with listening – all day listening to sad, difficult stories. As part of the programme for recovery there was a strong emphasis on the need to have a belief in a Power greater than themselves, a belief in a loving, merciful God who was willing and able to strengthen and heal.
Two fine young men, in late 20s, were determined to free themselves from their addiction to drink. I got to know them quite well. I will call them Mike and Sean, both from Dublin. They were a joy to work with, very positive about the future and were close to the end of their stay there.
Back in Dublin, I sometimes wondered if I'd ever meet them again. I rarely went into the city but one evening, months later, I needed to buy some things and after classes I took the bus to town. As I was walking down a crowded Middle Abbey Street, I saw a man staggering along, looking very disheveled and carrying a rolled up sleeping bag. As I was about to pass him, he fell. He just curled up and lay there. I did not know what to do but I knew I could not just walk past. I asked if I could help him, he just lay there and grunted something. I tried again, he kind of turned his face and then said, "Oh God, Sister, is it you?" It was Sean, and he was a sorry sight. He had a wound on his head and his hair was matted with blood. He wouldn't even try to get up. I sat on a window sill to talk to him, told him about the places he could go for help. He said he was barred from them all because of stealing money from others. He had nothing left and was going to the River Liffey.
I was totally at a loss about what to do. Like a miracle one of our lecturers came along, I will call him Fr. Dan. He had a free evening and was going to the Adelphi cinema to watch a movie. He had heard the last part of the conversation and he asked Sean if he would go back to the facility where I met him. I tried to encourage him. He thought for a while and said, "I have no way of getting there". Dan said he'd buy his bus ticket.
We got him up and set off for the Bus Station. We kept Sean between us so he wouldn't fall again, up Middle Abbey Street, all the way across O'Connell Street. Halfway down Lower Abbey Street Sean stopped and said to me, "Let him go on". I was dressed in full MMM grey, including a veil, but Dan was not in clerical dress. He moved on and Sean said "Is he a cop (policeman)? I said, "No, he is a priest". He just stood and roared laughing. Everybody in the street was looking at this unlikely trio!
We arrived and learnt we had nearly two hours to wait for a bus to Sean's destination. Dan suggested tea but Sean felt it would make him sick. We sat and chatted. I asked him about Mike. He had seen him recently but said he had become very rough looking. As he got a bit sober, he changed his mind about the tea and we trooped up the stairs, me first, then Sean and then Dan. Over tea Sean shared his whole sad story, and how bit by bit he had lost everything, including the people he loved. I began to see again the lovely young man I had first met. He became aware of how he looked and thought nobody would want to sit beside him on the bus. Dan went to buy the bus ticket. I took Sean to the top of the stairs to go down and clean himself up a bit. Halfway down he stopped and called to me "Will you be there when I come up?"  I assured him I would.  We went over to the bus.  Dan gave the ticket to the driver as Sean got in and went to the very back seat.  My heart ached for him, and I asked God to help him.  That night I phoned the facility, but Sean had not arrived.  Next day there was still no sign of him.  He arrived in the afternoon of the third day.  I thanked God and prayed that he would make it this time. I hope he did.  I would like to think it was not by chance that both Dan and I were in Abbey Street that day.